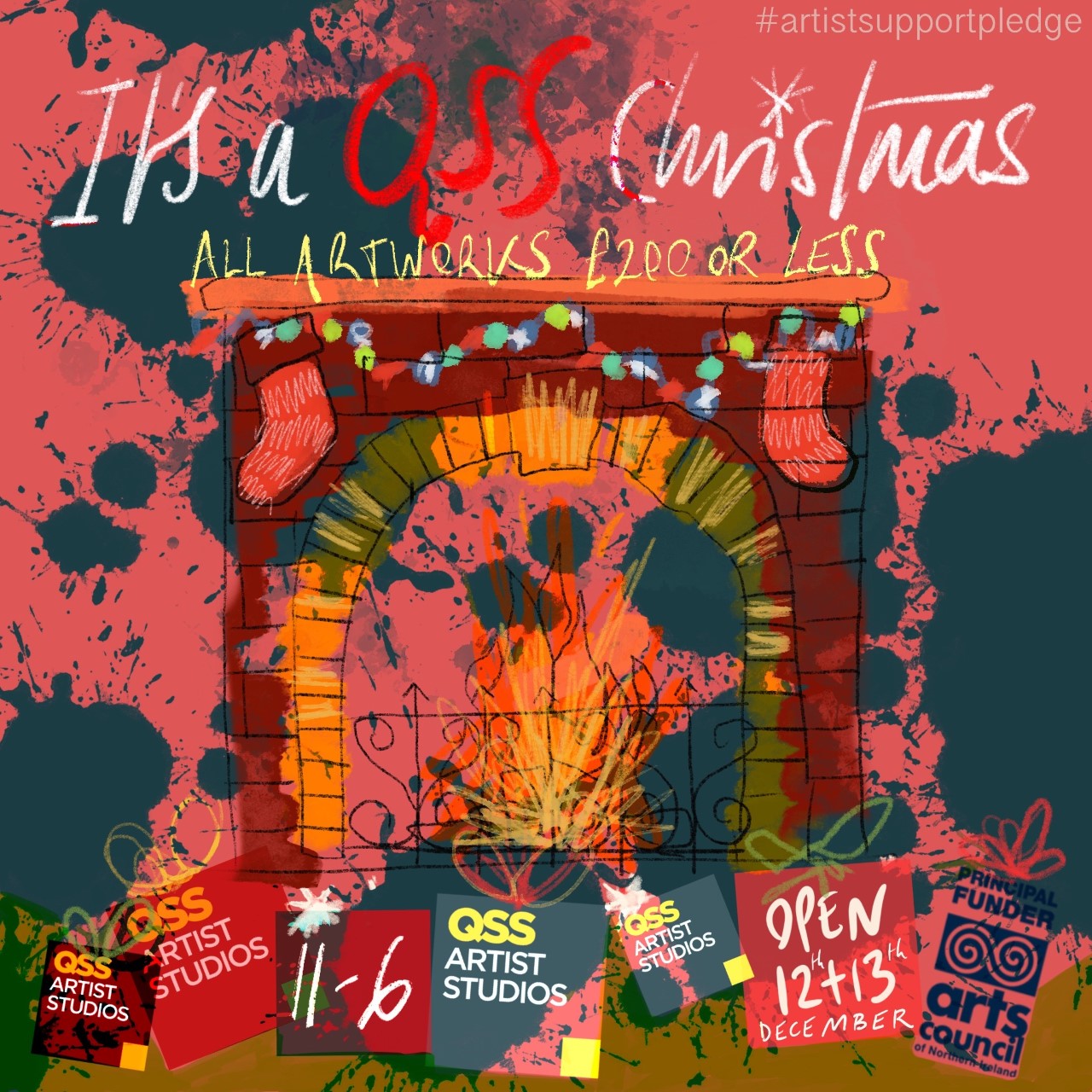 QSS Christmas Show
QSS is delighted to present its 2020 Christmas Show on 12th & 13th December from 11am-6pm each day. This year works will be priced at £200 or under to adhere to the #artistssupportpledge brief, with 100% of the selling price going directly to the artists (https://artistsupportpledge.com/about/).
The QSS Christmas Show will provide a perfect opportunity to pick up a special Christmas gift whilst supporting local, emerging and established talent during uncertain times. Featured artists will include Gerard Carson, Majella Clancy, Hannah Clegg, Rachael Colhoun, Amanda Coogan, Mary Cosgrove, Alacoque Davey, Catherine Davison, Craig Donald, Dan Ferguson, Joy Gerrard, Angela Hackett, Karl Hagan, Andrew Haire, Amy Higgins, Ashley B Holmes, Sharon Kelly, Rachel Lawell, Naomi Litvack, Clement McAleer, Meadhbh McIlgorm, Sinead McKeever, Michelle McKeown, Sharon McKeown, Grace McMurray, Jane Rainey, Charlie Scott, Vasiliki Stasinaki, Anushiya Sundaralingam and Jennifer Trouton.
We hope to see you there!
https://www.eventbrite.co.uk/e/qss-christmas-show-2020-tickets-131390088291
VISITOR INFORMATION:
The safety of our visitors, artists and staff is our paramount concern, and to this end we have put a range of measures in place to ensure that you can enjoy your visit safely.
1. Wear a mask/face covering and adhere to social distancing guidelines at all times.
2. Sign in/out at the reception desk and use the hand sanitiser provided on both arrival and departure.
3. Avoid using the lift, unless you have mobility issues. In this case, a maximum of two people from the same group may use the lift.
4. Follow the one-way system through the gallery as directed (arrows/signage).
5. Our toilets are open but access is limited to one person at a time. Follow the guidelines posted outside the toilets for usage.
6. Please note that as we will be operating at a reduced capacity (maximum of 30 visitors at any one time), it may be necessary to queue for a short period upon arrival. Please follow the directions of staff, and observe social distancing guidelines.
WHERE TO FIND US:
QSS is located overhead Wyse Byse (2nd Floor) on the corner of Bloomfield Avenue and the Newtownards Road, Belfast. The entrance to QSS is on the Bloomfield Avenue side, which will be marked by a pavement sign over the Christmas Show weekend.
Artwork: Amy Higgins
Images:
Rachel Lawell, Pink Leaf, fine art giclee print on Hahnemuhle Cotton Rag 308gsm
Amanda Coogan, There was an old woman, watercolour
Grace McMurray, Memorial, Satin Ribbon
Jane Rainey, Formless, watercolour and gouache on fabriano