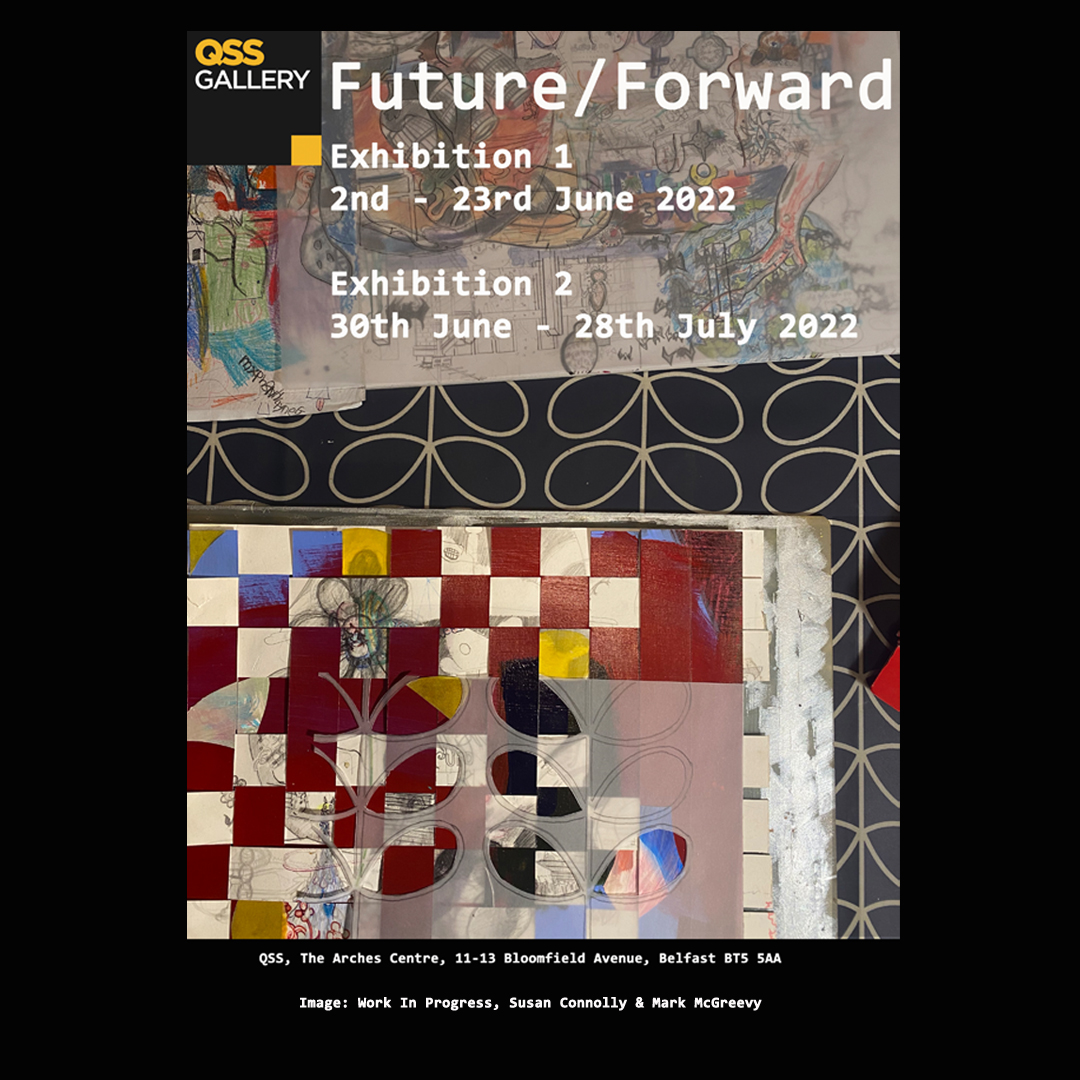 Future/Forward
Join us for the launch of our new exhibition Future/Forward: a long-term studio programme and series of three exhibitions featuring new collaborative works by QSS members.
Exhibition launch: Future/Forward, 2 June 2022, 6pm
Exhibition open: 2 June – 23 June 2022, Tuesday – Thursday 10:00am – 5:00pm, or by appointment
Conceived as a response to the pandemic, the programme paired 35 artists together to create experimental work, and to re-galvanise the studio community following the disruption of the past two years. The focus for this series of exhibitions is on representing artists' working methods, of process and exchange, and the significance of creative dialogue.
Participating artists have worked closely with curator Jane Morrow since August 2021, through a series of over 80 studio visits, discussions and presentations, culminating in three exhibitions – two in Belfast, and one in Dublin.
Curator talk, 2 June 2022, 6.30pm
Join Future/Forward curator Jane Morrow for an informal introduction to the first in this series of exhibitions, where she will share insights into the collaborative processes and curatorial rationale at the core of the programme.
Participating artists:
Future/Forward part 1, QSS Studios & Gallery
2 June – 23 June 2022
Amanda Coogan and Sharon Kelly
Anushiya Sundaralingam and Mary Cosgrove
Clare French and Grace McMurray
Frédéric Huska, Joy Gerrard and Vasiliki Stasinaki
Jennifer Trouton and Rachel Lawell
Kwok Tsui and Pauline Clancy
Majella Clancy, Sinead McKeever and Niamh Clarke
Future/Forward part 2, QSS Studios & Gallery
30 June – 28 July 2022
Alacoque Davey and Sharon McKeown
Amy Higgins and Michelle McKeown
Andrew Haire, Catherine Davison and Rachael Colhoun
Angela Hackett and Anushiya Sundaralingam
Ashley B Holmes and Naomi Litvack
Charlie Scott, Craig Donald and David Haughey
Gail Ritchie and Meadhbh McIlgorm
Gerard Carson and Gerry Devlin
Mark McGreevy and Susan Connolly
The exhibition will also travel, in a new configuration featuring all 35 artists, to MART's Old Fire Station Gallery in Dublin, where it will be presented from 13 August – 2 September 2022. QSS have been invited by MART as part of a broader initiative to share their gallery space with artist-run organisations, studio groups and independent curators based throughout the island of Ireland, introducing their work to new audiences and developing peer networks in Dublin.
Curator's introduction
Future/Forward part 1
QSS, 2 June – 23 June 2022
Amanda Coogan and Sharon Kelly; Anushiya Sundaralingam and Mary Cosgrove; Clare French and Grace McMurray; Frédéric Huska, Joy Gerrard and Vasiliki Stasinaki; Jennifer Trouton and Rachel Lawell; Kwok Tsui and Pauline Clancy; Majella Clancy, Sinead McKeever, and Niamh Clarke
Future/Forward is a long-term programme and series of exhibitions initiated by QSS Studios & Gallery. This exhibition is the first iteration in a series of three: two in Belfast and one in Dublin.
It features work by QSS artists working in collaborative groups and pairs, brought together and supported through over 80 studio visits – conducted initially with individuals, and subsequently with pairs/groups – between August 2021 and April 2022. Future/Forward was originally conceived in-house at board level, as a way for QSS members to proceed 'bravely and gravely' following the inaccessibility of infrastructure, materials and resources during what Kuba Szreder describes as the 'forced suspension' caused by Covid-19.
This period has not been without struggles for artists globally, and those based in QSS are no exception: artists who are unable to be in their studio regularly, who had to sub-let their spaces due to the lost income or opportunities, and those who were simply apprehensive about sharing their ideas, practices, and vulnerabilities with other artists at a time when everything outside the studio was already so unsettling. Future/Forward has aimed to galvanise and re-form the QSS studio community, enabling the generation of new, experimental work, enhancing supportive peer relationships, and offering an opportunity to focus on process and exchange as essential and beneficial elements in the development of an artist's career and practice.
From a curatorial perspective, my involvement is an extension of my work across network and production contexts, and through creating formal and informal developmental platforms for practitioners. Future/Forward also complements my PhD research, which focuses on the precarity of artists' studios in Belfast. The arguments made throughout are for increased recognition and value for artists' work and workspaces, and their unique offer within the infrastructure, as well as enhanced support and funding resources, and modes of practice – including collaboration – that offer artists collective forms of resistance and repair.
My departure points for each pair or group were a series of key words – extracted from notes that I'd taken during the individual studio visit process – and a rationale for the collaboration, which aimed to generate discussions between the artists. Whilst QSS artists are working at different career stages, with varying levels of experience, and working in different disciplines, I emphasised the necessity for equal and reciprocal contributions. The process was designed to be to be supportive and explorative; envisaged as an opportunity to experiment with ideas or approaches that sat outside their standard modes of practice. Right now, we have an opportunity to do things differently.
The focus for this series of exhibitions is on work in progress – not in the sense that the work is unfinished; it isn't. But rather that the ideas, the approaches, the relationships, and the momentum developed throughout this period can and hopefully will endure. I encouraged the participating artists to focus on the process of coming together in their collaborative pairs and groups, finding value and significance in ephemeral things: their texts to one another, fragments of their exchanged materials, documentation of their work in progress, or snaps of things posted under closed studio doors. These things are the fabric of a collaborative activity, speaking much more to the integrity of artists' working methods than any white cube. The work produced has naturally coalesced around some universal artistic concerns: materials, language, ritual/discipline, and exchange. But what is most interesting is where this work, these artists, and their ideas will go from here.
Jane Morrow
May 2022
 _____________________________________
 Works
Clare French and Grace McMurray: Wearing My Heart on Your Sleeves
2022
Wearing My Heart on Your Sleeves is composed of three hand-printed components: a cape, gown and bustle, which visitors to the gallery are invited to wear whilst viewing the exhibition.
Working across textiles, drawing, painting, and installation, both artists reflect on gendered labour, acts of service, repetition, and making-as-therapy vs making-as-occupation. Each with an interest in dominant narratives around the domestic, one artist leans into it, the other actively avoids it. Beyond their theoretical concerns, both artists produce work that is participatory, and, in many ways, performative. Clare says: 'it's been fun working with Grace. Obviously, we both take our work seriously, but it's been really nice to have a lightness about it. It's new work for both of us, and we were both interested in participatory things that the audience use in some way'.
As a starting point for these garments, they undertook a durational drawing on canvas – what they refer to as a 'pattern generator' – which was situated on the walls on the thoroughfare between their studios. Acting as a form of call-and-response, they initiated and responded to one another's marks over time, reforming the canvas into the bustle presented here.
These shape-shifting artworks have ambiguous authorship, imagined by the artists but coming to life only when worn by the audience, changing each time they are activated by a new person, a new position, a new pattern of light or movement. Not only are the artists collaborating with one another, they are collaborating with you, too…
_____________________________________
Rachel Lawell and Jennifer Trouton: Object
2022
Jennifer Touton and Rachel Lawell were brought together initially through their interests in gender and domesticity, their use of attractive surfaces and pretty palettes, which draw the viewer into much more nuanced and subversive territory around the repression and suppression of women. Primarily both painters, this pairing also offered possible deviations from their usual media, perhaps to include drawing, installation, or embroidery. Rachel had expressed an early interest in moving away from figuration towards subject matter that is more indicative, whereas Jennifer's use of metaphorical objects (fabrics and herbs, for example) to denotes Irish womanhood at specific places and times.
Equally, Jennifer has recently produced a substantial touring exhibition, towards which she had been working for a number of years. This collaboration offered the potential to work on something that sits outside her usual approach and that which has been so occupying her in recent years. She says that 'the most interesting thing was working with another figurative artist who has a completely different approach towards figuration, bringing our two styles together whilst retaining our individualism'.
The pair began by exchanging source material – fragments of Jennifer's wallpapers and Rachel's media cuttings – often representing different perspectives on womanhood: idealised, sanitised, media versions of female beauty alongside images of saints and the virgin Mary; woman as saviour, a provider, a survivor. Rachel responded to Jennifer's 'process-led' approach, 'whereas I'm more spur-of-the-moment.'
The outcome, a small assemblage of works that merge these polarised concepts of womanhood, is entitled Object: a simple yet charged word which – as a noun – speaks to the male gaze and objectification of the female form, whilst as a verb, it acts as a dismissal of, or objection to, the polarised notion of sexuality as either virtuous or promiscuous. The arch within which the work is presented acts as a unifying frame the work, echoing both an ecclesiastical motif and a mirror; its tone echoing that of flesh. The small landscape that sits beyond the arch grounds the series in the Irish landscape and experience.
 _____________________________________
Amanda Coogan and Sharon Kelly: Caution to the Wind
2022
Caution to the Wind is a large-scale installation constructed from waxed paper, masking tape, crayon, thread and jute yarn.
Despite its monumental scale and scope, there is something beautifully provisional about the work. Resolutely not a make-do-and-mend cliché, it draws on a similar visual language: domestic labour, deliberately limited resources, echoes of war. Amanda Coogan and Sharon Kelly began by identifying the common ground within their practices. This emerged both thematically, in terms of interests in embodiment, strength, repair; control and inheritance, as well as materially, around soft sculpture, pattern, improvisation; the colour yellow, and chalk and butter and soap.
A rich assemblage of historical and anecdotal references is created: Sharon's mother's recollections of yellow parachutes falling in Wiltshire; maps repurposed as clothing; cross-border smuggling; and Amanda's unresolved work about a woman falling to earth whose dress gets caught in a tree, cushioning her fall.
The artists have expressed their intention to work together again, scaling up this process – in Amanda's words: 'go bigger, go silkier' – making this installation not just provisional in context, but also in intention.
_____________________________________
Pauline Clancy: Common Ground, and Kwok Tsui: Untitled
2022
The Common Ground referenced by the title of Pauline Clancy's screenprints is a search for a unifying language. This key concern manifests through these artists' approach to their disciplines – painting and printing respectively – which are heavily influenced by typography, language, characters, and design. A series of exchanges between Pauline Clancy and Kwok Tsui centred on one gestural mark and a series of shapes.
Common ground also indicates a space of belonging. The mark, introduced by Kwok, appears character-like, but in fact does not indicate anything specific, seeking to blend in, be indistinguishable and therefore not susceptible to being misunderstood ('Untitled'). The square, circle and line, introduced by Pauline, have become formal painterly elements on both wall and canvas.
The four pieces are installed to bisect a large matt-black circle, somewhat poetically indicating these artists' self-identified liminal positions on the peripheries of different cultures and forms of communications.
_____________________________________
Mary Cosgrove and Anushiya Sundaralingam: Script
2022
Of all the pairings, the collaborative works produced by Mary Cosgrove and Anushiya Sundaralingam have travelled the furthest from their existing practices, culminating in a video projection and process of durational, experimental mark-making on waxed paper.
Throughout the process, they have found material and thematic links as well as familial. Much of their discussions focused on women's unacknowledged labour; conditioned to adjust their behaviour, appearance, and speech and to choose others' comfort above their own. The extent of this code-switching, across intersectional gendered, racial, and generational lines, can also be expressed in linguistics: alternating between two or more languages. As far as mother tongues go, there is deep cultural shame in answering one's parents in a different language – simultaneously acknowledging that you understand but are breaking a bond in doing so.
The surface of these works has been built up repeatedly, by both artists over months: dash, dot síneadh fada, dot dash, dot
There is significance in Anushiya's representation of the bindi – a small dot worn on the forehead of women of the Indian subcontinent to indicate their religion or marital status. There is significance in the erasure of Mary's Irishness – less of a concern when she lived in Central Africa as it was necessary when she lived in London in the 1970s.
In creating their own language, they are acknowledging the disappearance of others through time and societal intervention. With each cascade of texture, each projection and each fold of material, the artists are working within a cycle of creation and destruction that echoes our introduction of languages and behaviours each time we need to remake ourselves anew.
_____________________________________
Frédéric Huska, Joy Gerrard and Vasiliki Stasinaki: Justice, Piercing, Planning, Sewing
2022
Ideas of active citizenship, cultural identity, heritage, site, and bastions of public trust make for an urgent and compelling collaborative drawing installation by Joy Gerrard, Vasiliki Stasinaki and Frédéric Huska. Justice, Piercing, Planning, Sewing comprises pencil, ink, paper, printing, pins, fabric, tape, thread, sewn silk and carbon transfer drawings.
Recurring motifs include a French courthouse which is facing demolition, Belfast's decaying Crumlin Road courthouse, Themis (the Greek goddess of justice), and symbols such as a cross and a gavel. The buildings are examined from numerous aspects, drawing on architectural elevations, aerial imagery, and municipal planting to represent a sense of hegemony and exteriority. Images of Themis, in sculptural form, repeat both in full and in fragments, whilst the phrase 'the vision is getting lost' is translated across the drawings in French and Greek, echoing both the themes of the work and the tentative process of responding alongside and over other artists' work.
Each artist began by drawing, before incorporating other elements and approaches. The individual works are titled with first letter of each artist's name and their place in the sequence, for example, J1V2F3 (no. 1), with no. 1 indicating the first set of drawings of a total 12. So rich and extensive were the artists' discussions, that it became necessary to make a plan involving practical and material responses to one another's work. Joy outlines their process:
'We each start with 2 blank pieces of paper. On this we begin an image; and then pass one to each of the other two artists. In this way, each artist would have a beginning, middle and end of the drawing to do. To begin – it feels important not to be too dominant, and not to be too precious. It was exciting receiving the pieces- and letting a response come. Sometimes it took time and sometimes it was intuitive and quick. I found it fascinating to try and find a balanced response; something that respected the marks the other's had made; but also, to try and find a satisfactory conclusion, if I was the last person.'
_____________________________________
Majella Clancy, Niamh Clarke and Sinead McKeever: Echo
2022
The starting point for this grouping was a letter, authored by painter Amy Silman, to the artist Maria Lassnig, who had died three years earlier. The letter is warm, funny and hugely regretful, noting the missed opportunities that the two artists might have had to meet if only they had known they lived in the same New York neighbourhood. With the neighbourhood as a metaphor for the studio, Majella, Niamh and Sinead set about getting to know more about one another's work.
They too wrote letters to one another, picking up on the nuances of the others' palettes, materials and approaches and responding generously. In conversation, and again through incorporating the written word, they developed a lexicon of terms that were important in their thinking and making, enabling an echo of thoughts and ideas within their work and with each other, including gesture, embodiment, trace, gift and layer, amongst others.
There is a robust sensibility in each of these artists' work which belies the delicate aesthetics of the surfaces, irrespective of material or discipline. The wall installation created for this exhibition, Echo, is conversational – gently rhythmic; each work begetting the next.
_____________________________________
ARTIST BIOGRAPHIES
Alphabetical by first name
Amanda Coogan
Amanda is an internationally recognised and critically acclaimed artist working across the medias of live art, performance, sculpture, and installation. Using gesture and context she makes allegorical and poetic works that are multi-faceted, and challenge expected contexts. The body, as a site of resistance, is the centrality of Coogan's work. Her work encompasses a multitude of media – objects, text, both moving and still image – all circulating around her live performances. Time is a key material in Coogan's practice, building controlled instability into the fabric of her work. The durational aspect of her live presentations invites elements of chaos, with the unknown and unpredicted erupting dynamically through her live artworks.
Anushiya Sundaralingham
Originally from Sri Lanka, Anusihiya has lived and worked in Belfast for twenty-seven years. Since graduating from Ulster University in 1998 with a BA Hons in Fine and Applied Arts, Anushiya has been a full-time artist, working with a range of media including print, textiles, papercuts, painting and installation. Her work is influenced by the challenges of identity and the nature of belonging. Previously, this has taken form through a range of subject matter, themes and media to convey the complexities of people, place and conflict. Anushiya also practices as an arts facilitator for various public, private, and health organisations. Her work is represented in numerous private and public collections.
Clare French
Clare's practice considers the (impossible) human desire for meaning. Her works operate as poetic objects that elicit a slow, engaged looking and affective response in the viewer.  The insistence on minimal, repetitive systems expand and intensify audience attention, raising questions about making and meaning and communicating the impossibility of the finite or the absolute. Her treatment of surfaces index Clare's decisions and actions, reference art historical conceptions of making and expose broader hierarchies of labour, making and materials.  Clare's work develops according to semiotic systems, which are then disrupted through employing materials in repetitive, labour-intensive and time consuming ways; generating the unexpected and facilitating crucial 'happy accidents'. Clare works episodically and in series to further democratise and multiply meaning.
Frédéric Huska
Originally from France, Frédéric studied at the Royal College of Art, before completing a PhD with Practice at Ulster University in 2015. He is currently a lecturer on the BA (Hons) Photography with Video, and MA Photography. His current artwork explores the multi-layered connections between the self, history and the architecture of the city, with photography, writing and film. It aims to re-map urban spaces intuitively and libidinally, hence mediating notions of time and duration within the construction and spectatorship of photographic representations. Issues that are related to historiography, such as the process of abstraction and exteriority, are addressed and challenged through a longing – and ultimately failure – to reach out to unfathomable histories. In its conception, his work mirrors the paradoxical nature of melancholia in which the object-loss is primordial and yet unknown, and it dwells on the contradictory movements emerging through the inner violence embedded in the architectural fabric of the city.
Grace McMurray
Grace McMurray reconstitutes ideas of drawing and traditional craft methods through the relationship between the digital and the handmade. Employing geometric patterns and symmetry to construct a soothing familiarity, the ostentation of the work strives for visibility. The objects exude order and purpose but it's a performative wellness to distract from the illusion of control. Through this deeply personal work, reflexive upon the spaces they occupy and exist in, McMurray finds beauty in the underside, the exposed edges and the overlooked.  As such, creating textile installations symbolising the private sphere of the domestic. Such labour-intensive work unravels notions of social conditioning, gendered labour, and its value. Grace is a member of Array Collective, winners of the 2021 Turner Prize.
Jennifer Trouton
Jennifer deliberately uses the tools and materials of the past, such as figurative painting and still life, to subtly express ideas around gender, class, and identity within Irish history. Her work combines an interest in the mythological and historical with the personal stories and meta-narratives of women. Trouton's most recent body of work, One of Many, considers the women affected by societal and religious attempts to suppress reproductive rights in Ireland. Throughout her career Trouton's work has garnered numerous awards, including the Golden Fleece award, the Clare Morris Open Exhibition, the RHA Keating/McLaughlin award and the RUA Watercolour Prize. She has been awarded residencies in New York, Los Angeles, China, Canada and Ireland, and her work is held in numerous private and public collections
Joy Gerrard
Joy Gerrard lives and works in Belfast. She graduated with a BA from NCAD, Dublin and an MA and MPhil from the Royal College of Art, London. Gerrard is known for work that investigates different systems of relations between crowds, architecture, and the built environment. Using Japanese ink on paper and canvas Gerrard makes detailed ink works which re-create recent political protests from around the world. Recent solo exhibitions include 'Precarious Freedom' at Highlanes Gallery (2021/22) and touring, 'Put it to the People' at the Golden Thread Gallery (2020), Belfast, 'supermarket' in Stockholm with Ormston House (2019), 'shot crowd 'at the Royal Hibernian Academy, Dublin (2017) and Protest Crowd, Peer UK, London (2015). Gerrard completed an artist residency at the Centre Culturel Irlandais in Paris in 2020.
Kwok Lam Tsui
Kwok's paintings incorporate graphic and abstract elements which explore the spaces between analogue and digital, surface and content, recognition and abstraction. His work is informed by ambiguous identities, including his own, and the ambiguities of space, form, memory, and interpretation. He works at scale, setting limitations for each work or series such as a limited colour palette, or the specific direction of brush strokes. Kwok graduated from Ulster University with first class honours in June 2020, upon which he received a 12-month graduate studio bursary from QSS. Since graduating, he has participated in 'Emergence IV' (QSS, June 2021), 'BA/MFA Fine Art Graduate Show' (The MAC, September 2020) and 'The Portrait of Northern Ireland' (Golden Thread Gallery, October 2021). He has received funding from University of Atypical, and in 2020 was awarded a residency with PS2. Kwok is currently Exhibitions Coordinator at Cultúrlann McAdam Ó Fiaich.
Majella Clancy
Born in Co. Leitrim, Majella Clancy completed an MFA at Ulster University (2006) and later completed a practice-led PhD (2012) that examined gendered space through paint and print practice. Recent exhibitions include How the Image Echoes, PSSquared, Belfast (2019), Impact 10 International Printmaking Conference, Santander, Spain (2019). Forthcoming group exhibitions include Munsterland Print Festival, Kloster Bentlage, Rheine, Germany (2019), Artmill Gallery, Plymouth (2019). Recent publications include Clancy, M. Felmingham, S. 'Meshwork, Correspondence and The Middle Voice', in Impact 10 Print Publication, Centre for Fine Print Research (UWE), Bristol (2019).
Mary Cosgrove
Mary Cosgrove was born in Belfast and was first trained in painting and drawing by T.P. Flanagan RHA, RUA. She taught in government schools in Zimbabwe (then Rhodesia) and Zambia for seven years, illustrating school material and government history courses while continuing to paint. Mary completed her doctorate at the University of Ulster specialising in 20th century Irish art. She has contributed to academic journals and catalogues in Ireland and USA. She taught Art History at Queen's University and life drawing at The Crescent Arts Centre for many years, organising the annual students' exhibition and curating major loan exhibitions at Cultúrlann MacAdam Ó Fiaich. Her work is held in private collections in Africa, England and Ireland.
Niamh Clarke
Niamh's practice centres around drawing, but also includes written prose, watercolours, and super-8 video, which she would describe as expanded forms of drawing. Her practice reflects an interest in memory and temporality. Exploring the relationship between photography and drawing, a focus is placed on the embodied presence of gesture and materialisation through re-description of found and personal photographs. Niamh uses images intuitively to create an implied narrative, in an attempt to materialise thought, bodily references or emotion. Influenced by Virginia Woolf's phenomenological and embodied prose and conflation of nature and the human condition, landscape and natural form is dominant. Niamh is a recent graduate of Fine Art from Ulster University. She is a co-founder and member of the collaborative drawing group The Drawing Journal.
Pauline Clancy
Pauline Clancy was born in Co. Leitrim and studied BDes (Hons) Visual Communication at the National College of Art and Design (NCAD), Dublin, 2006, before completing her MFA in Multidisciplinary Design (Graphic Design) at Ulster University, Belfast in 2013. She is currently a PhD researcher at Ulster University. Her work explores the materiality of language through typographic form and is primarily realised through the medium of screenprinting. Process and materiality play an important role in her approach to making, while finished artefacts are important, the experimental and making process is of equal importance, where the process can also become an outcome. Current typographic research involves working with several processes and materials including interactive approaches to screenprinting. She has exhibited her work nationally and internationally.
Rachel Lawell
Rachel graduated from Belfast School of Art with a BA Honours Degree in 2016 and went on to study a Master's degree at Queens University Belfast in Film and Visual Studies (2017) where she graduated with Commendation. Since graduating, she has consistently exhibited throughout the UK and Ireland. Her work is highly influenced by film and the portrayal of the female form in cinema, especially from the old Hollywood era. Her work is motivated by nature and spontaneous vivid colour use. Her work is held in several private collections in the UK and Ireland.
Sharon Kelly
Kelly's practice has taken the intersections between art, life, health and sport, exploring ideas of bodily interiority, emotional states, and the mind/body synergy utilising various media and surface. Her work has included large scale drawing installations, stop motion animation and video. Kelly's current work deals with the potentially unsettling confrontation of the fragmented, broken body; issues of healing, perseverance and notions of liminality, time and transformation. She has undertaken numerous collaborations with poets, writers, dancers, and choreographers. In 2017 she was co-initiator and developer of a multimedia dance production, with Maiden Voyage Dance Company, creating the visuals for Landscapes of Loss, exploring the territory of grief over time. Sharing creative practice is a significant element of her work and she has been involved in numerous exploratory projects in the field of education across Ireland with children and teachers. In 2022 she was the recipient of The Pollock-Krasner Foundation Grant, New York, USA and in 2020, she was awarded the Arts Council of Northern Ireland Fellowship at The British School at Rome.
Sinead McKeever
Sinead McKeever is based in Belfast. In 2008, she received a distinction in MA Fine Art from Ulster University in 2008. Sinead's installations address hybridity, as pigment, both paint spatial occupation and application. Her developing practice engages with different modes of perception, the questioning of hierarchical systems of measuring, knowledge and history are interpreted through drawing, painting and sculpture in the expanded field.
Vasiliki Stasinaki
Vasiliki is a Belfast-based artist, activist and dance-performer interested in social and political issues, within the context of history, national identity, and immigration. Through her work, she attempts to question and explore her place in the world from a social and political point of view by creating performative interventions that take place in a defined space. Vasiliki works in sculpture, textile and print to create installations and site-specific pieces that centre the audience. She recently performed 'ΣΥΝΗΘΩΣ ΔΕΝ ΣΚΕΦΤΟΜΑΙ ΤΟ ΜΕΡΟΣ ΑΠ'ΟΠΟΥ ΚΑΤΑΓΟΜΑΙ (Most of the Time I Don't Think About Where I Come From)' as part of The Druithaib's Ball, Array Collective's 2021 Turner Prize winning performance-video-installation. Her work has also been exhibited at Draiocht Gallery (Dublin), CCA (Glasgow), and The MAC, Catalyst Arts, PS2 and Platform Arts (Belfast).