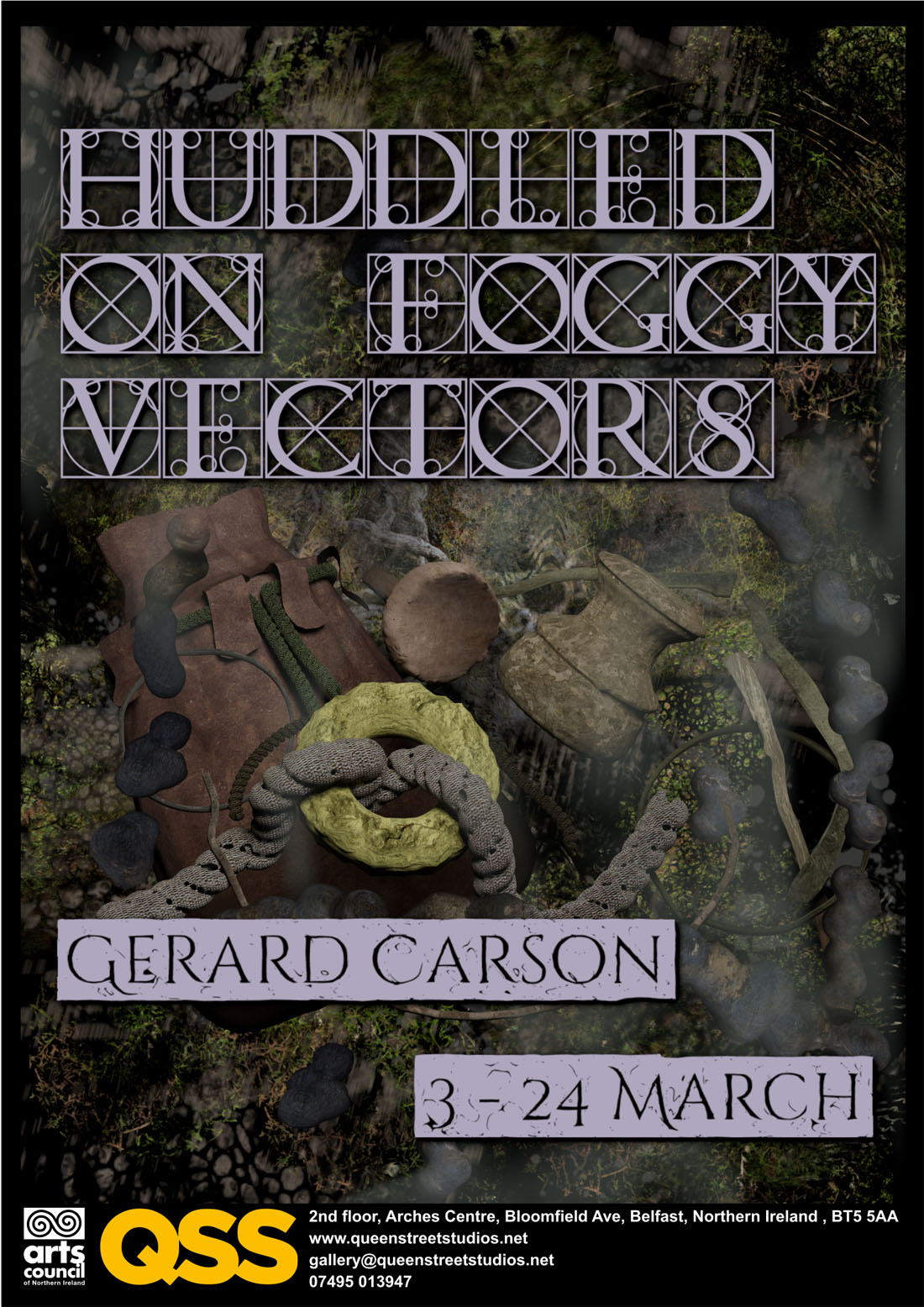 "Huddled on FOGGY VECTORS" Gerard Carson
QSS is delighted to host "Huddled on FOGGY VECTORS" a solo exhibition of works by QSS artist Gerard Carson
Opening event: Thursday 3rd March from 6pm. No booking required, please see the 'visitor information' section of our website for further details on visiting the gallery https://www.queenstreetstudios.net/visitor-information/  
General opening hours: Tuesday – Thursday, 10:30am-5pm.
"Crumbling ecologies and evaporating teleologies gift the double vision of a morphed Janus, where the ancient and future exist as a continuum of contorted timelines. Within this murky topology, huddled along its foggy vectors, relics and technologies mutate into weird chimeras, offering glimpses of adjacent zones. A reversed archaeology. Spilling forth from skewed thresholds, a miscellany of spectral artefacts. Caught in its slipstream, proxies of trade, conflict, and ritual coalesce into wreathed formations, blurring distinctions of linear temporalities and predestination. Navigate these vectors with care. Their tendrils span endlessly."
"Huddled On Foggy Vectors" features works in sculpture, video, and digital media by Belfast based artist Gerard Carson. The exhibition draws upon Carson's research in ecology, speculative realism, and practices of fiction to discern the precarious conditions of the contemporary and the use of world-building practices to produce alternative forms of narrative and meaning. Drawing upon themes of archaeology and science-fiction, such as the novel "Hard to Be a God" 1 2 and the short story "Mozart in Mirrorshades" 3, the exhibition speculates upon technological histories and knowledges, producing a techno-mythic environment populated with recurring motifs and forms that resemble hybrids of archaic and futural materialities. Exhumed artefacts transmute and gain alchemical energies, portals emerge, and lithic assemblages crop up and to become carriers of these collected troves.
Gerard Carson is a current member of QSS and a former co-director of Platform Arts Gallery & Studios. He is an alumni of Ulster University School of Art & Design and Chelsea College of Art. His works have previously been exhibited at such spaces as New Art Exchange (Nottingham), the Royal Hibernian Academy (Dublin) and Banana Jam Space (Shenzhen) as well as online platforms such as Most Dismal Swamp and Solo_Show.
1 A. Strugatsky & B.Strugatsky, "Hard to be a God", UK , Gateway, 2015.
2 A.German, "Hard to be a God", Russia, Sever Studio, Telekanal Rossiya, Lenfilm Studio, 2015.
3 B.Sterling & L.Shiner, "Mozart in Mirrorshades", USA, Ace Books, 1988.