Sinead McKeever – Artist of the Month
What is your typical studio routine?
I vary the route and try not to have a routine journey, sometimes I stop at different spots by the River Lagan and make drawings of the rowers, moorhens, bridges and reflections in my notebook. I feel that I have already started before I reach my studio which is bathed in natural light. The light changes depending on the weather, I love this as the space is still new to me. QSS studios moved to the Eastside of Belfast this January, the third move since I became a member.
I have made my studio a welcoming place for me to read, experiment with ideas, think, reflect and make work. I like to work on objects daily, recently I've been exploring assisted ready-mades, which is a recurring mode of production, for a collaboration resulting in an exhibition and symposium. As a process artist the studio is a space to experiment and allows me the freedom to work on projects of a larger scale. I find it very exciting as I never know how the work will turn out. Each series begins with a simple idea, word or shape that triggers my imagination. Using visible thinking strategies to explore concepts I'll spend days solving problems that arise and I will allow time for reflection. Having work lying around in the studio for a while helps, as you can come in with fresh eyes each day. How much I can prepare in advance of an exhibition is conditional as the work is site- specific, so the assembly of components has to be fluid during the install of the artworks.
Overall, I try not to limit myself to a set daily routine as this can be restricting both mentally and logistically.
Was there a definitive point in your life that you decided to become a professional artist?
I have vivid memories of being rewarded for drawing and painting. From winning a tin box of Cadbury's Chocolates, in primary school, for a drawing a squirrel in a tree, to being known as the class artist both in primary and grammar school. Painting the windows of the school foyer and local hospital windows at Christmas time are particularly memorable.
I have always felt, being an artist is a vocation for me. Since completing the Master of Fine Art (Belfast School of Art) at the University of Ulster in 2009, and working from QSS Studios, my art practice has evolved both physically and conceptually.
Can you name some contemporary artists you are interested in?
Someone who has caught my eye recently is Cecilia Vicuña, her expanded practice and philosophical responses as a multidisciplinary artist, filmmaker and poet make current cultural issues such as feminism and environmentalism the focus of her work, ensuring that over the past 50 years she has always remained ahead of the curve. Her skill in capturing a zeitgeist while simultaneously challenging these issues has only recently gained the global recognition it deserves. I'm particularly interested in her Quipu works, how themes of language, memory, dissolution and philosophy are integrated into the installations.
Doris Salcedo's recent Acts of Mourning Exhibition at IMMA was amazing. Her talk and conversation with Annie Fletcher touched on themes of the effects of violence, anti-monuments, victims 'the memory of the experience vanishing', 'not remaining silent', 'respecting life'.
Also Mona Hatoum, Eva Rothschild and Do Ho Suh to name a few.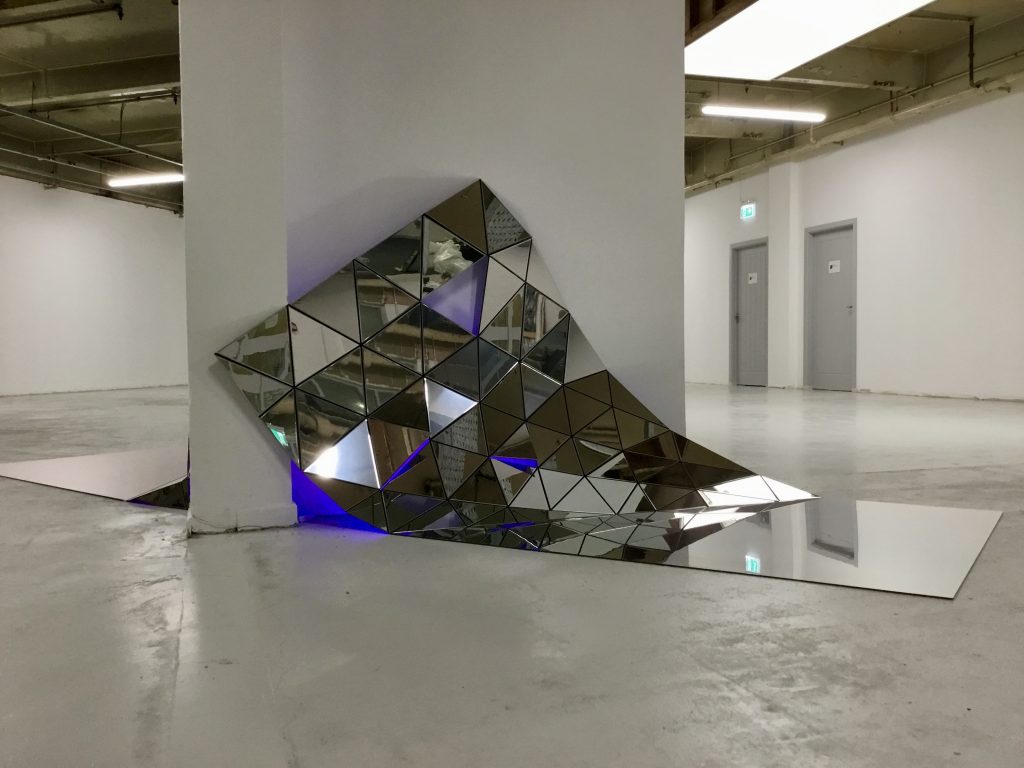 The full list of questions to choose from is given below:
1. What is your typical studio routine?
2. Was there a definitive point in your life that you decided to become a professional artist?
3. Many of us at QSS have previously studied at Ulster University at different stages of our education (BA, MFA, PhD). How did this experience influence your later attitude as a professional working artist?
4. Socially, historically and perhaps geographically, Belfast has many 'unique' attributes that define it as a city. Can you describe one positive and one negative aspect of working in this 'unique' place.
5. There are many arts journals, which would you consult regularly?
6. What role does social media play in the documentation/promotion of your own work?
7. Is there a difference, say, in being called an 'artist' or a 'painter'/'sculptor', 'printmakers'? Do these distinctions matter?
8. How do you find an audience beyond the studio?
9. Have you completed any artist residencies or are there any you aspire to?
10. Can you name some of the contemporary artists you are interested in?