Sharon Kelly – Artist of the Month
Was there a definitive point in your life that you decided to become a professional artist?
I didn't go to art school until I was 23; somehow, I found art through much time spent alone with a small child, questioning, pondering, wondering. There wasn't a definitive moment, to decide to be an artist, but the urge to be engaged in something meaningful was always spurring me on. Conversely there have most definitely been moments when meaning fell away and I had to make a very clear, conscious decision to continue my practice. Its often the more pertinent thing – how to keep going as an artist and with integrity.
How do you find an audience beyond the studio?
There are many ways people may engage with your art; maybe through exhibitions, online through the website or social media; talks and projects, etc, however beyond the studio can also be through the studio – for almost 10 years I was virtual Artist-in-Residence with St Patrick's PS, Crossmaglen (part of Virtually There Project, Kids' Own Publishing Partnership, Sligo). This entailed connecting virtually every week, from my studio with the teacher and children in the classroom – exploring themes and ideas; collaborating in a way that might spur belief in the value of learning through art-based enquiry. Integral to this were close relationships built over many years and the belief in artistic practice. This has been a unique, long-term project and probably been the most rewarding aspect of sharing creative practice beyond the studio! Aside from this, widening the audience for me has included the wonderful collaborations I have undertaken with dancers, Choreographers, writers. In recent years I collaborated with Maiden Voyage Dance for Landscapes of Loss, 2017, a multi-media production exploring the territory of grief over time. Others have included working with athletes, for example, Mind Fuel Project 2018 in which I explored the psychological aspect of endurance running, interacting and creating art with the help of runners. Running is a big part of my life and this project really widened the scope of engagement into the field of sport.
Have you completed any artist residencies or are there any you aspire to?
In the Autumn 2000 I was invited to undertake a Fellowship at the Ballinglen Arts Foundation, Co Mayo, which was remarkable in that bringing your children along was actively encouraged! I lived and worked for 3 months there, when two of my children were very young. It was a very positive and much needed experience for me at that time and I got so much focused work done. Shorter term engagements have been as Artist-in-Residence for the World and Irish Championship 24HR endurance running race in 2017 and 2018 respectively. In the latter, I challenged myself to respond creatively over a full 24HR period to the efforts of athletes and the atmosphere of this ultra-race.
More recent residencies have been in Back Street West, Cornwall, summer 2019, which provided the right window of time to ponder things from the past – I grew up in the West Country, England and this visit generated the initial ideas that manifested later in the installation work that was created for Golden Thread Gallery Project Space, The Salt House, 2020.
Time and space are vital aspects for artists and I was fortunate recently to be awarded the Arts Council of Northern Ireland Fellowship at the British School at Rome. For me, personally this came at a pertinent time; the school is a vibrant academy with lots of academic visitors, speakers and other artists as well as the rich resources on offer through the library, Rome itself and other places in Italy. I was part ways through the six-month residency when the COVID-19 situation meant the School had to close its doors. Travel, research and all interactions were cut short and I had to return to Ireland, so a challenging time for everyone. However, I will be returning in the future to complete the Fellowship albeit there may be a strange kink in the way the creative process and art develops!
About the Artist
Kelly's work gravitates around drawing and explores ideas of bodily interiority, emotional states, and the mind – body synergy.  Her practice has taken the intersections between art, life, health and sport – in the recent past her work has taken a particular focus on the physical and psychological challenges of endurance running. Her present work deals with the potentially unsettling confrontation of the fragmented, broken body; issues of healing, perseverance and notions of liminality and transformation.
You can view Sharon's profile page here.
Image Details
Left Over Image (above) pencil, ink, watercolour on transluscent paper, 2019 .
Mind Protectors

created by children from St Patrick's PS, Crossmaglen, as part of

Virtually There 

Project 2019 (these works were included in the 

Virtually There

exhibition March 2020 in Ulster University Gallery, Belfast – part of Children's Festival  which had to close due to the pandemic).

Sharon in her studio, 2018.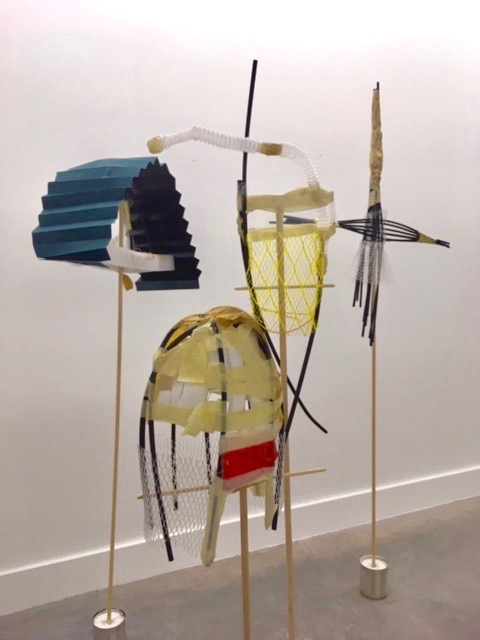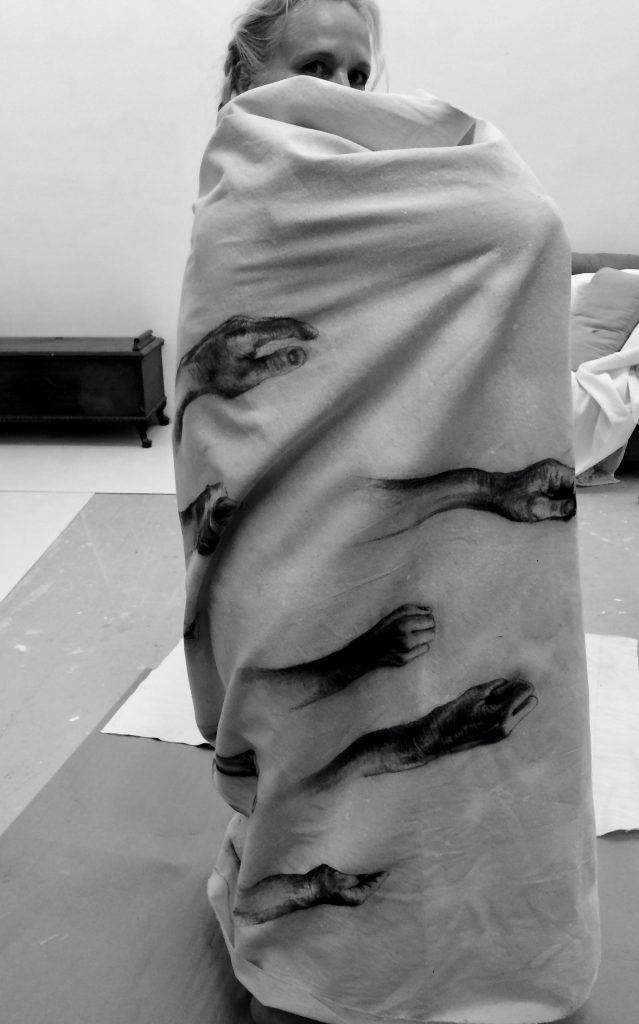 The full list of questions to choose from is given below:
1. What is your typical studio routine?
2. Was there a definitive point in your life that you decided to become a professional artist?
3. Many of us at QSS have previously studied at Ulster University at different stages of our education (BA, MFA, PhD). How did this experience influence your later attitude as a professional working artist?
4. Socially, historically and perhaps geographically, Belfast has many 'unique' attributes that define it as a city. Can you describe one positive and one negative aspect of working in this 'unique' place.
5. There are many arts journals, which would you consult regularly?
6. What role does social media play in the documentation/promotion of your own work?
7. Is there a difference, say, in being called an 'artist' or a 'painter'/'sculptor', 'printmakers'? Do these distinctions matter?
8. How do you find an audience beyond the studio?
9. Have you completed any artist residencies or are there any you aspire to?
10. Can you name some of the contemporary artists you are interested in?