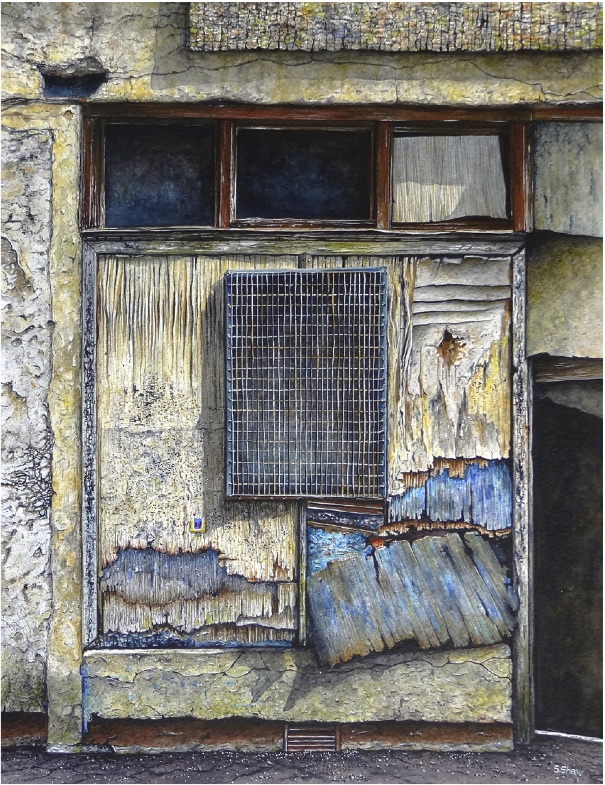 Urban Elements – Stephen Shaw
Opening preview: 18:00 -­ 21:00 Thursday 6th November 2014
Press release:
Since the 1980s Shaw has produced watercolour paintings addressing themes of urban decay and neglect, mainly of marginalised and desolate areas of Belfast.
On one hand, there is a permanent sense of isolation and abandonment from these works, which hint at the lack of commitment and investment in the aftermath of urban violence and territorial insecurities. On the other hand, the work acknowledges the qualities of painterly abstraction inherent in the dilapidation and dereliction of disregarded uninhabited places of the city.
Noted for his highly detailed and forensic approach of depicting local urban subject matter. Shaw's work lies at the edge of traditional watercolour painting. He is a colourist with a painstaking eye for detail with the ability to render a view before him with atmosphere and depth.
His paintings have an undiluted acidic realism, which tell a tale of the public authority neglect in the face of overwhelming hardship. A story of inner city decline, accelerated by recession and public expenditure cuts deliberate and systematic under the guise of redevelopment by the Northern Ireland Office as a means of solving sectarian strife in Belfast.
Shaw's watercolours paintings are thus a kind of sociological study of the effects of economic impoverishment, an exploration of the psycho – urban geography of areas within the city that has been waiting for decades to be regenerated.