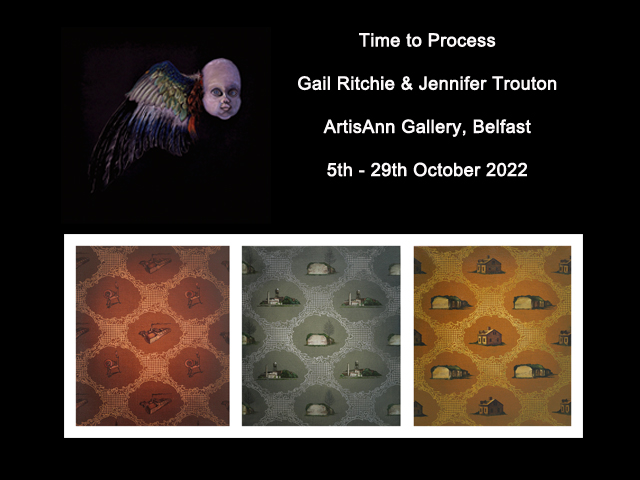 Time to Process | Gail Ritchie PhD and Jennifer Trouton RUA at ArtisAnn Gallery
Time to Process is a joint show by QSS artists Gail Ritchie and Jennifer Trouton at ArtisAnn Gallery Belfast.
Opening Reception: Wednesday 5th October 6-8pm
Exhibition Dates: 5th – 29th October 2022
Gallery Hours: Tue-Fri, 11am to 6pm – Sat Noon to 5pm.
TIME TO PROCESS
Though time to process is ostensibly a simple phrase, it can, like both of these artists' work, be interpreted in different and more complex ways. It has more than one meaning. Just as time need not be linear nor process refer to a method or means of conducting an activity so the works in this exhibition, while they may not seem to relate to each other thematically, connect through commonality of approach. For these artists, time both is and is not important in the production of work. It takes time to make work in any medium but the works exhibited  here demonstrate a willingness to give up time so that the work produced arrives not in days or weeks but sometimes takes months and years. There is no end point to thematic exploration and subject matter circles back and through itself – memory, family, environment, acknowledgment of the weight of art history and a willingness to interpret this with a contemporary sensibility.
Process is not just the method used to produce an artwork, whether a painting or a drawing, but the practice of development wherein, over time, the feedback loop between hand and eye, past and present, private reverie and public facing presentation is closed within a frame, caught up in layers of pigment and in thousands of unseen marks. Process is not just the time it takes the viewer to encounter and think about the work but also the way in which each work, as part of a wider body of work which span decades, marks a certain point in time in each artist's career. The artworks exhibited here offer a snapshot of these reflective encounters, at the unseen junction between what is past and what is yet to come.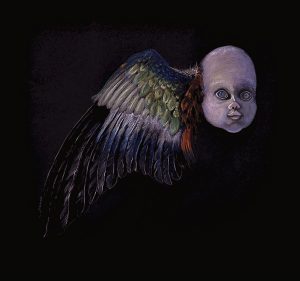 Gail Ritchie, Putti (After Durer), charcoal and pastel on paper, 60 x 60 cm, 2008

Jennifer Trouton, No Place Like Home