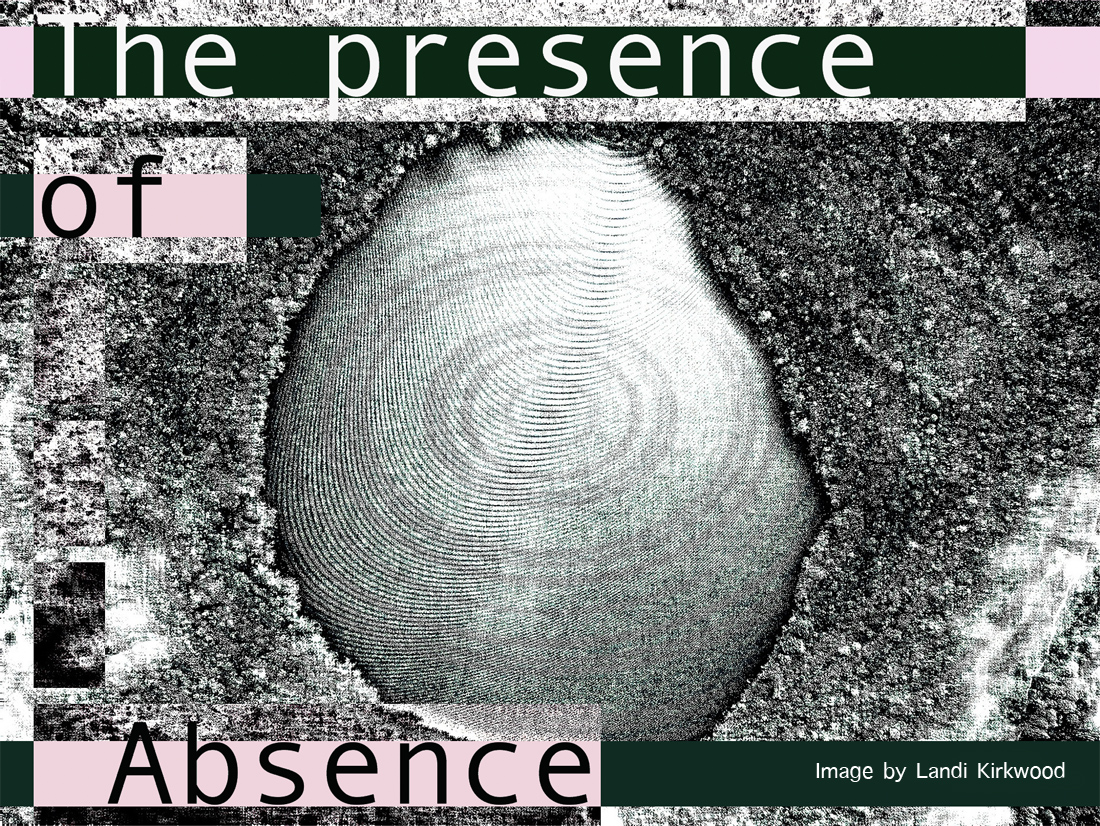 The Presence of Absence
The MFA 2019 cohort group show – The Presence of Absence
Opening event: Thursday 4th November from 6pm. No booking required, please see the 'visitor information' section of our website for further details on visiting the gallery https://www.queenstreetstudios.net/visitor-information/  
General opening hours: Tuesday – Thursday, 10:30am-5pm.
The 2019 MFA group from Belfast School of Art, UU began their degree pre-Covid. Their first year was cut short, studios were packed-up and practices moved to alternative, makeshift spaces. Despite regaining access to their 5th floor university studios during Year 2, further disruptions ensued with many live shows cancelled or transferred online; as was the case for the Degree Show.
Within this context, the November show at QSS provides a relished opportunity for this cohort of emerging artists to exhibit physically alongside one another. A manifestation of the strong bonds formed against the odds at an uncertain time. The title of the show 'The Presence of Absence', reflects this sentiment by exploring the experienced effects of the pandemic, what was absent yet still felt. Unified by theme of internal and external landscapes, the group's practice spans a diverse range of mediums across the fine arts.
QSS is delighted to host this event and showcase a body of work that captures this moment in our shared history in a poignant and timely manner.
Exhibiting artists: Andy Athanasiou, Declan Coyle, Amy Devlin, Emily Esdale, Anna Horvathova, Maria Horvathova, Susan Hughes, Zara Lyness, Oonagh McAteer, Lauren McCullough, Anna Nangle, Katrīna Tracuma, Charys Wilson and Drydan Wilson.
Born in Greece, Valanti (or Andy) Athanasiou is a visual artist who works primarily with filmmaking, photography and printmaking. She holds a BDes in Interior Design, a PgDip in Design and an MFA in Fine Arts from Ulster University. Her work explores the subliminal concept of life, death and time and how these relate to 'the cosmos' and 'the self'. She believes beauty can be found not only in perfection, but in everything that surrounds us. Thus, her work focuses on the unpresentable, the transcendent and the uncanny.
Declan Coyle is a Derry-based artist and MFA graduate. An earlier focus on jewellery and silversmithing has evolved over time with the artist's practice now centring on performance art (performance to camera, video installation and live performance). Place, people and identity are important themes and are regularly explored in the artist's weekly recordings and street performances (using language, words, sound, speech, and action). Declan believes that performance art and poetry are interrelated, action in words, words in action.
Amy Devlin:
Amy uses handmade collage to explore the theme of the apocalypse, including the impacts of climate change, social injustices and political discourse. She frequently juxtaposes realistic material from magazines like National Geographic with more sanitised imagery from publications such as Family Circle. By doing so, she hopes to expose how the media can be used to distract us from the realities of everyday life. More recently Amy has expanded her use of collage to include stop motion video, allowing her to bring this strange world she has created to life in ever greater detail.
Emily Esdale is a Northern Irish visual artist, and recent MFA graduate of the Belfast School of Art (2021). Through the use of photography, video and text she gives time and energy to a particular location, using the surrounding landscape as a conductor to express her vulnerability. Her inspiration is rooted in emotions and memories associated with landscapes which often stand in contrast to their remoteness or perceived inaccessibility. The resultant works explore the ever changing relationships between people and place, unravelling how a given site can greatly influence our deepest feelings.
Slovakian born artist Anna Horvathova graduated with a BA in Fine Art (Honours) from the Belfast School of Art (2019), before undertaking a Masters at the same university. She combines 35mm film, Polaroids and digital imagery to create atmospheric works with a spiritual quality. Her subject matter is drawn from the natural world and often includes trees and the capture of light in nature. The former is a symbol of 'belonging' which the artist uses to explore feelings of homesickness and struggles with change. Memories, and how they merge and change overtime, also serve as a source of inspiration in her work.
Slovakian born visual artist Maria Horvathova completed a Bachelors degree of Fine Art (Honours) in 2019 at Belfast School of Art and her Masters in Fine Arts thereafter. Since moving to Northern Ireland she has forged a strong connection to home through nature. Both colour palette and light quality is used in her work to depict time and space, specifically dark and enigmatic landscapes and sky.  An experimental approach towards painting and drawing methods have created a sense of serendipity in her practice (making discoveries by accident) placing scientific observation within a romanticised visual aesthetic.
Susan Hughes is from Belfast. Via a host of artist residencies throughout Ireland and Scandinavia, she has used her fiddle playing to barter for local stories as a source of inspiration. Graduating with an MFA from the University of Ulster in 2021, Susan has received awards from the CCA (Derry~Londonderry) and Platform Arts (Belfast), and was long listed by the RDS. Her work explores a personal connection with nature, abstracted and retold through video and sculptural installation.
Zara Lyness is enrolled part-time on the Belfast School of Art MFA course. She is also involved with several arts organisations including the Belfast International Festival of Performance Art, Pollen Studios and Bbeyond. Her practice combines sculpture, ceramics, mark-making, live processes and social engagement, with concepts of perception and memory explored across all media.  Zara uses gesture and objects that reflect her interest in relationships and identity, focusing on the 'small things' that question our understanding of ourselves.
Oonagh McAteer is an artist whose work focuses on subjects and stories that preoccupy her internal discourse.  Her daily life is influenced by anthropomorphic 'characters' encountered along the way, one of whom is a rock called 'Sumpy'. By means unknown, Sumpy drew Oonagh's attention towards her surroundings close to home, combining personal stories with local, vernacular tales.  This narrative is expressed within her current practice of creating thoughtful, miniature room corners.
Lauren Ciara McCullough is a Northern Irish artist and a recent graduate of the BA and MFA fine art course at the Belfast School of Art. In 2021 she was awarded the Siobhan McQuade Memorial Prize and shortlisted for the RDS Visual Arts Award.  Her practice focuses primarily on abstract painting, but is also informed by drawing, poetry, collage and photography. Her intention is to create imagery that evokes 'the sublime', capturing an element of spirituality and the essence of place through mark-making and paint.
Anna Nangle:
Anna Nangle's post-studio practice includes participatory and site-specific art; creating performative environments and installations that incorporate film, video, photography, spoken word, sound and journey making. She currently works from her home studio in the Yuin country, Australia, having deferred her MFA at Belfast School of Art.
Born in 1993 in Jelgava, Latvia, Katrīna completed her Honours BFA at CIT Crawford College of Art and Design in 2018, and her MFA at Belfast School of Art, UU in 2021. Her work centres on humankind's estrangement from nature and our fragmenting relationship with other species. Featuring bold brushstrokes balanced with intricate details in a language of symbolic imagery and metaphors, Katrīna's paintings draw our attention to environmental issues in an engaging way. Awarded the Visual Arts Award at the Galway Fringe Festival in 2018, she is also a recipient of the Backwater Studios Graduate Residency Award and the Joan Clancy Gallery prize.
Charys Wilson:
Charys is an artist from the north coast of Ireland, currently studying for a Masters in Fine Art at the Belfast School of Art. She works predominantly through the mediums of drawing and installation, with immersive or interactive components. A monochrome palette reflects her love of stark contrast and quiet drama. Charys' work highlights the uncertainty of climate change at a time when our very relationship with nature appears to be unravelling. When people feel little to no connection with the natural world it becomes easier to destruct.
Drydan Wilson's work is influenced by skateboarding and its associated subculture. He graduated with and MFA in Fine Art from Belfast School of Art in 2021, having previously completed a residency (2017) and BA (2016) at the same university. Between 2014-2015 he worked, studied and lived in Finland, developing his practice and exhibiting his work. Drydan has completed several public art commissions and regularly collaborates with other artists, including Roi Vaara, Naomi Sex and Ralf Sander. His work has featured in numerous group and solo exhibitions, both locally and internationally.