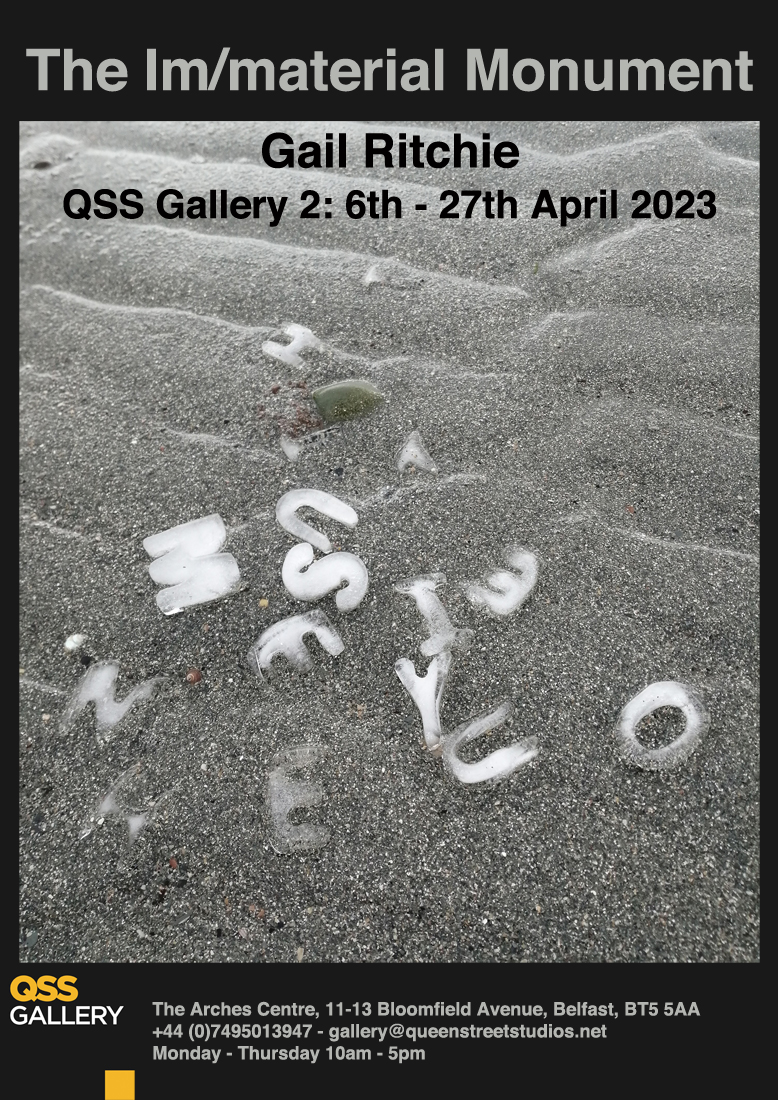 The Im/material Monument – A Solo Exhibition by Gail Ritchie
QSS is delighted to host The Im/material Monument, an exhibition of work by QSS artist Gail Ritchie
Opening event: Thursday 6th April from 5pm. No booking required, please see the 'visitor information' section of our website for further details on visiting the gallery https://www.queenstreetstudios.net/visitor-information/  
Exhibition Dates: 6th – 27th April 2023
General opening hours: Monday – Thursday, 10am-5pm.
The im/material monument
Twenty-five years after the signing of the Belfast/Good Friday agreement there is still no memorial to commemorate the collective dead of the Troubles. Should there be? For some people such an enterprise is too soon, for others it is already too late. Within these polarities, Gail Ritchie troubles the established parameters of commemorative practice by imagining a memorial that exists within an expanded field of possibilities.
The im/material monument is a practice-based engagement with Troubles commemoration in Northern Ireland. It imagines a Troubles memorial/s where issues such as names, form, location and scale are addressed through making, speculation and reflection. The artworks produced include models, drawings and ephemera which are experimental, associative, unresolved and non-linear. The artist argues that just as the Troubles are not conclusively over, so any Troubles memorial should not suggest foreclosure.
Thematically, the exhibition entangles history, memory, reality and imagination to materialise anxieties about the past which, in Northern Ireland, may be contested. This process is not formulaic or empirically driven nor is it linear and focused on success. Instead, it is elliptical and layered, playful and paradoxically sombre. Materially, the exhibition includes concepts for memorials that do not behave as they should. Instead, Ritchie proposes commemorative forms that float, melt, drift, metamorphosise and haunt. She enfolds the Troubles into wider global concerns to consider the ecological trouble we are all in and suggests that, in the end, the only memorial we need is the one in our head.
About the Artist:
Gail was born in Newtownards, Co. Down. She studied at Ulster University (BA Hons. 1991) and at Queens University (MA Arts Management 2013). In 2022 she gained a PhD in International Relations from Queen's University Belfast for practice-based research into the commemoration of the Northern Ireland Troubles. Previously, Gail was a member of Backwater Artists Group Cork before relocating to Belfast and joining Queen Street Studios in 2003. Since then, her practice has centred on making work about conflict, memory and memorials. She has received awards from Arts Council Ireland, Arts Council Northern Ireland, Cultural Relations Committee, the British Council and the Arts and Humanities Research Council.