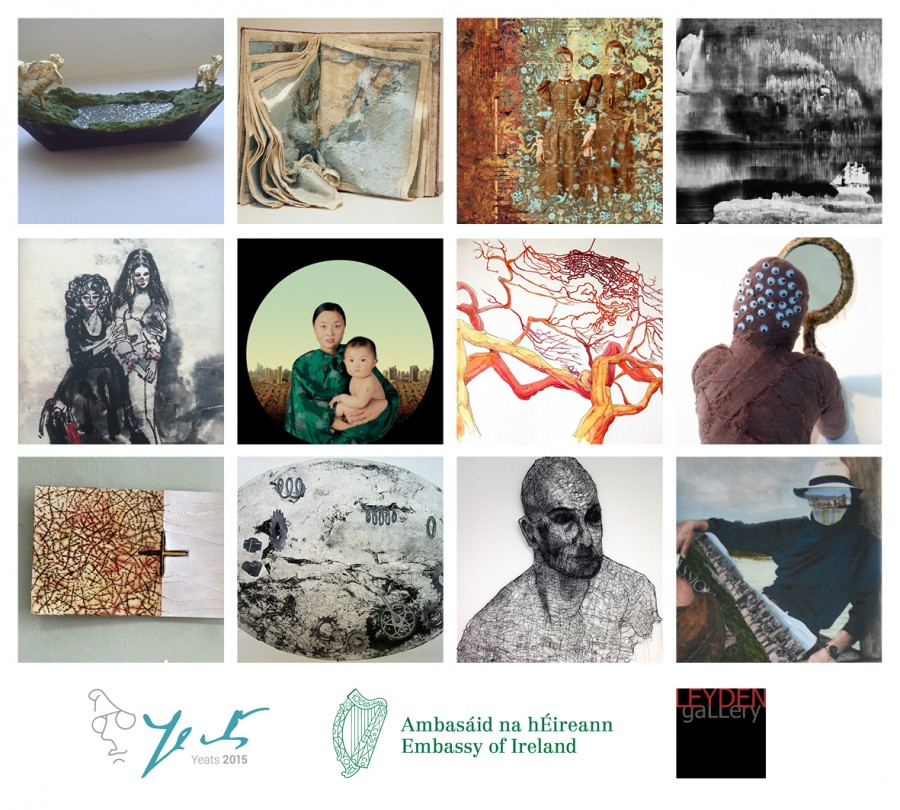 'Sailing to Byzantium' Exhibition feat. work QSS artists
Sean Campbell, Gail Ritchie, Lindsay Moran, Fion Gunn, Yang Ying Sheng, Chen Meitsen
'Sailing to Byzantium' An exhibition of Irish & international contemporary art inspired by the poem by W.B.Yeats
Curated by Fion Gunn in collaboration with the Leyden Gallery, London
Dates: 20-31 October 2015     Preview: 20 October @ 6-8pm
To be opened by Ambassador Mulhall
That is no country for old men. The young
In one another's arms, birds in the trees'
Yeats's "Sailing to Byzantium" describes the metaphorical journey of a man pursuing his own creative path, his concept of paradise and yearning to leave a legacy.
The artists in this exhibition from Ireland, China, UK and Japan explore their own personal quests for meaning and elucidation through the media of textile, drawing, painting and mixed media artworks. The artworks are intimate in scale and have a focused intensity redolent of precious icons while remaining true to the adventurousness and innovativeness of contemporary art practice.
Yeats' unforgettable imagery of 'mackerel crowded seas' and objects 'as Grecian goldsmiths make, Of hammered gold and gold enamelling' has inspired the artists to produce a range of work which confronts the difficult dilemmas of artifice v. nature, of ageing and of destruction in diverse and elegant ways. Pamela Hardesty's refined drawing in thread – 'Believers' works seamlessly with Sean Campbell's mixed media/glass landscapes and Chen Meitsen's cartographic image of contemporary Istanbul.
In this exhibition the universality of Yeats's poetic voice – (this poem is featured on the London Underground and its Chinese translation was presented to President Xi Jinping in December 2014) is interpreted through the lens of visual art, in a way that gives his imagery and his message a new touch point with the present day London audience.
The Leyden Gallery, which is strategically situated between the Square Mile and Spitalfields is part of the network of contemporary art galleries which has emerged in the area in recent years. Known for its imaginative curation, combining works by established artists like Paula Rego with those of younger international artists like Atsuko Nakamura and Sue Clayton, it boasts a wide audience and a significant media following.