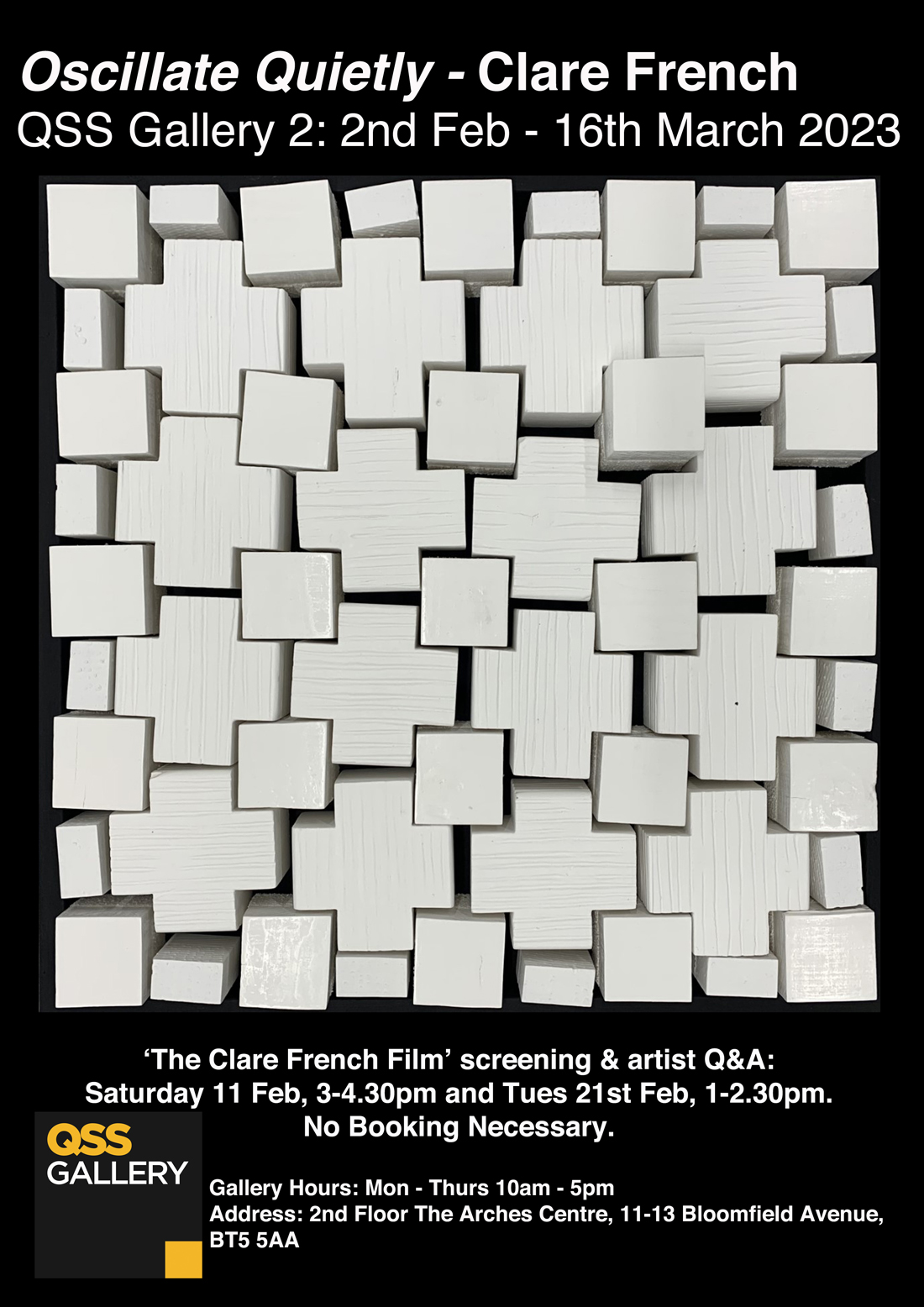 Oscillate Quietly – A Solo Exhibition by Clare French
QSS is delighted to host Oscillate Quietly, a solo exhibition of the work of QSS artist Clare French
Opening event: Thursday 2nd February from 6pm. No booking required, please see the 'visitor information' section of our website for further details on visiting the gallery https://www.queenstreetstudios.net/visitor-information/  
Exhibition Dates: 2nd February – 16th March 2023
General opening hours: Monday – Thursday, 10:00am-5pm.
Oscillate Quietly brings together three elements of Clare's work. It offers an overview of her Post-minimal practice, presents a developing body of participatory painting and includes new work made through Clare's partnership with filmmaker Peter Bromley.
Clare's work considers the unresolvable human desire for meaning: the processes and operations we undertake in attempting to create order and certainty, and the ways in which our humanness simultaneously transforms and disrupts these. Employing materials in repetitive, labour-intensive and time-consuming ways generates the unexpected, communicating the impossibility of the perfect, the absolute. Referencing art historical ideas about making exposes broader hierarchies of labour, making and materials, and explores the ways in which value and meaning are ascribed to activity and objects.
Questions of audience have always been important for Clare. Her insistence on minimal, repetitive systems intensifies audience attention on subtle changes and shifts within her surfaces. Her work aims to elicit a slow, engaged looking and affective response in the viewer. Clare extends this to participatory work that makes explicit the collaborative role of the viewer in making, and endlessly remaking, the work. Oscillate Quietly contains three interactive works that invite the audience to play with them.
Clare was hugely fortunate to be the subject of a documentary film on her practice by 1968 Film Group. Oscillate Quietly shows new work developed as part of the filming process. The film work expands Clare's starting point for making from linguistic and numerical systems to include the architectural and mechanical.
The Clare French Film by 1968 Film Group will screen as part of with the exhibition, including two Q&A screenings with the artist, no booking necessary:
Saturday 11th February 3-4:30pm & Tuesday 21st February 1-2:30pm
The Clare French Film is also available at: https://vimeo.com/ondemand/theclarefrenchfilm
Bios:
Clare graduated with a first class BA in Fine Art from City & Guilds of London Art School in 2018. During her Fine Art BA Clare was shortlisted for the Skinners Co. Philip Connard Travel Award and the Artists Collecting Society Award. She was also selected to participate in The Worshipful Company of Painter-Stainers, Decorative Surfaces Paint Technique Practical Workshops.
Clare has curated and exhibited across the UK and internationally. She is a member of the international Reductive Non Objective Project, and has exhibited with and written for Saturation Point, the UK's curatorial and editorial platform for reductive and non-objective art.   Her work is held in public and private collections in the UK and abroad.
Prior to her art training Clare studied received a first class Social Anthropology MA, focussing on photography and visual anthropology, from Goldsmiths College, London.
Clare moved to Belfast from London in 2020. Oscillate Quietly is Clare's second solo exhibition, and her first solo exhibition in Northern Ireland.
Peter Bromley, 1968 Film Group
Peter Bromley originates from World's End, Chelsea, London. Bromley leaves school at 15 to work as a photography and darkroom assistant, and turns photographer 5 years later. Living and working in Paris, Milan and London in the 80's & 90's, he was mostly shooting fashion. In 2000, Bromley starts to include film, video and sound in his work. In 2003, he then sets up 1968 Film Group to bring together photography and film projects. In 2005, Peter Bromley moves away from making fictional short films and starts making feature documentaries.