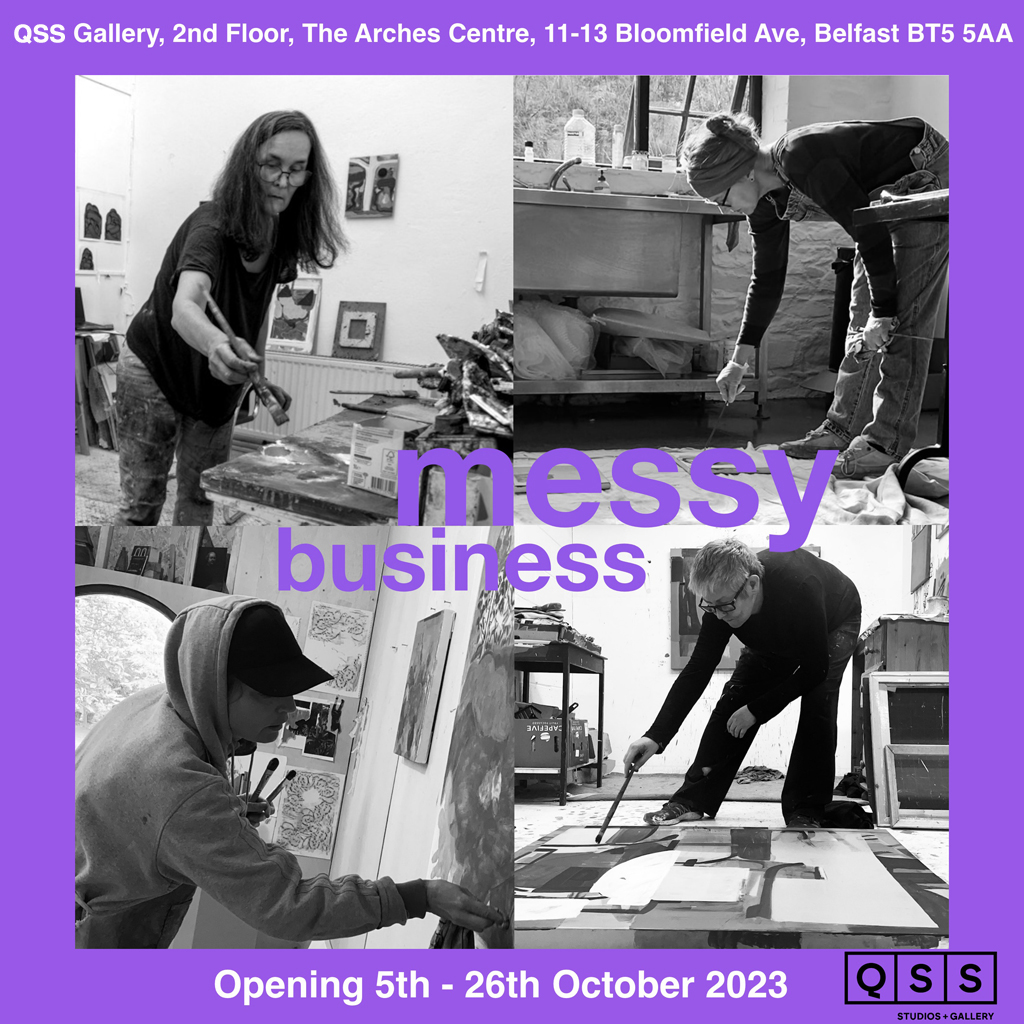 messy business – Sinéad Aldridge, Patricia Doherty, Mary Theresa Keown and Louise Wallace
QSS is delighted to host messy business in Gallery 1, a 4 person show by artists Sinéad Aldridge, Patricia Doherty, Mary Theresa Keown and Louise Wallace
Opening event: Thursday 5th October from 6pm. No booking required, please see the 'visitor information' section of our website for further details on visiting the gallery https://www.queenstreetstudios.net/visitor-information/  
Exhibition Dates: 5th – 26th October 2023
General opening hours: Monday – Thursday, 10am-5pm.
messy business
Sinéad Aldridge, Patricia Doherty, Mary Theresa Keown and Louise Wallace
messy business
Adjective:
Dirty; lacking order
A situation that is confused, difficult or long drawn out.
Painting is a messy business. The paint is slippery and hard to control. It gets on everything – clothes, skin, hair. In the studio it can be hard to find a path through the chaos. It is a series of tricky negotiations, with resolution arriving after lengthy debate.
Aldridge, Doherty, Keown and Wallace are committed to the debate. In their separate studios they engage in a precarious balancing act. Ideas and colour are stacked in each composition. Paint gets moved around and sometimes objects too. Imagery appears and disappears; shapes collapse and are rebuilt through a series of improvised moves. The aim for each artist is to leave the final composition open somehow and hold on to possibility in the artwork whether two or three dimensional.
The four painters are concerned with space and an embodied relationship with it. Space in this instance may be topographical or it may be the space of painting itself; the sticky terrain of moving colours. There is a third space: the space that painting occupies within art history. Aldridge, Doherty, Keown and Wallace are also versed in that messy business. Their works operate as interpellations within a long and complicated history as they problematise assumptions surrounding the body of the painter.
This group exhibition is a visual extension of an ongoing conversation between the four artists which began online in 2022; a dialogue concerned with 'not knowing' as an aspect of practice which is imbricated in the group's identity formation. The painters check in with a field of interpretation and processes which are 'unstable and slippery'.[1] They talk of inner guiding principles and try to make clearer sense of them. It's a messiness that is highly tuned into.
[1] R. Fortnum, Baggage Reclaim, p. 22.
About the Artists
Sinéad Aldridge studied at Camberwell and IADT Dublin. Her solo and group exhibitions include Belfast, Düsseldorf (Germany), and Sligo. She worked 12 years as a Fine Art Lecturer at the Institute of Technology, Sligo and today mostly lives and works in Germany. Patricia Doherty studied at Camberwell and at the Royal Academy where she was awarded a scholarship. She lives and works in Sligo and has had exhibitions in Germany, Wales, Ireland and N. Ireland. Mary Theresa Keown completed a PhD in Fine Art at Ulster University in 2020. She has exhibited her work throughout Ireland, and internationally in Tokyo, Bilbao and London. She lives and works in Manorhamilton, Co Leitrim. Louise Wallace has recently had a solo show at The Mac, Belfast. She is lead supervisor on a collaborative doctorate with the Ulster Museum and is one of the founders of Uncovered: Female Visibility in NI Art, a research project at the Ulster University. Wallace has been a lecturer in painting at the UU since 2007.