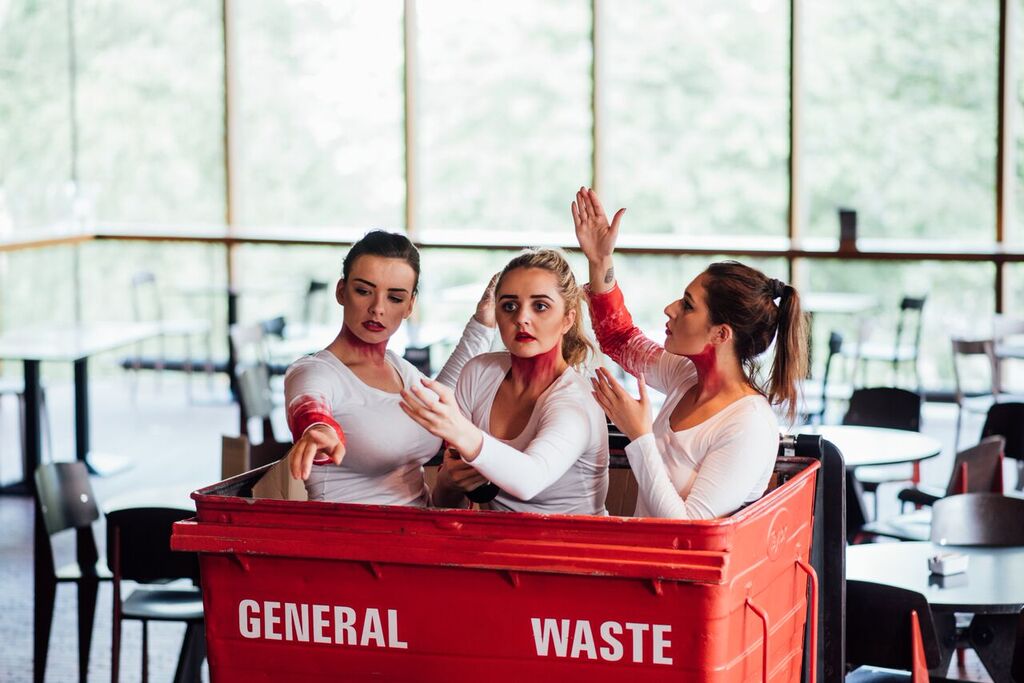 Amanda Coogan in 'Activating Pangea: Acts to Objects'
Curated by: Ciara Scanlan & Matthew Nevin of MART Gallery Dublin
Runs: March 15th – April 29th 2018
Gallery: LACE, Los Angeles.
Artists: Aine Phillips, Amanda Coogan, Helen Mac Mahon, Margaret O'Brien, Katherine Nolan, Eleanor Lawler, Laura O'Connor, and Jane Fogarty.
Opening Reception: March 15th, 2018, 7-10 PM
The opening night will feature performances by: Amanda Coogan, Eleanor Lawler, Cindy Rehm, Thinh Nguyen and Mothertongues (Meital Yaniv & Kim Ye).
The exhibition is the final in a three year programme titled "Activating Pangea", a series focused on the promotion of Irish Contemporary Art in Los Angeles curated by MART's Matthew Nevin & Ciara Scanlan. Acts to Objects brings together artists from Ireland and LA that span a number of generations, in order to explore the role of spectacle in feminist practice today.
Coogan will install and performTomorrow, and Tomorrow, and Tomorrow in which the performer stands inside a dumpster filled with waste papers. She is incased from the waist up, in this wheeled carriage. From within her trash filled carriage the voice of a nine year old boy emerges. He is reading Shakespeare's Macbeth speech; "Tomorrow, and tomorrow, and tomorrow"; this poetic outpouring on the nature of fate and the incessant march of time. The boys words are interrupted by the playing of Bach's Harpsicord concerto in D, its fugal repetition echoing the rotation of the speech and the performer's actions. The performer moves slowly, making deliberately gestures throughout. As the interior monologue of looped scolding and chaos relentlessly plays the woman is caught in the moment. As with much of Coogan's works, we are seduced by the beauty of the image. We fall into the trance of the cycle of her gestures; is she calling us, harpy like, into the cycle? We are challenged and yet beguiled by the porous meaning of her movements and yet we fix our eyes on the wheels of the dumpster, knowing things can move, a perspective can be changed, maybe.