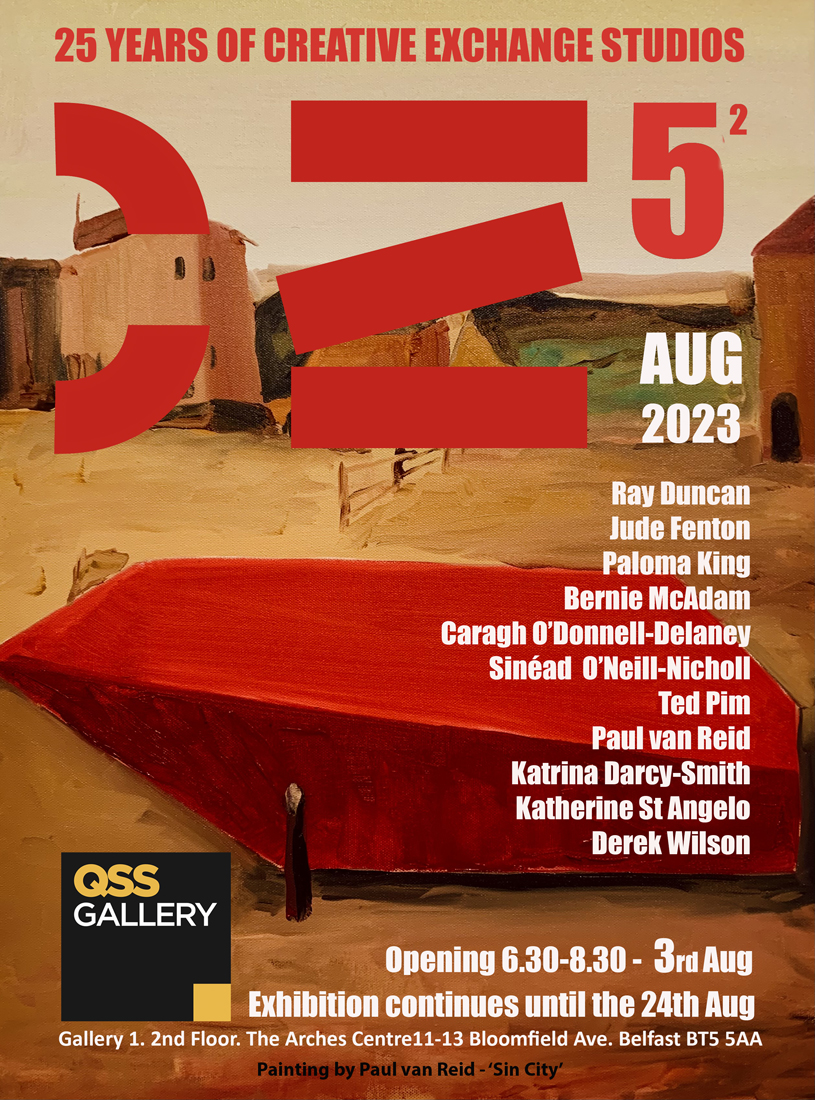 5² – 25 Years of Creative Exchange Artist Studios
QSS is delighted to host 52, a group show of works by current members of Creative Exchange Belfast, celebrating 25 Years of Creative Exchange Artist Studios.
Opening event: Thursday 3rd August from 6pm. No booking required, please see the 'visitor information' section of our website for further details on visiting the gallery https://www.queenstreetstudios.net/visitor-information/  
Exhibition Dates: 3rd – 24th August 2023
General opening hours: Monday – Thursday, 10am-5pm.
52
Creative Exchange (CEx) is an East Belfast-based artist studio group, housing 10 artists working in painting, drawing, ceramics and mixed media.
Established by a group of artists in 1996 to meet the need for affordable working space, the studio has become part of the vibrant network of artist and cultural organisations across Belfast.
CEx is a community of artists working side by side. The small group provides a programme of opportunities for artists to prioritise their practice, develop professionally, engage with communities, raise individual and collective profiles, and contribute to the sectoral infrastructure in East Belfast and beyond – regionally, nationally and internationally.
2021 marked the group's 25th anniversary and this exhibition profiles the current cohort of artists' work. Works include vibrant oil paintings, surreal figurative works, abstract watercolour and acrylic landscapes, and contemporary ceramics.
Creative Exchange studios artists are: Bernie McAdam, Ray Duncan, Ted Pim, Katherine St Angelo, Derek Wilson, Katrina Smith, Caragh O'Donnell Delaney, Jude Fenton, Paul Van Reid, Paloma King.
Studio Manager: Sinéad O'Neill-Nicholl