Hannah Clegg – Artist of the Month
What is your typical studio routine?
Most studio days begin in the morning, outdoors. I always, always go for a long walk before painting. There is a brightening quality to moving through whatever weather the day offers. Music and motion meet here, offering a doorway into attentiveness. I find tangible music in the shapes of nature. Depending on the day and the hour, a walk will lead to bird murmurations, mist, rainfall, river-water reflections, clouds, wind-shapes, mountain outlines, leaves, roots and tendrils. It seems my limbs observe these elemental things, remembering them in the motions that are used later within the physical part of painting. Gestural motion is important in all painting, but especially if working at a larger scale when brushwork is directed less by the wrist and more from the shoulder, or the waist. Walking is my favourite way to initially stretch into that kind of embodied articulation.
I don't keep a strict routine when I reach my studio, aside from opening all the windows first thing (I like to have a breeze!), and always listening to music. This guides so much of the rhythm of the work. Beyond that, I just follow the paintings' lead. I am more of an intuitive painter than a logical one.
I prefer morning light for clear-headed, observational painting. However, the deep, internal quiet of evenings is when I do my best dream-zone work (at least, I think so). When possible, I will work in the studio for a full, long day to seek out the benefits of both. I try to stop painting at the moment just before what I see on the canvas is a nameable thing.
How do you describe your practice?
Devotional. By this I mean: it happens at the meeting-place of the truly intimate, the mysterious and the disciplined. If I don't paint for too long a period, I miss it the way you might miss the one you love the most. It often feels akin to something prayerful, and it is definitely reciprocal. I understand painting to be an empathetic, enigmatic thing. If I go towards it with honesty and openness it will come forward to be met, and it pushes inwards. All these things are very deeply felt but can't really be explained.
I hope very much for compassion and tenderness to flow as the life-blood of my practice. I feel more and more that this is what the work is asking me to give. But it is the work of a life and a lifetime. Every day is a teacher.
Is there a particular process or methodology within your practice that is important to you?
Poetry is an essential part of my process. It helps with articulation, in a peripheral way. I tend to find it easier to approach larger emotions at a slant, rather than directly, and poetry offers this. Paintings are thresholds, and poetry is a hand to hold onto as I cross over. There is also a certain musicality, like water, within the rhythms of poetry, which might carry into the paintings. Many of my individual painting titles will come from poems, too (either my own or others').
What do you dislike about the art world?
A few things, like most artists I suppose. It depends how deeply you want to look! Recently, overpriced applications (expensive rejections) have been on my mind. An application fee will always be necessary, especially for galleries not in receipt of funding. However, many organisations have increased the price of their application fees (at stage 1 of the selection process) to such a degree that it nearly feels unaffordable for artists to regularly submit their work for consideration, never mind be exhibited. This is a wider problem, which for the most part will stem back to a general lack of funding for the arts. A conversation we are all weary of.
At the same time, there are many moments of collective beauty currently happening in the creative sphere. I think it is important to persevere with an open heart. There are supportive, generative communities out there. My experience of Belfast is that people genuinely want one other to do well.
There are a lot of artist groups trying to do new, exciting, inclusive things in a grassroots way with deep integrity.
What is the best advice you have been given as an artist?
Goodness there's so much. I feel blessed to have wonderful friends & teachers in the art world, whose guidance/advice has profoundly affected my life. A few, off the top of my head:
– Do the thing that frightens you.
– Paint from your life. Use your work as a vessel to pour into, or a hand to hold onto, as you move through grief & joy.
– Be wary of imitation/trends. Ask more of yourself. With trust, humility, and integrity just do it the way you do it.
– Persevere. A private creative practice & the wider art world can both be so hard to navigate. Rilke writes: "Just keep going. No feeling is final". Some of the world's most celebrated artwork was made sitting at a kitchen table. Find a way of working that is sustainable within each season of your life — it won't always look the same.
– Knead your blu tack!
– And a favourite of mine, as a painter: "What's your average brush speed?" My university tutor used to say this to me all the time. These words still follow me around my studio. They are relentlessly in my inner ear, Disturbers Of The Peace, I hear them when I'm lying in bed at night. Without actually being advice, it is some of the best painting advice I have ever received. It's about reaching. Vulnerability—strength, peace—chaos, music—silence.
Describe how important art is to society?
I don't know if I can. It is so many things. It is a kind of healing.
About the Artist:
Hannah Clegg (b. 1995) graduated from Belfast School of Art in 2017 with a BA Hons in Fine Art (Painting), receiving the Dean's List Award and the RDS Visual Art Awards shortlist. Recent shows include 'Hinterlands (Heart)' (solo exhibition) at Queen Street Studios (2023), 'Ag dul i dtreo na gréine' at Arcade Studios (2022), and 'Thing' at Ards Arts Centre (2021). Hannah is a studio holder at Queen Street Studios and a proud member of The Drawing Journal collective. Her work is held in private and public collections throughout Ireland.
Hinterlands (Heart) Exhibition, March 2023, QSS Gallery 1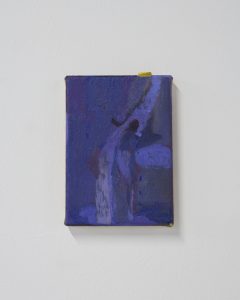 Starting And Stopping in Late Dark, 18x13cm, 2022-2023, Oil on canvas, air dried clay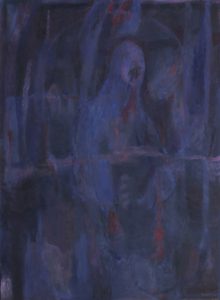 The Calling Under The Breath, 2022, 110x150cm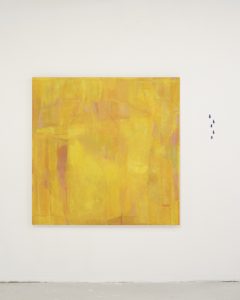 The Otherness and The Invisible, oil on canvas, 135x135cm, 2023