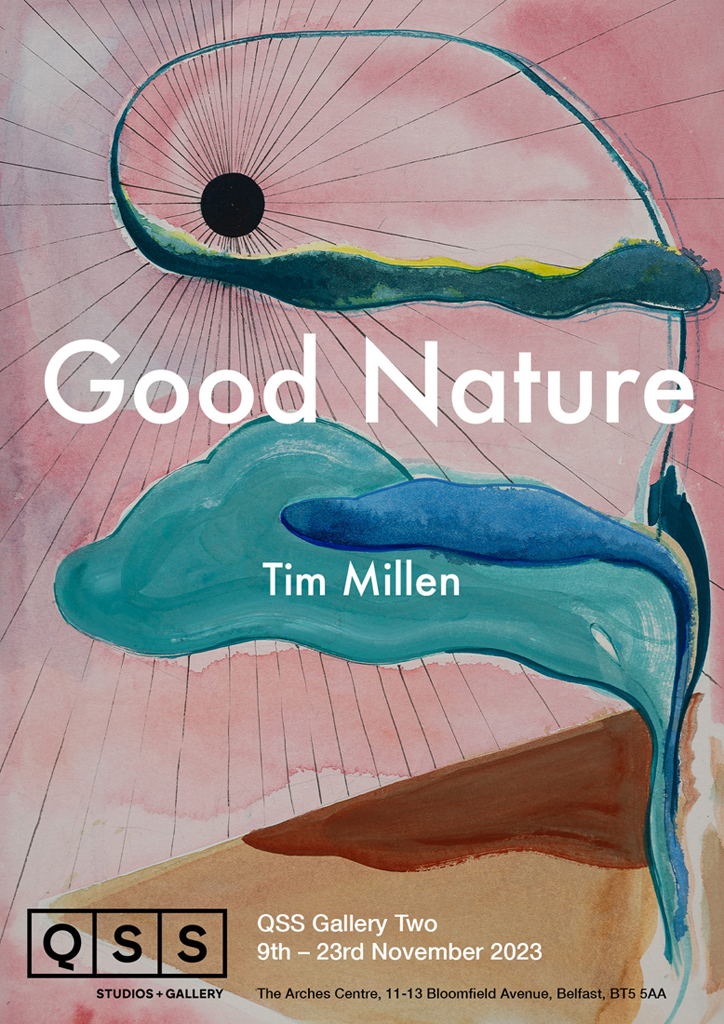 Tim Millen – Good Nature
QSS is delighted to host Good Nature in Gallery 2, a solo exhibition of new paintings by QSS artist Tim Millen.
Opening event: Thursday 9th November from 6pm. No booking required, please see the 'visitor information' section of our website for further details on visiting the gallery https://www.queenstreetstudios.net/visitor-information/  
Exhibition Dates: 9th – 23rd November 2023
General opening hours: Monday – Thursday, 10am-5pm.
Good Nature
QSS presents a solo exhibition of new paintings by Tim Millen exploring ecology, mythology and place. The show builds thematically on works exhibited earlier this year in 'New Exits' at The MAC, Belfast.
Good Nature introduces a cast of creaturely forms navigating their own struggle to make sense of the world they inhabit, of the space of their own bodies, and their desire for a more certain future. This is an earthy world where the boundaries between human, animal and fauna begin to dissolve and reassemble. Forming new symbioses or rivalries in response to escalating changes to the natural order.
The works celebrate the pleasure and physical matter of painting. They explore how specific characteristics or ideas can be embedded in the material. Can the paint itself be creaturely, calamitous, reassembling, fused with hope?
Artist Bio
Tim Millen graduated with an MA in Fine Art from the University of Ulster (2011) having completed a BA Painting at the National College of Art & Design, Dublin (1999). His most recent solo exhibition was 'Future Present' at The Ulster University Gallery, Belfast (2019). He has exhibited in numerous group and curated exhibitions across Ireland and UK, most recently 'New Exits' at The MAC Belfast (2022-23). Millen was selected for the last two BEEP Painting Biennials, Elysium Gallery, Swansea (2020 & 2022).
He has received several arts awards including Freelands Foundation Funding (2020), the Hennessy Craig Scholarship, Royal Hibernian Academy, Dublin (2009) and numerous Arts Council of Northern Ireland Awards. His work is also included in several public art collections including the National Self-Portrait Collection of Ireland, Limerick University and the Arts Council NI.