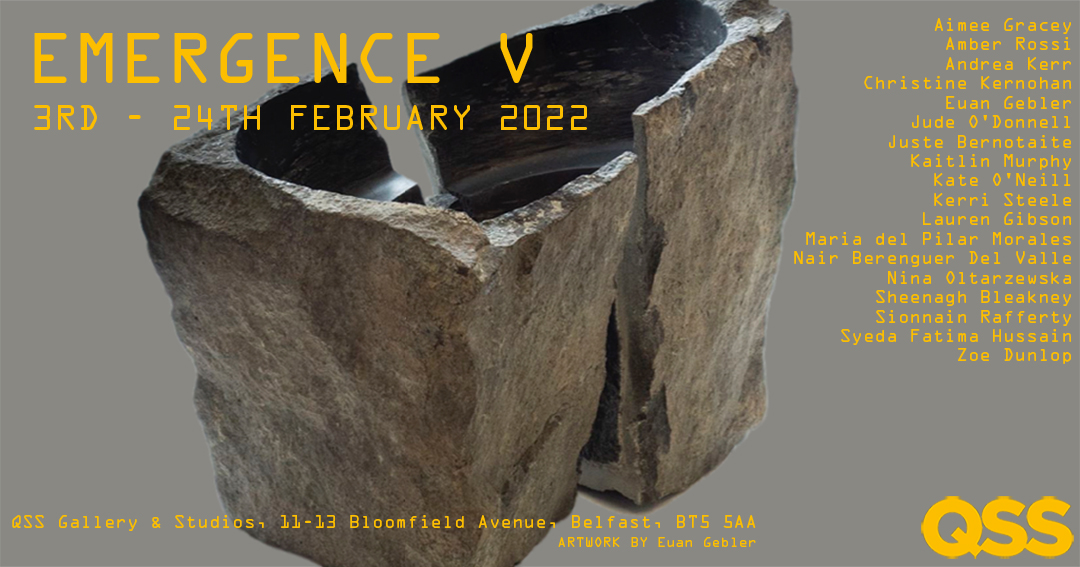 Emergence V
Group show of selected artists from Belfast School of Art 2021 Degree Show.
Opening event: Thursday 3rd February from 6pm. No booking required, please see the 'visitor information' section of our website for further details on visiting the gallery https://www.queenstreetstudios.net/visitor-information/  
General opening hours: Tuesday – Thursday, 10:30am-5pm.
QSS is delighted to be welcoming a selection of 2021 graduates from Belfast School of Art to exhibit in our gallery as part of Emergence V.
Now in its fifth year our annual 'Emergence' exhibition provides a valuable and professional platform for recent graduates at a transitional stage in their career.  The work was selected from the Belfast School of Art Degree Show, June 2021. Due to Covid restrictions the show did not have a public opening and so we are thrilled to welcome you into the gallery to view the works of the selected 2021 graduating artists.
A panel of four QSS studio holders (Majella Clancy, Gerry Devlin, Sinead McKeever and Kwok L Tsui) and an independent curator (Francesca Biondi – Gallery 545) selected the participating artists. This year they are: Aimee Gracey, Amber Rossi, Andrea Kerr, Christine Kernohan, Euan Gebler, Jude O'Donnell, Juste Bernotaite, Kaitlin Murphy, Kate O'Neill, Kerri Steele, Lauren Gibson, Maria del Pilar Morales, Nair Berenguer Del Valle, Nina Oltarzewska, Sheenagh Bleakney, Sionnain Rafferty, Syeda Fatima Hussain and Zoe Dunlop.
Collectively the selected works demonstrate the diverse range of media explored at the Belfast School of Art, from photography and painting through to sculpture, installation and printmaking.