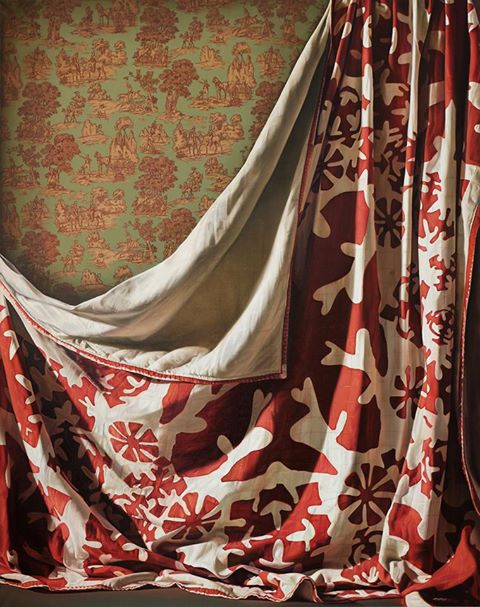 Art of the Drapery Masterclass with Jennifer Trouton at the RHA
QSS artist Jennifer Trouton will facilitate an Art of the Drapery Masterclass at the RHA School in Dublin on 17th & 18th February 2018. The depiction of drapery has been a constant throughout the history of art. From the Venus de Milo, to Jan Van Eyck's Arnolni wedding to Tracey Emin's My Bed, fabric forming folds, pleats and draperies have played a significant part in visual culture.
Jennifer Trouton first started working with fabrics in 2008 and since then it has been a recurring motif throughout her practice. She consciously appropriates the tools and materials of the past to subtly express ideas around gender, class and identity within Irish history.
Trouton will give a presentation of her work, with paintings available to view on the day. In addition, she will discuss the process of creating and photographing compositions, editing and transferring photographic documentation to canvas and the building of layers of paint and glazes.
Participants will be invited to compose and document a composition from fabrics and artefacts from which they will begin an oil painting. Jennifer will be available throughout to give individual advice and assistance.
To book a place on this class contact the RHA Schools Co-ordinator, Kate McBride. Phone: 00353(0)1-6612558 or email: [email protected]
Image: Jennifer Trouton, Longue Duree (detail), 2014, Oil on linen, 182x152cm.