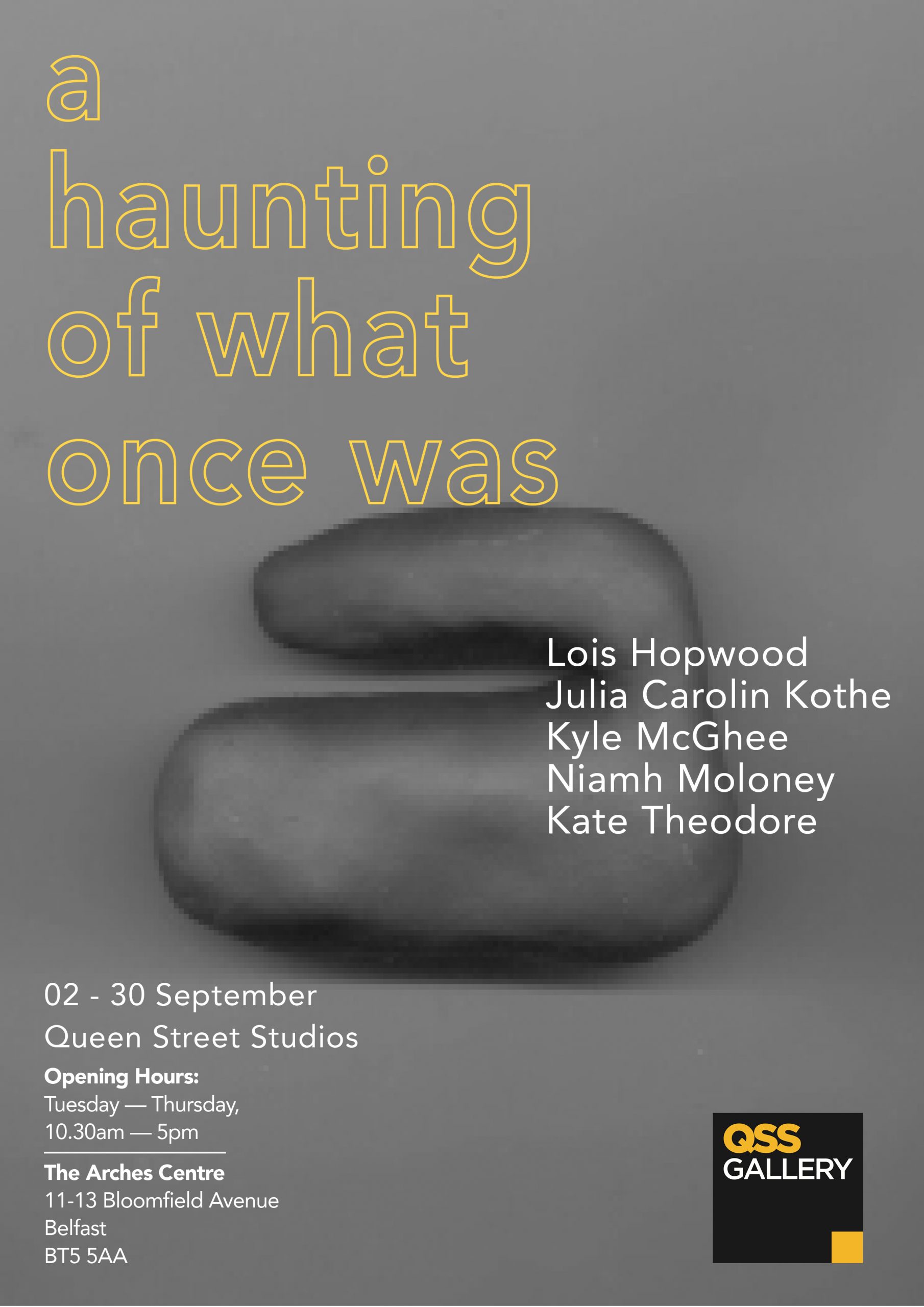 A haunting of what once was | Lois Hopwood, Julia Carolin Kothe, Kyle McGhee, Niamh Moloney & Kate Theodore
Opening hours (no booking required): Tuesday-Thursday, 10.30am – 5pm 
A ghost can take many forms or equally no form at all. A haunting – those fleeting moments between presence and absence – suggesting that these ghostly (pre)occupations leave a trace, an altered state through which a periphery, a layered temporality emerges slowly. To trace a haunting is to mark the demarcated and to give that absence a form.  A spectre invoking personal and social memory through sensation, emotion and thought. A response to the loss that we might feel while we are alone and sometimes together.
A Haunting of What Once Was is a group exhibition by Lois Hopwood, Julia Carolin Kothe, Kyle McGhee, Niamh Moloney & Kate Theodore. It is a collective response to the idea of ghosts as abstract configurations of the self and the spaces we inhabit.
This group of five artists based in Glasgow combine their various practices to present this response through sculpture, video, installation, drawing and sound. Having worked together in person and remotely during the pandemic this exhibition is infused with narrative that travels through space and time. The many emails, correspondence and Zoom calls across time zones and cities in Europe to bring this work together now is invisible but present in the spaces between.
Singular moments are juxtaposed with longer term hauntings of urban expanses, social structures and historical narratives. What takes place here is a perceived journey across time, across actual landscapes that no longer exist and imagined worlds that may never have existed at all but have been passed down through the collective imagination. A dock underfoot now dry and concrete dusty. Grasping moulding hands, questions of continuing down digital rabbit holes, ritual offerings to a deity that gives her name and her body to the land and the heavens.
Time alters, the urban morphs and the landscape around us changes, fragments and is put back together in some other shape or form. A catastrophic failure fragmenting into smaller pieces that are easier to handle perhaps, though might lodge and stick and wedge themselves deeper into the collective psychic body. Spectres of the city slide and morph into intimate moments of gesture, ritual, contemplation and pure uselessness.
Each work is at once amorphous and structured, while always having the possibility of being reconfigured again and again into other forms. This show is a manifestation of the collective conversations and the individual research of the artists that exist in parallel, each influencing the other. Tactility and tenderness are strategies inherent in each artists' work, each reflecting a considered aesthetic approach in representing the immaterial by material forms.
About the artists
Lois Hopwood is an artist based in Glasgow. Graduating from Glasgow School of Art in 2018 (MLitt Fine Art Practice) after previously studying at Staffordshire University (Fine Art BA Hons). Concerned with technology, virtuality and networked culture, her work experiments with bridging dimensional gaps between the virtual and physical, visually exploring our relationships to and understanding of digital networks and the intrusion of technological aesthetics into everyday life. Her work has most recently been shown at JuiceBox Projects (New York/ online), Tramway (Glasgow, UK), Broadway Gallery (Nottingham, UK) and Crate Space (Margate, UK).
Julia Carolin Kothe (b. 1991, Germany) is an artist based in Glasgow. She graduated from The Glasgow School of Art (2019, UK) and Kunsthochschule Mainz (D) with two Master degrees focused at the crossroads of sculpture, text, sound, choreography and performance. Her practice evolves across various mediums, materials and (collaborative) formats by exploring (im)possibilities of communication between objects (sculptures), bodies and gestures. Using non-linear narratives she reflects on haptic encounters composed with her hands, memories, multi-logues, references and suggestions. Recent exhibitions were shown at mañana bold (Offenbach, (D)), ATLETIKA Gallery (Vilnius, (LT)), Rosa Stern (Munich, D), Frankfurter Kunstverein (D), Kunsthalle Mainz (D), POKY—Institute of Contemporary Art (D).
Kyle McGhee graduated from Glasgow School of Art in 2019 where he completed his BA(Hons) in Painting & Printmaking. His work acts as a response to the cyclical process of the perpetual reconstruction/regeneration of the urban landscape. The work questions the temporary state of the urban through constant manipulation and reconstruction of sculptural object. With reference to site, structural forms and industrial materials, these interchangeable works position themselves as always in progress; subject to change and simply unresolvable. There may be no permanent composition and everything present could shift, reform or completely disappear. The past has been obscured to bring forth the present, which reminds us, time and time again, the state of the provisional city.
Niamh Moloney (b. 1982 Ireland) is an artist and writer based in Glasgow. She graduated from the Glasgow School of Art in 2018 with an MLitt in Fine Art Practice.  Her work investigates the connections between narrative, time, the body and the cosmos. She works mainly with drawing, sculpture, text and also through collaborative practice. She recently received the Visual Arts and Craft Makers Bursary and has been awarded a residency at Cill Rialaig (Ireland). Her most recent work will be featured in the book New Rituals of Contemporary Art in Scotland and Austria. She is a co-founder of Outline Studios and a co-curator of Must Use Critical Knowledge.
Kate Theodore studied Philosophy and Anthropology before completing a Masters in Fine Art at Glasgow School of Art and currently works from Glasgow Sculpture Studios. Her work is an exploration of relationships between ourselves, each other, space and material. Instinct and the physicality of the making itself develop into a vocabulary of forms which suggest a different way of being with our environment, of give and take, connection and exchange. Recent exhibitions include Glasgow Project Room and Royal Scottish Academy. Kate is supported by Creative Scotland Sustaining Creative Development Fund 2020/21.