What is your typical studio routine?
I wok methodically and have a pretty set routine. I get to the studio mid-morning, get coffee (very important) and go through my list of things to do for the day. If there are small, practical things to do e.g. attaching hangings, a quick coat of something etc I do those first. I work in series and single pieces, and always have a few things on the go at once. Depending on deadlines and/or mood I'll generally work on one of those through the day, with a break for lunch. I then always need to stop at about 4pm, have a couple of hours. One of my ongoing pieces is a very large, repetitive drawing. I try and end my day with an hour or so on that. I like to keep the studio for making and do my computer work – admin, photos, printing etc at home.
How do you describe your practice?
My practice considers the human desire for meaning; transforming what we think we know through the use of repetition, surface and the use of materials as meaningful in themselves. My use of materials is very important: referencing changing art historical ideas about making and exposing broader hierarchies of labour, making and materials. The transformation of materials, over time and by hand, also generates the unexpected within my work, which is crucial. I like to think my works operate as poetic objects that elicit a slow, engaged looking and affective response in the viewer. My reductive, minimal and monochrome methods are also designed to intensify audience attention on subtle changes and shifts within the surfaces, communicating the impossibility of the finite or the absolute.
Is there a particular process or methodology within your practice that is important to you?
Yes, all of them. My practice is fundamentally based on methodological and material processes. I base my work on semiotic systems, usually language and sometimes numbers, to make work in repetitive, labour-intensive and time consuming ways in order to 'muck up' or disrupt the system. My paintings use handmade gesso for example, which fits these criteria. Making every element of my work, surfaces, paint, sanding etc, by hand is integral to my practice. Overall, I follow what I assume is a fairly standard Western art school process, which luckily suited me well; start with an image wall, research ideas that come from this in terms of concept and the artistic field they might operate in. Then move to drawing to begin to consider the details of what the piece might be, which leads to working out what specific system, methods, materials, tools etc will facilitate a particular work.
How long have you been working as an artist?
I've been working as an artist for eight years. I did my Foundation and BA during this time as well, but exhibited regularly throughout my studies. I have continued to work as an artist since graduating in 2018.
Describe how important art is to society?
It is – totally. The terms 'art' and 'society' are too broad and complex to answer in detail here. Rather than feeling the need to justify art in particular social ways, or on the basis of a particular social purpose, which is always highly contingent, I find it helpful to remember that art is a fundamental part of being human, valid for that reason alone. I also often think that the choice to be an artist is very important in our particular society in its own right; to choose, at whatever level, a life committed to art/making/culture/ideas etc over capitalist norms of a life based on moneyed work to fund unsustainable consumption, is setting a good, or at least alternative, example.
What is the best advice you have been given as an artist?
I've received so much useful advice over the years, but the thing I find most helpful, and regularly remind myself of is the generally known advice to 'be the best version of the artist you are, rather than striving to be someone else'. If I could choose I might be Jeremy Deller or Ragnar Kjartansson, but I'm clearly not! So I try to keep faith with the work that appears out of my own thinking and feeling.
About The Artist
Clare's practice considers the (impossible) human desire for meaning. Her works operate as poetic objects that elicit a slow, engaged looking and affective response in the viewer.  The insistence on minimal, repetitive systems expand and intensify audience attention, raising questions about making and meaning and communicating the impossibility of the finite or the absolute. Her treatment of surfaces index Clare's decisions and actions, reference art historical conceptions of making and expose broader hierarchies of labour, making and materials.  Clare's work develops according to semiotic systems, which are then disrupted through employing materials in repetitive, labour-intensive and time consuming ways; generating the unexpected and facilitating crucial 'happy accidents'. Clare works episodically and in series to further democratise and multiply meaning.
Clare graduated with a first class BA in Fine Art from City & Guilds of London Art School in 2018. She previously received a first class MA in Social Anthropology from Goldsmiths College. During her Fine Art BA Clare was shortlisted for the David Ballardie Memorial Travel Award and the Artists Collecting Society Award and was selected to participate in The Worshipful Company of Painter-Stainers, Decorative Surfaces Paint Technique Practical Workshops.
Artist website:  www.clarefrench.com
Instagram: @claremfrench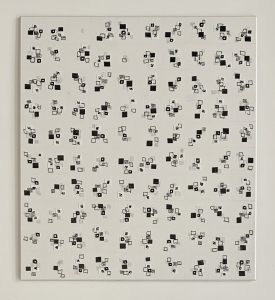 Criterion, 2022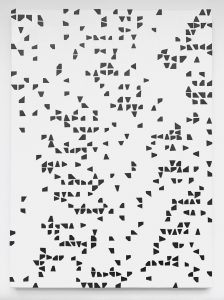 Crossness 1, 2021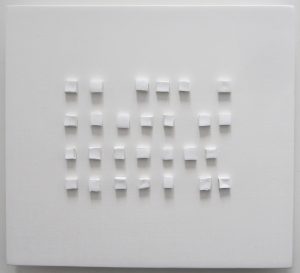 First Sight 8, 2019