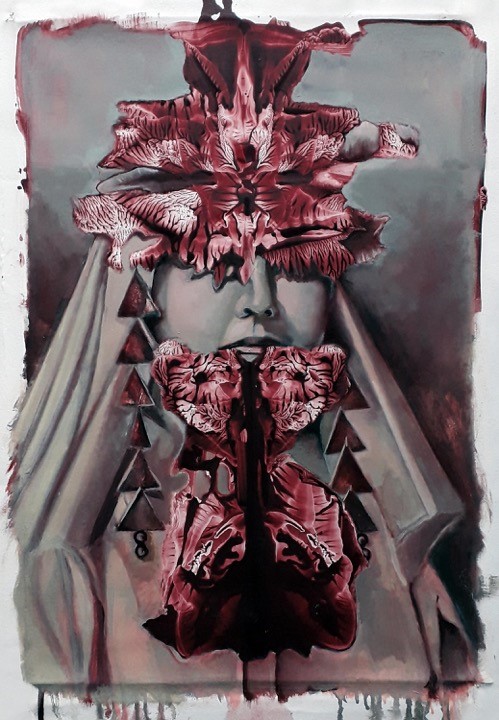 'The Widening Gyre' – solo exhibition by QSS artist Michelle McKeown
'The Widening Gyre' presents QSS artist Michelle McKeown's most recent exploration of the portrait as agent of masculine power and vestige of sovereign, national identity.
A gyre is a spiralling movement; a vortex; a revolutionary turn. In oceanology it denotes the circular motion of major ocean current systems. It is also a prominent motif within Irish prehistoric culture; spiral petroglyphs proliferate in many archaeological sites throughout the ancient Celtic world. In the context of W.B Yeats poem 'The Second Coming'(1920), – the opening lines from which this exhibition draws its title – the gyre refers to a vast cycle in history which Yeats foresaw coming to a close at the end of WW1.
On the occasion of this exhibition, the launch of which marks the centenary of the publication of Yeats' poem, McKeown takes as her point of departure, images of 'Woman' as she is encoded historically in Irish visual culture.. Many of the paintings draw inspiration from iconic stamps produced during the 1940s to promote the 'Irish Hospital Sweepstakes', a lottery founded as a means to finance the newly independent state's national hospitals. The 'Sweepstake' portraits depict young women in Celtic costume, modelling goddesses and prominent female figures from early Irish mythology. Deploying painting techniques most readily associated with surrealist automatism, such as pliage (folding) and decalcomania (transfer), McKeown entrusts capricious forces of chance with a pivotal role in the work's formation.
Michelle McKeown is an Irish visual artist currently undertaking doctoral study in painting and feminist theory at Ulster University, Belfast, Northern Ireland.
For further information visit: www.mariancramer.com