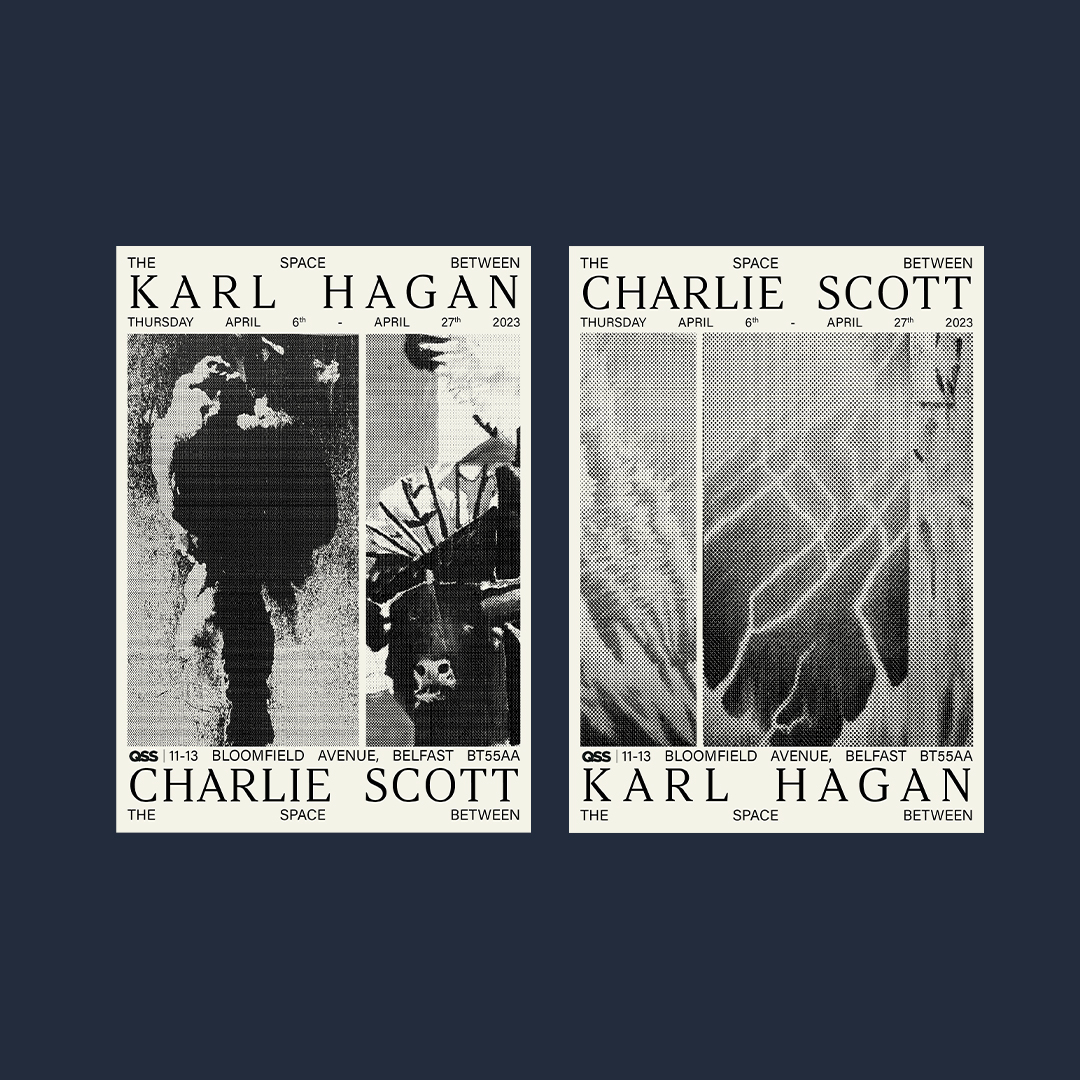 The Space Between – Charlie Scott & Karl Hagan
QSS is delighted to host The Space Between, an exhibition of work by QSS artists Charlie Scott & Karl Hagan
Opening event: Thursday 6th April from 5pm. No booking required, please see the 'visitor information' section of our website for further details on visiting the gallery https://www.queenstreetstudios.net/visitor-information/  
Exhibition Dates: 6th – 27th April 2023
General opening hours: Monday – Thursday, 10am-5pm.
Charlie Scott & Karl Hagan share an urgency to explore new perspectives in the practice area of painting. Both graduates of Painting in Belfast School of Art (2017/18) past Artist in Residents (2018/19) and current members of QSS Belfast, the painters have maintained a dynamic engagement between their working practices throughout this time. With a respectful distance between subjects, The Space Between represents two new bodies of paintings developed in harmony.
Created from his home studio in Co Donegal, Charlie Scott's paintings stem from the beginning of the pandemic until present; a time the artist spent immersed within nature. The artist considers this time fundamental to the light and energy within his paintings. 'These paintings reach deep into the heart of nature and radiate from an inner-light. I'm looking at the land from an internalised view. What I'm describing is more of a state; something that permeates freely between forms, both elemental and spirited.' Concerned with the reality of our damaged relationship with nature, Scott's paintings strive for a greater connection with the land; one that becomes reciprocal and open to the possibilities of what nature can mean to us.
For Karl Hagan the visual discussion within a painting is as much dictated by the paint itself. 'What I have tried to bring into the work is the sense of where paint can dissolve figuration into abstraction, where the painted surfaces become as much the subject as the images that they depict.' Images of the aftermath of conflict and weapons testing in the 20th century are echoed in imagery coming out of the current war in Ukraine. 'A huge part of influence has come from a recent visit to Galleries in Madrid seeing paintings by Rubens, Velasquez, Goya, and Picasso.'
About the Artists:
Charlie Scott
Charlie Scott graduated from the Belfast School of Art with first class honors in 2017. His work has recently been purchased for the Arts Council of Northern Ireland permanent collection and the Northern Ireland Civil Service Collection. Recent exhibitions include What Fell From The Mountain, Ards Arts Centre Newtownards (Solo), QSS Gallery, and the Royal Ulster Academy. In 2017, following Scott's degree show, he was awarded the Royal Ulster Academy Award for Outstanding Students, the Art at The Clayton Award and QSS Gallery Award. He was also appointed Artist In Residence for Fine Art at the Belfast School of Art (2017/18).
Karl Hagan
Karl Hagan is a painter based in Belfast. Hagan graduated from the Belfast School of Art in 2018 with a BA Hons in Fine Art Painting. On graduating he was awarded an Artist in Residence position at the Belfast School of Art, with a focus on painting. In recent years he has exhibited his work at Platform Arts Belfast, QSS Gallery, Arcade Studios, Gallery 545, Engine Room Gallery, Royal Ulster Academy Annual Exhibition and the Golden Thread Gallery.
Exhibition Reviews:
The Space Between – Charlie Scott
The Space Between – Karl Hagan