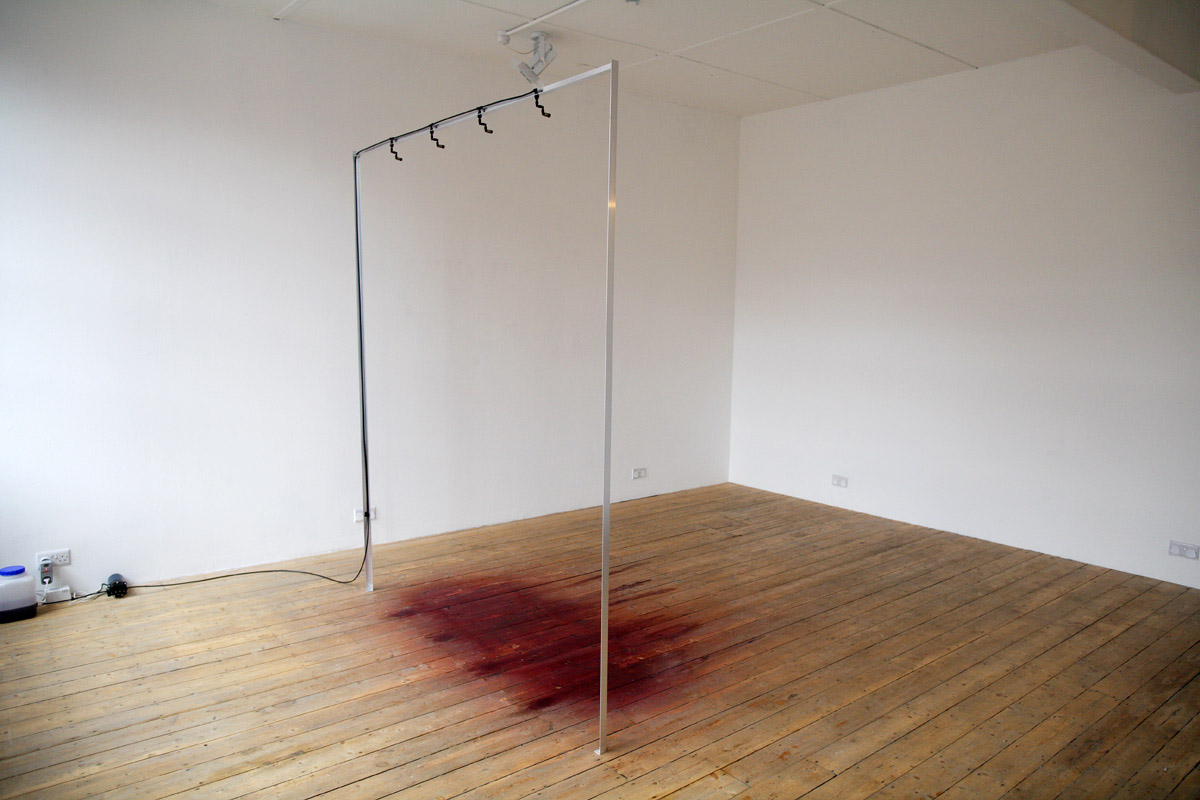 The Second Iteration – Antti Leppänen
Queen Street Studios Gallery is pleased to present an exhibition of work by Antti Leppänen. Speaking about his work Antti Leppänen comments:
 "My installations often operate as projects or proposals and question notions of totality and permanence. I hope to encourage associative responses and expand potential references by creating relationships between seemingly random or disparate elements."
Repetitive 'Stain' Injury
Belfast may be pusillanimous and self-obsessed but which great cosmopolitan was it who decided that these were bad things.[1]
Daniel Jewesbury's brilliantly sardonic essay 'On a report of Parochialism in Belfast' for The Vacuum, holds up a mirror to the Irish, not just a 'parochial' Belfast. He says it all (Irishness) without saying anything new. It is the way that it is said that makes it so ingestible; nit-picking an Irish culture that doesn't deny its idiosyncracies, but embraces them. But from someone who is neither a stray lamb "Laganlullabite"[2] nor Northy (a southernCulchie myself ) I look on Belfast – with my art goggles firmly strapped on – with fondness and excitement.
Cosmopolitanly speaking, Belfast has grown up if the alluvial fan seating that flows out of once dark, greasy spoon tea joints is anything to go by. It was in one of these new coffee houses where I picked up The Vacuum, an impressive Belfast publication. In comparison with Dublin's tinted-glass art scene, art seems to visibly peek out in public spaces in Belfast.
My first real stay-over experience of the city was in 2008 when installing a solo show at Queen Street Gallery & Studios (QSS). At the time the Republic's economic boom was receding, retrospectively unbeknownst to anyone, no matter what the hoard of clairvoyant news media economists pronounce now in hindsight. While Belfast (in my experience) was still on a 1970s curfew with bar food only on the menu after 6pm. The term 'curfew' is something we can't take at face-value; it is the antithesis of visibility and transparency. It is the governmental prescription of curfews that influences covert behaviour. The contradiction of the curfew is that these dead-of-night activities, practiced in the light-of-day, can be imagined as comic shenanigans, not crime: is tardiness really a crime?
Speaking of curfews, on the day I went to see Antti Leppänen experiential installation at QSS the always accommodating and long-time administrator of the gallery, Brendan O'Neill, informed me that there was a late-night opening that very night (the first thursday of the month).
It could be said that the curfew is synonymous with drinking hours, the same way drink is synonymous with Irishness; so why is Leppänen, a Finnish Artist, spraying drink (wine) on the timber floor of QSS? Is he trying to fit in? Or is Finnishness just like Irishness? His setup is economical: an above head-height, rectangular aluminum frame is decorated with a high-pressure misting system that connects to a floor-bound plastic container of wine. Every 15 minutes the wine is piped through the misting apparatus that sprays an achromatic mist that gradually settles on the floor as a puddle of wine and subsequent stain: with that whiff of stale drink that you get when a bar door opens the morning after.
Depending on the moment when you arrive to Leppänen's work – 15-, 14-, 2 minutes, on-time – the experience of waiting to experience an event got me thinking, speculating, reminiscing, conversing about the art universe, and the galaxies within.
A year ago, almost to the day, Peter FitzGerald performed a similar response to the QSS gallery as Leppänen, by painting gestured rectangles directly onto the wall without any other support. I wrote then about 'excess' and 'baggage': "gapping into the blank white 'between' spaces of FitzGerald's rectangles, [the artist's] Wall Worksgive as much as you are willing to bring with you as a viewer".[3]
Back to Leppänen's work, the viewer has to endure (or enjoy) the long interval between the apparatus spraying then tinkling juice on the floor for what is a short-lived experience (10 seconds, if that?). Leppänen's minimal setup and temporal conditions of reception got me thinking about art and artists and their self-proscribed rules: artists avoid entertaining (big no-no); durational performance is saturated in banality; and any other formal decision by the contemporary artist is either ironically framed or politically motivated. Don't talk to me about expression. It's an even bigger NO-NO to mention theatre in an art context. Saying that, all the economy of Leppänen's The Second Iteration is excessively theatrical in how the viewer is left to wait, for nothing. This transubstantiation from colourless mist to puddled wine is Catholic theatre at its best; the fear of God works as an absence, not the bearded Joe framed on your wall.
Just like drink and the Irish, wine is synonymous with art; but it's an all thumbs relationship. A decade ago an artist gave me some sage advice, which was delivered in jest, or in all seriousness?: "Making it in the art world comes down to how you hold a wine glass." Was he referring to middle-class awkwardness, for those of us who were not born with golden spoon table manners? Or was he speaking specifically about artists, who end upbecoming working-class, if not already; with those dirty nails, splintered hands, empty pockets and repetitive strain injury.
Speaking of class, the Victorian, and by all outward appearances in the portraiture of the day, aristocratic art critic John Ruskin, who was a son of a wealthy wine merchant, would have stood before Leppänen's work today (of course after some aesthetic climatisation in some mental institution) and spoke of Titian's Bacchus and Ariadne (1523-24), and the revelry and excess that the god signified for the Romans (and practicised after hours by the Catholic church). As I stand, or remember standing before Leppänen's wine stains, I am left with an image of Ruskin hoofing and slippling on the 'slop' on the floor of QSS in his equestrian leathers.
Endnotes
[1] Daniel Jewesbury, 'On a Report of Parochialism in Belfast', The Vacuum, Issue 51, January 2012.
[2] Andrea McVeigh, 'How should we refer to Belfast folk?' Belfast Telegraph, Wednesday, 23 September 2009
[3] James Merrigan, 'Baggage and Absentism', Peter FitzGerald's 'Wall Works', Queen Street Gallery & Studios, Belfast, 24 February – 26 March, 2011: [https://www.billionjournal.com]