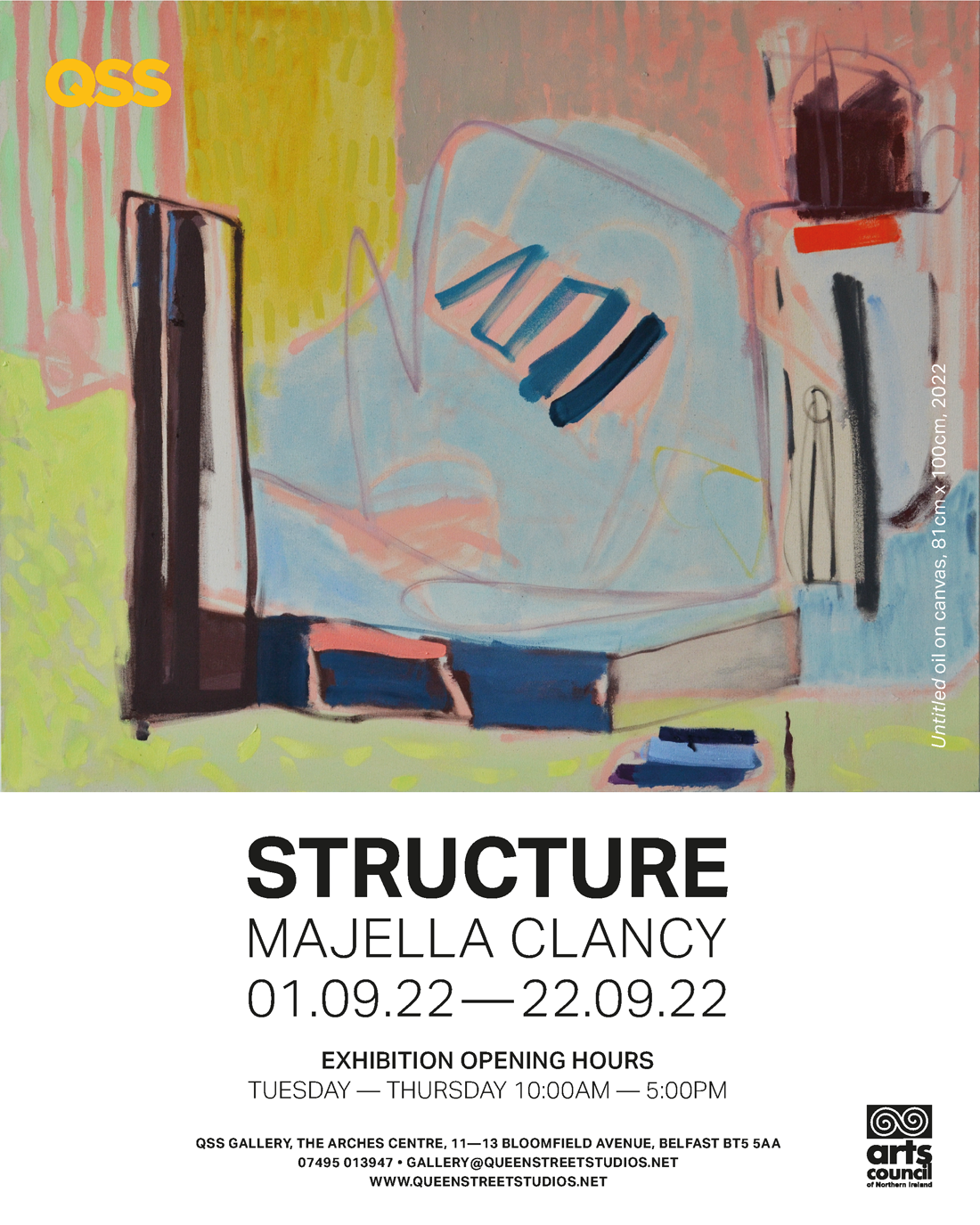 Structure – Majella Clancy
QSS are delighted to host Structure, a solo exhibition by QSS based artist Majella Clancy.
Exhibition Launch: Thursday 1st September 2022, 6-9pm
No booking required, please see the 'visitor information' section of our website for further details on visiting the gallery: https://www.queenstreetstudios.net/visitor-information/
Exhibition Dates: 1st – 22nd September 2022
Gallery Opening Times: Tuesday, Wednesday, Thursday 10am to 5pm.
This exhibition is hybrid in its approach encompassing collage, paint, screenprint and inkjet prints. It takes as its starting point found ephemera and material references that come out of an Irish rural experience and in particular their relationship to ideas of home and gendered space. Bearing the history of their own making the paintings appear as pseudo landscapes held together by quasi-architectural fragments and semi-familiar forms. The materiality of making in the studio is held within the work where references to a stage-set or performed space is also played out. Reoccurring motifs imply a support structure, roof, shelter, table, shield or portal and travel from one painting to another activating painted space, refusing any fixed interpretation.
Clancy is a lecturer in Fine Art at Ulster University. In 2006 she gained her MFA and later completed a practice led PhD that examined ideas of gendered space through paint and print practice also at Ulster University (2012). Recent exhibitions include: Future Forward, curated by Jane Morrow, MART Dublin and QSS Gallery, Belfast (2022), IMPACT 11, International Printmaking Exhibition, Hong Kong, (2021), How the Image Echoes, Ulster University Gallery, Belfast (2020) and PS2, Belfast (2019), prINT, invited artist, Munsterland Print Festival, Kloster Bentlage, Rheine, Germany (2019). Forthcoming exhibitions include: IMPACT 12, International Printmaking Exhibition, UWE, Bristol (2022) and Contemporary Art of Northern Ireland, curated by Francesca Bondi, Island Arts Centre, Lisburn (2022). Her paper 'The Thinking I: Self, Materiality and Paint Practice' will be published in Teaching Painting: A Publication, Cambridge Scholar, UK, (2022). Clancy also presented 'The Act, The Idea and The Thing: Painting as Research', at the International Congress on Contemporary European painting, University of Porto, Portugal (2022). Her work is held in public and private collections including, Department of Finance NI, Queens University Belfast, Arts Council of Northern Ireland and Ulster University Permanent Collection.