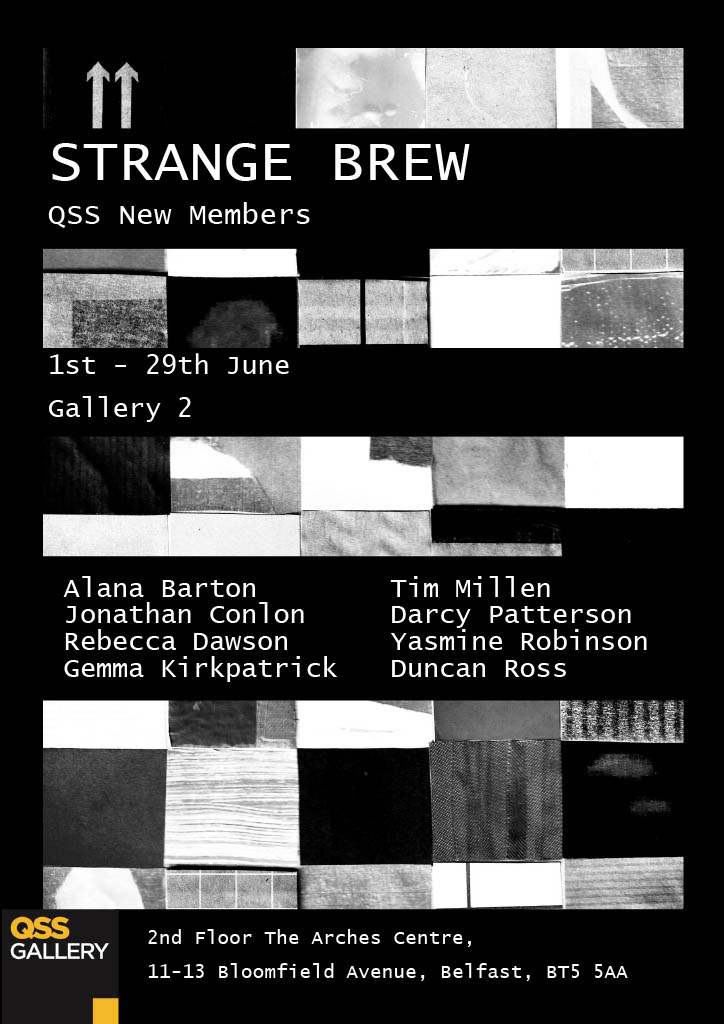 Strange Brew – QSS New Members Group Exhibition
QSS is delighted to host Strange Brew in Gallery 2, a group exhibition of works by 8 new QSS members. 
Opening event: Thursday 1st June from 6pm. No booking required, please see the 'visitor information' section of our website for further details on visiting the gallery https://www.queenstreetstudios.net/visitor-information/  
Exhibition Dates: 1st to 29th June 2023
General opening hours: Monday – Thursday, 10am-5pm.
'Strange Brew' is a group show bringing together the work of eight new arrivals to one of the longest running artist studios in Ireland – QSS. With new painting, drawing and sculpture from Alana Barton, Darcy Patterson, Duncan Ross, Gemma Kirkpatrick, Jonathan Conlon, Rebecca Dawson, Tim Millen and Yasmine Robinson.
For nearly 40 years, QSS has provided secure, affordable and well-managed studios that enable our members to positively contribute to the artistic life and arts education of the city and beyond.
In September of 2022 QSS expanded into the 1st floor of our current location on Bloomfield Avenue, Belfast. This expansion saw QSS grow to a total of 48 studio spaces and a membership of 50 artists.
QSS will celebrate the addition of these artists to the Studios & Galleries by hosting the group show, 'Strange Brew – QSS New Members' in Gallery 2 in June 2023.
Artist Bios:
Alana is a visual artist based in Belfast. Her paintings explore childhood and family relationships, inspired by nostalgia and Renaissance paintings. The artwork combines figurative and abstract elements in a vibrant aesthetic to convey surreal dream-like states and alternative realities.
Darcy Patterson completed their BA Hons Degree in Fine Art at the Belfast School of Art. She specialises in sculpture and installations, which are made using a variety of mediums and through augmenting found objects. Her work revolves around the theme of home and she aims to tap into the common mutual experiences of everyday life.
Duncan Ross
Gemma Kirkpatrick
Gemma Kirkpatrick graduated from the MFA programme at Belfast School of Art in 2020, having previously graduated from BA Hons Fine Art (Painting). Her work has been included in a number of group exhibitions across Northern Ireland and has been previously shortlisted for the Open Contemporary Young Artist Award at the Biscuit Factory Gallery, Newcastle Upon Tyne (2019) and the RDS Visual Artist Award (2020).
My most recent paintings are heavily influenced by (female) gothic literature. Charlotte Perkin's 'The Yellow Wallpaper' (1892), Leonora Carrington's short stories such as 'The Oval Lady' (1937), and Silvina Ocampo's gothic tales have been a catalyst for forming the narrative behind my paintings in considering the female presence within domestic settings and ideas surrounding solitude, superstition and ritual within the everyday. Still life set ups are made using Doll house figurines; tokens of docile femininity and a double-edged trope that both recognises and subverts the historic notions of gendered space. Inanimate life is considered as an emissary for those non-living, non-dead things that inhabit any house; lost objects, forgotten spaces, blurring the narrative between fictionalised play and untold biography.
Most of my paintings try to convey a feeling of time or make a connection to a certain moment. Multiple images are merged when creating my work.
My artwork attempts to evoke narratives and is somewhat eventful. It's not my intention to direct these narratives but to fabricate enough traces in my painting for the viewer's imagination, hoping it would provoke.
I try to portray my paintings in an obscure manner by depicting a scene without superficially explaining it. Introducing elements of ambiguous composition and even a sense of ridiculousness.
Artificial – Distorted – Controlled – Fragmented – False – Embedded – Unnatural – Covered
My practice explores how we interact and use landscapes, and spaces that we inhabit – particularly with environments that are assumed to be 'natural', but rather are constructed and have an artificial quality to them.
These ideas are explored predominately through the medium of paint, however my starting point and where most of my source imagery and references come from, tends to be on site drawings. I purposefully make quick sketches marking out different information that I see using pencils, coloured markers and/or charcoal. Drawing has become more central to my practice and how is it then translated into painting through mark making, line, form and shape.
I tend to work intuitively with colour and with an openness to how the painting develops. Working across multiple canvases and boards at once helps me to keep my practice quite experimental. Enabling me to explore this idea of a falseness to the landscape and the questioning of what is 'natural'?
Tim Millen graduated with an MA in Fine Art from the University of Ulster (2011) having completed a BA Painting at the National College of Art & Design, Dublin (1999). His most recent solo exhibition was 'Future Present' at The Ulster University Gallery, Belfast (2019). He has exhibited in numerous group and curated exhibitions across Ireland and UK, most recently 'New Exits' at The MAC Belfast (2022-23). Millen was selected for the last two BEEP Painting Biennials, Elysium Gallery, Swansea (2020 & 2022).
He has received several arts awards including Freelands Foundation Funding (2020), the Hennessy Craig Scholarship, Royal Hibernian Academy, Dublin (2009) and numerous Arts Council of Northern Ireland Awards. His work is also included in several public art collections including the National Self-Portrait Collection of Ireland, Limerick University and the Arts Council NI.
"I want to make a make a mark like a cat's tongue, licking its fur. I use the brush to paint against the resistance of the fabric, in the same way a cat uses it tongue, with its tiny backward-facing barbs, (papillae) to clean, but also, to strip every morsel of meat off the bones of their prey. Organic line and graphic shapes reference the internet's obsession with laugh-out-loud Cats, along with the use of fleecy found surfaces, give the paintings a unique personality and plurality of expression, creating playful paintings that are tactile and doubly tempting to stroke, like a cat, and gross out, like roadkill."
Yasmine Robinson (b, 1994, N. Ireland), currently based in Belfast, lecturing in Fine Art Foundation Studies at Belfast School of Art. Robinson was awarded a Distinction in her Masters of Fine Art, Chelsea College of Art, London (2018), having previously studied BA Fine Art at Ulster University, Belfast (2017). Robinson has been the recipient of awards including; Arts Council of Northern Ireland, SIAP General Arts Award (2022), Zabludowicz Master-Class, London (2022), Tiffany & Co. Outset Studio Makers Prize, London (2018) and RDS Visual Arts Award, Dublin (2017). In 2017 she was awarded the Frank Bowling Scholarship to support her studies at Chelsea College of Art. Recent projects and exhibitions include Solo exhibition 'Potluck' at Coups Contemporary, Fitzrovia London (2023), 'Urgencies', CCA, Derry-Londonderry (2023) New Exits, The MAC, Belfast (2023) Mutation Station at im labor, Tokyo, Japan (2021), Penumbra, F.E Mc William Gallery, Belfast (2021), Absinthe, Collective Ending, London (2019).