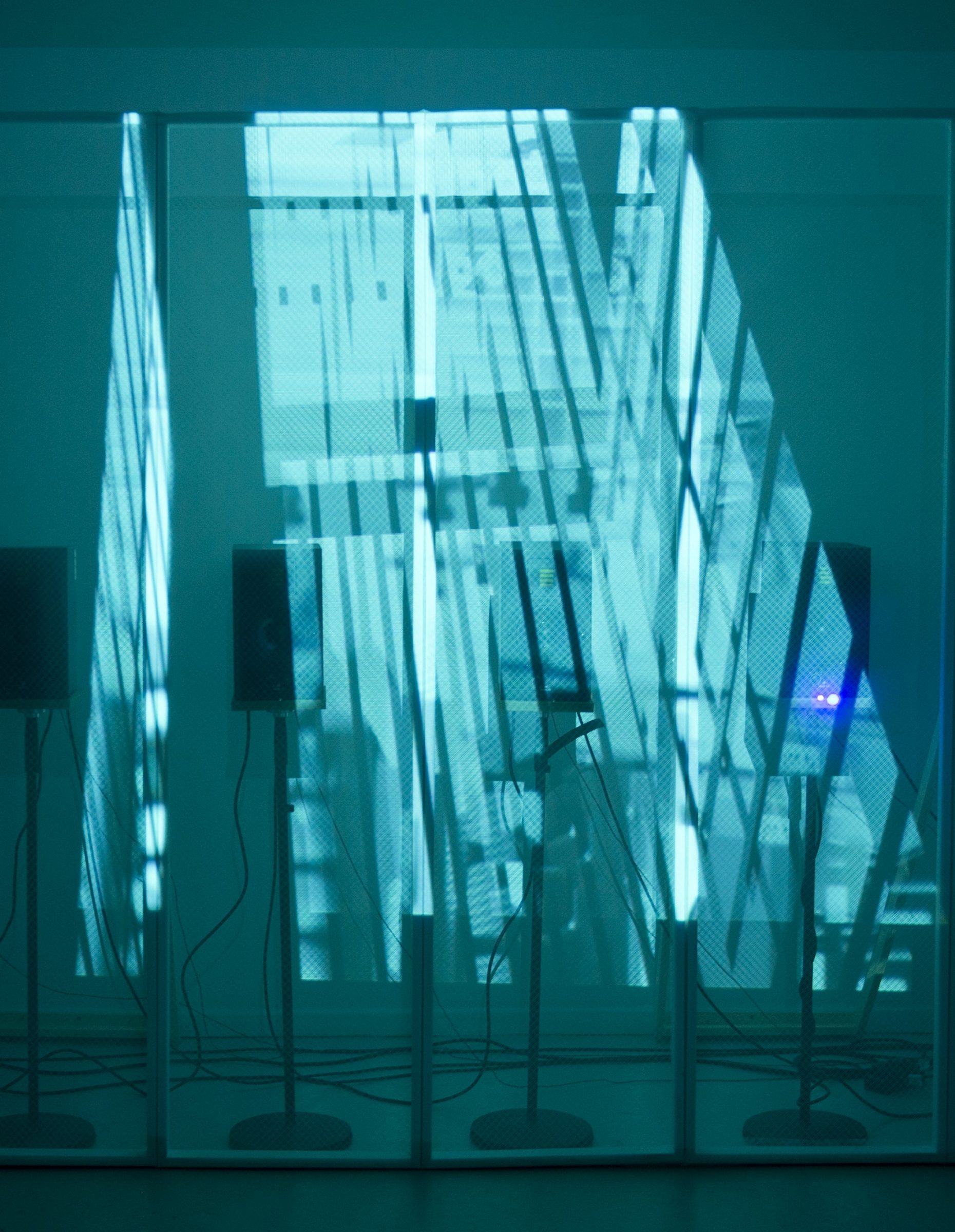 Sonorities Festival @ QSS
Installations
Sam Salem: neamhroinnte
Matt Parker: The Cloud is more than air and water
Programme featuring:
Matt Parker's The Cloud is more Air than Water and Sam Salem's Neamhroinnte as alternating exhibits, with live interventions in the gallery on Sat 25 April and Sat 2 May (15:00) from Una Lee, Thomas McConville, Isobel Anderson, Tristan Clutterbuck and others.
Curators: Brendan O'Neill & Simon Waters
Sound Art Installations:
neamhroinnte is an exploration of a forest in Roscommon, Ireland.
In the stillness, the smallest movements and moments became amplified and mysterious.
As a composer, my work is ordinarily based upon field-recordings made of cities: I collage fragments. Here, instead, I work with undivided passages of time. The work is both contemplative and highly detailed: the viewer shifts between observing constant fluctuations at the micro level and meditative evolutions at the macro level. The visual aspect of the installation is achieved through the use of several high definition projectors, which are arranged in such a way as to create a huge, slowly evolving composite landscape. The multi-channel musical and sonic aspect is generative and therefore composed in order to ebb and flow indefinitely. Pitches are projected into the space using the quadraphonic surround system facing the listener. Environmental sound that corresponds to the projected images resonates through the wooden benches that face each screen. It does no justice to uninterrupted sense of time in which the work functions and is merely included as illustrative documentation. neamhroinnte was premiered at the Hunters' Moon Festival in Carrick on Shannon, County Leitrim on October 27th 2013, the work also includes fragments of scene inspired by the poems of Seamus Heaney.
Sam Salem (b. 1982) completed a MUSM in Electroacoustic Music Composition in 2007 and a PhD in Composition in 2011 at the University of Manchester. His work is focused upon the sounds of urban environments: each of his pieces focuses upon a specific geographical location. His music aspires to illuminate and explore the hidden   musicality and beauty of his geographical subjects, as well as his own relationship to his environment as both a source of inspiration and musical material. He has undertaken a number of creation residencies at institutions around the world, including EMS (Stockholm, 2013-14), La Muse En Circuit (Paris, 2012-2013), Technische Universität (Berlin, 2012), STEIM (Amsterdam, 2011-12) and Musique et Recherches (Ohain, 2011). He has also been nominated and awarded in a number of international composition competitions, including: Concours Luc Ferrari (2012, Winner), Luigi Russolo Competition (2012, Audience Award), Metamorphoses (2012, Nomination), Competition Destellos (2012, Nomination), Joensuu Soundscape Composition Contest (2011, Third Prize), 11th Musica Viva Composition Competition (2010, First Prize ex-aequo) and Musica Nova (2010, Honorary Mention). Sam is co-director of the Distractfold Ensemble, currently resides in London and is a lecturer at Canterbury Christ Church University
What is 'The Cloud' and how is it affecting our lives? The Cloud is more than air and water is an installation investigating the ecology and impact of cloud computing on the lives of those who use it, the places it is physically located in and the people who work to maintain it.
The installation comprises an audio-visual composition created from materials gathered by the artist on several visits to data centres within the UK in 2014. The piece describes a non-linear narrative of LED's, fans, cooling air, data-transmission, claustrophobia and above all the monolithic mechanisation of the internet that we are encouraged to believe is floating above our heads amongst fluffy white clouds and blue skies.
Matt Parker is an audio/visual artist working with microphones, speakers, video cameras, projectors and electronics to create immersive experiences that reveal and amplify hidden connections between every-day technology and the environment. His approach is influenced by the work of R. Murray Schafer and the concept of acoustic ecology, however rather than solely documenting field recordings of the environment, he believes that sound, in combination with visual material, can produce immersive narrative environments that transcend a single location and point in time, conveying richer messages about human relationships with technology and the growing separation between the digital user and the analogue, mechanical processes that sit behind the modern user interface. He completed a MMus in Music Technology at the Birmingham Conservatoire and has been awarded the Deutsche Bank Creative Prize in Music for his research into the acoustic ecology of cloud computing.
It Winded the Humming of Sea 
A performance by Una Lee
Thursday 16th April 2015 18hrs – 21hrs Una Lee's performance 'It winded the humming of sea' at the evening of the opening will be live-tweeted by conceptual origami artist Yasmine Sefoa. To experience the performance via tweets, follow or visit @hummingofsea on Twitter. https://twitter.com/hummingofsea