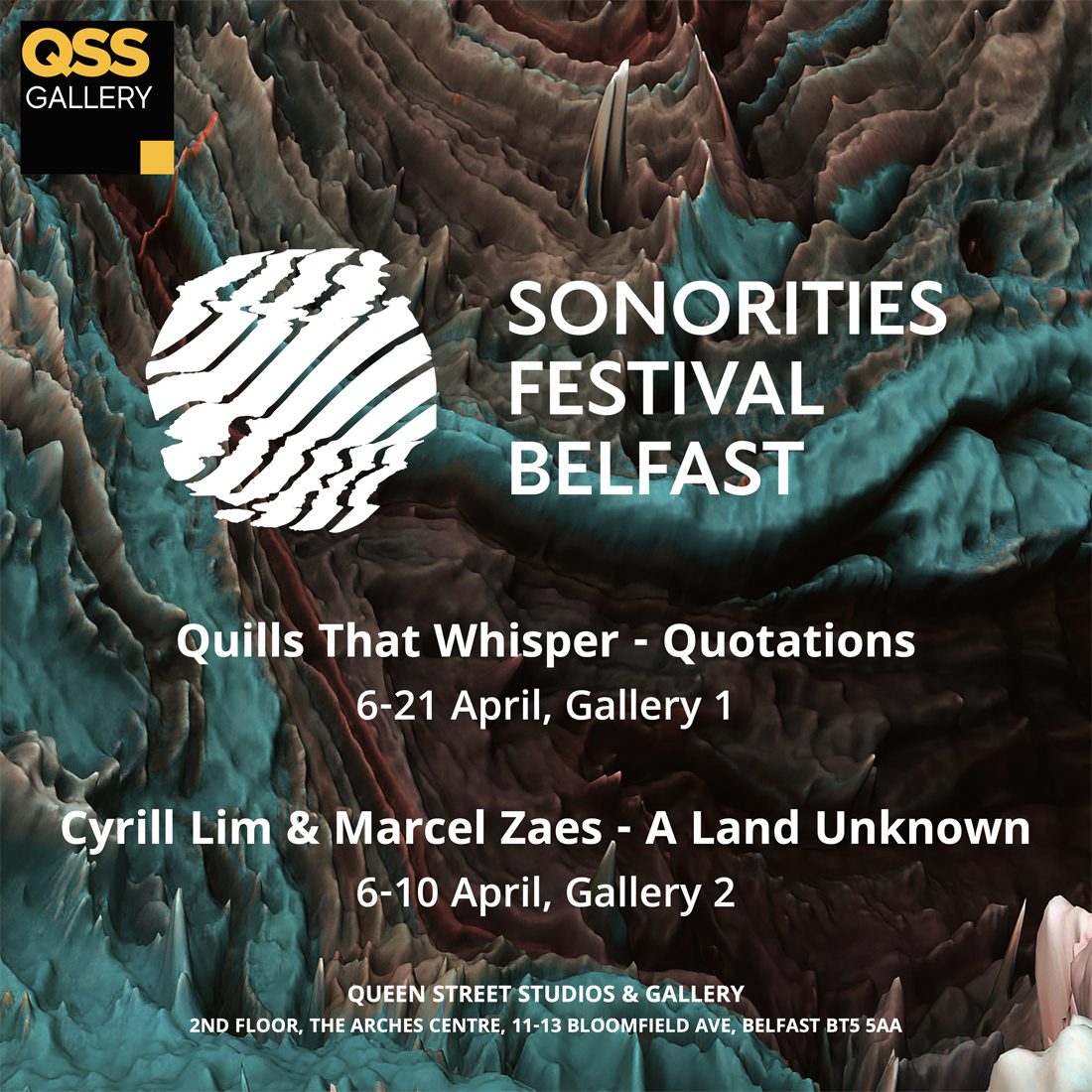 Sonorities Festival presents Quills That Whisper, Cyrill Lim & Marcel Zaes at QSS
QSS is delighted to once again partner with Sonorities Festival to present two exhibitions of installation artworks as part of the 2022 festival programme.
Opening event: Wednesday 6th April from 7pm. No booking required, please see the 'visitor information' section of our website for further details on visiting the gallery https://www.queenstreetstudios.net/visitor-information/  
Quills That Whisper netlabel presents Quotations – a selection of works by artists featured on the label including Una Lee, JJ Devereaux and HIVE Choir.  Quills That Whisper is a micro label that focuses on the exploration of words and languages within sounding arts.  Please bring headphones and smartphone to access QR code-activated audio at the Quills That Whisper exhibition.
Festival Exhibition dates: Daily 7th-10th April, 10am – 5pm. Extended Exhibition dates: 12th-21st April, Tuesdays, Wednesdays and Thursdays, 10am – 5pm.
Cyrill Lim & Marcel Zaes present A Land Unknown – an installation piece that collects various visual, tactile, sonic and human-made phenomena, all of which unfold at, and on, the actual and the mediated material surfaces on display. The pieces are sculptural and yet they stand in as placeholders for that which is absent.
Festival Exhibition dates: Daily 7th-10th April, 10am – 5pm
Sonorities is a biennial festival of sound and music, making a joyful commotion in Belfast since 1981.  This exhibition forms part of the festival's sound art strand complementing a programme of concerts at Sonic Arts Research Centre, Belfast. Full info: https://sonorities.net/events/