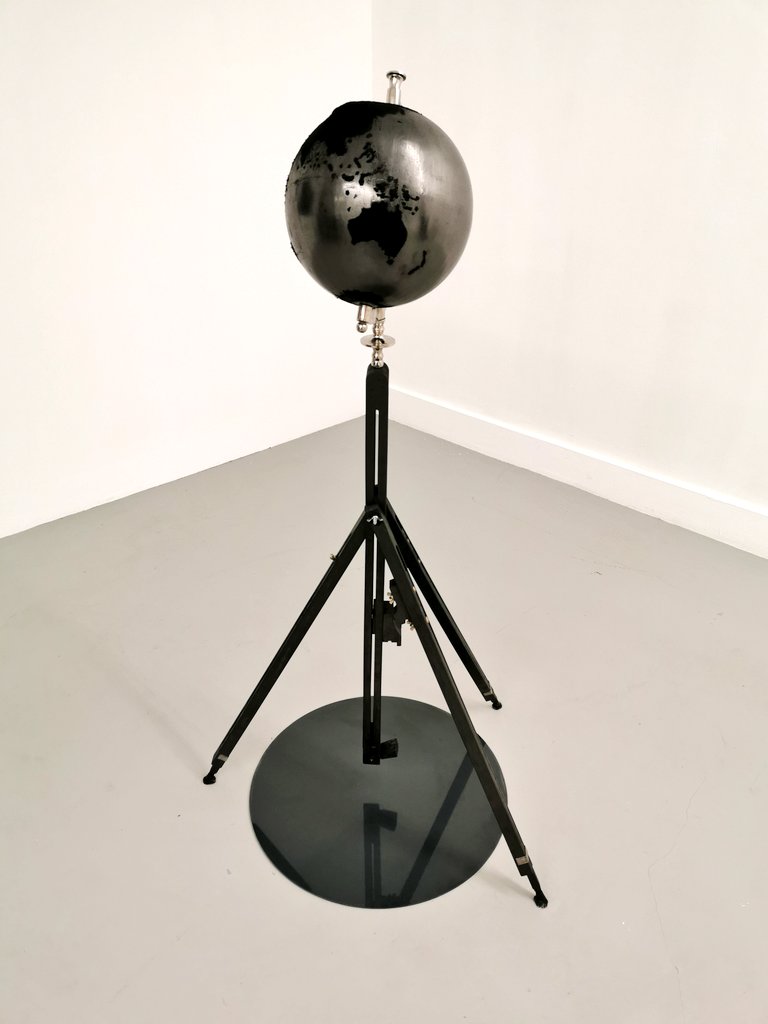 Sinead McKeever exhibiting in 'The Dark'
Agnes Meyer-Brandis, Darren Banks, Liz Collini, Sinead McKeever
The Dark presents a constellation of new and existing works by artists from Northern Ireland, England and Germany. The artists look out into space, back at Earth and consider science fiction, fact and artist projections.
Human endeavor, hubris and crisis thread through the exhibition ranging in media including drawing, assemblage and film. Darren Banks' blobs and 'sci-fi looking things' create close encounters and uncanny upending of everyday objects. Agnes Meyer Brandis' has trained a fleet of geese for life on the moon (based on Godwin's The Man in the Moone) and Sinead McKeever's GEO Star E shows us a charred globe as seen from beyond, which in light of the tragic fires in Australia takes on an extra pathos. Liz Collini's text-based drawings expose the component parts of letters. Seen from afar, the galaxy of marks form words and phrases inspired by the ideas in the show that may be read with hope or cynicism.
About the artists:
Darren Banks is a visual artist from Orsett, Essex. Through video works, installations, and drawings, Banks' work constitutes a sculptural language that culminates directly from horror, the domestic, science fiction, defunct technologies, creation and the unknown. His intricate drawings in his BLOB series stem from a long cinematic tradition of representational mists, black clouds, and ooze invading the Earth and consuming human life. More recent exhibitions include Its origins are indeterminate (2018) at Whitechapel Gallery and Object Cinema (2016) at The Gallery, offsite project at at the 56th Venice Biennale.
Liz Collini is a text and language artist and printmaker, making drawings and installations exploring the gaps and overlaps between reading and looking and text and image. More recently Collini's work was featured in From Gozzoli to Kara Walker at the British Museum (2018).
Sinead McKeever is a visual artist working with sculpture, painting, photographic and installation art. Born in NI, she lives and works in Belfast, currently being based at Queen's Street Studios and Gallery Belfast.
Agnes Meyer-Brandis is an artist based in Berlin, Germany. Meyer-Brandis' artistic practice is influenced by scientific research focused on the exploration of new worlds. She is the founder and director of the Research Raft for Subterranean Reefology (FFUR) which has explored deep in the dark zone above the earth and ice.