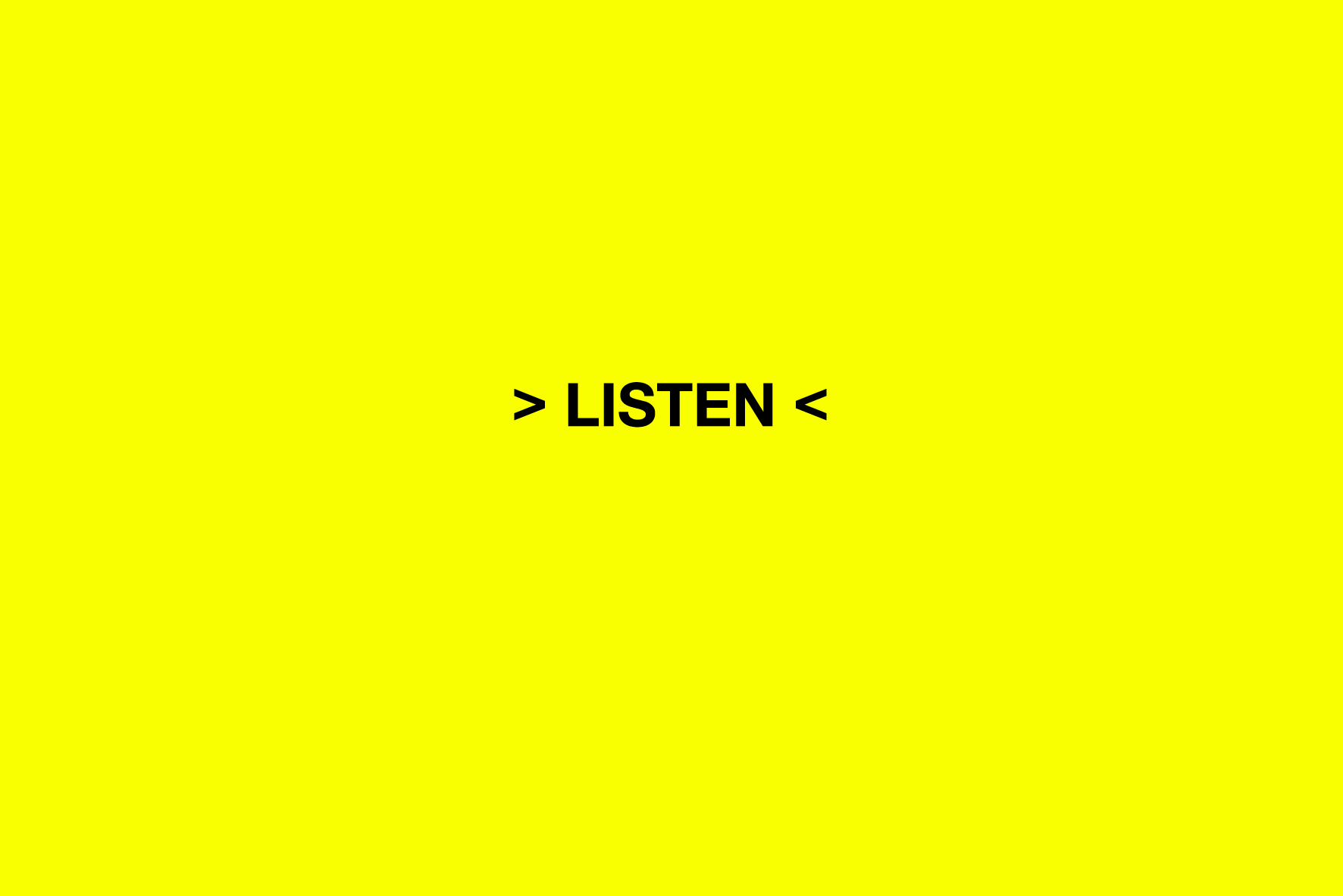 >Silent Sonorities<
Opening: Tuesday 17 April 2018, 18.00 – 21.00
Exhibition dates: 18 – 22 April 2018
Times: Wednesday – Sunday, 10.00 – 17.00<
Sonorities Festival Belfast presents >Silent Sonorities< at QSS Artists' Studios & Gallery – a selection of works that focus on the listener.
'The Listening Wall' is a participatory project developed by Iris Garrelfs, consisting of a "wall" of curated scores for listening and sound related instruction scores. Visitors are invited to take as many as they like and, with each score, to explore their environments from different perspectives. Includes scores by Cathy Lane, Graham Dunning, Jez Riley French, Jo Thomas, Salome Voegelin, Viv Corringham & more.
At Sonorities, the Listening Wall will also include scores designed specifically for spaces in Belfast by artists based in the city. This will feature 'Soundspace: A Manifesto' (2014) by Gascia Ouzounian and Sarah Lappin for Recomposing the City.
Iris Garrelfs is a site-responsive sound artist active across performance, installation and fixed media. Her understanding of place includes people who, through their ideas or presence, participate in creating it. Through listening she establishes relationships with the world, and exploring how things are connected.
irisgarrelfs.com/listening-wall
'SchuhzuGehör_path of awareness' is a guided listening walk that begins at QSS and explores the surrounding listening spaces of Belfast.
Walk times:
Wed 13:00 – 13:30
Thurs 12:00 – 12.30
Fri 15:00 – 15:30
Sat 10:30 – 11:00
Sun 15.00 – 15.30
Please arrive 15 minutes before scheduled walk start time.
'SchuhzuGehör_path of awareness' explores an individual's personal experience of space through walking, particularly the interplay between sound event (footstep) and surrounding architecture. The path itself is the destination. The moderate speed of pedestrian locomotion. The regularity of the step-by-step progress. The readiness to open up our auditory perceptive space.
katrinem, born 1969 in Augsburg, lives and works in Linz (A) and Berlin (D). The examination of sound and space has long been an integral part of katrinem's artistic work. katrinem has been investigating the walkability of cities and its associated spatial perception. Two aspects of her current artistic research and process are emphasized: Observing a site (Platzstudien) and personally experiencing space while walking (SchuhzuGehör_path of awareness). katrinem.de
ABOUT SONORITIES FESTIVAL BELFAST
Once every 2 years, artists from more than 40 countries across the world gather in Belfast for a week of musical adventure. For over 30 years Sonorities Festival Belfast has lead the way for musicians, composers, sound artists to make and present work for curious listeners.
From 18-22 April, locations across Belfast including the most advanced music venue Ireland – The Sonic Lab – play host to all things weird and wonderful. There'll be concerts, club nights, installations, visuals, workshops and more. Come along and experience the experimental world of Sonorities. Most events are absolutely FREE.
For the full line-up visit: www.sonoritiesfestival.co.uk