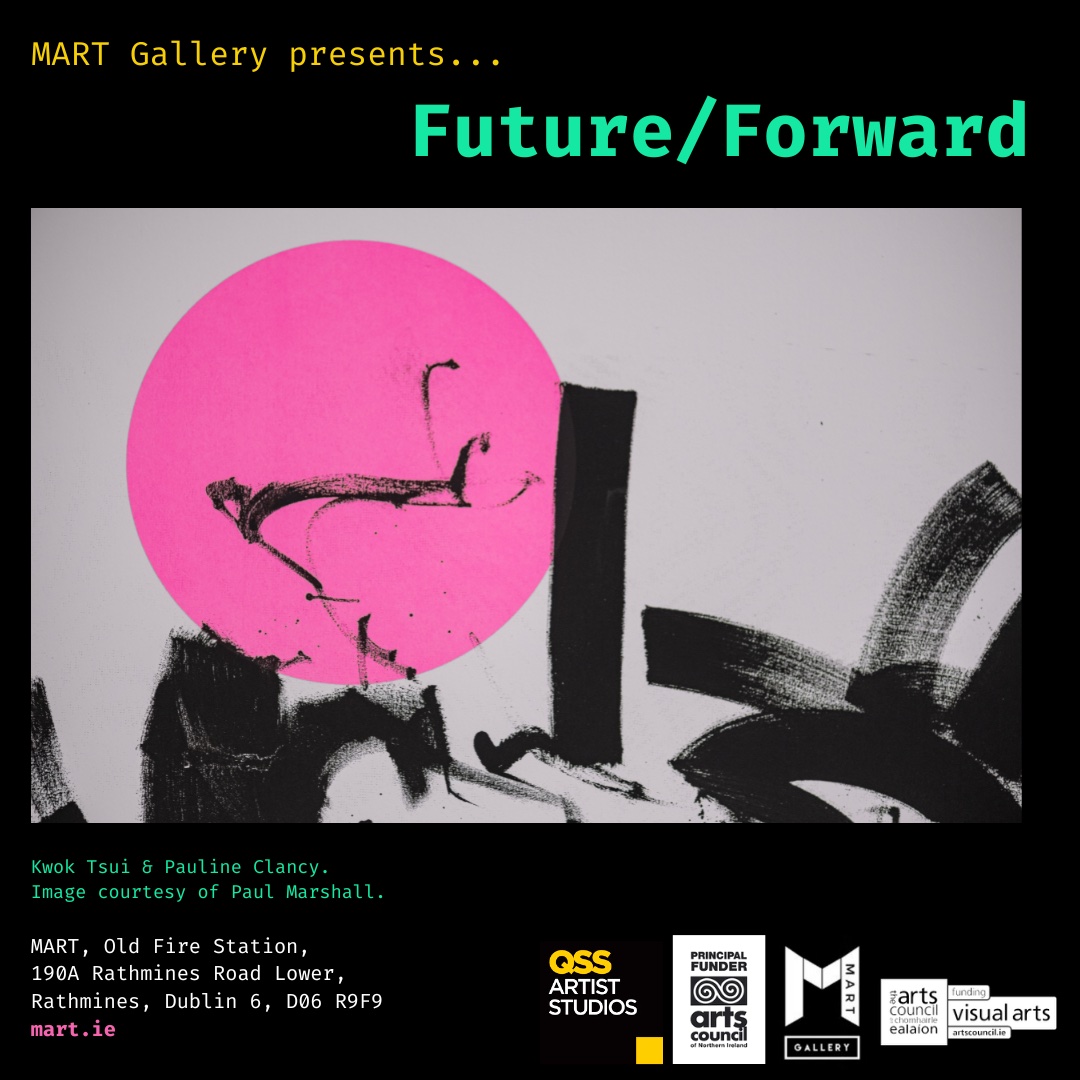 QSS Future/Forward at MART Gallery
Opening event: Saturday 13th August at 1pm.
Runs: 13 August – 2 September 2022
General opening hours: Wednesday – Saturday, 1-6pm
Featuring: Alacoque Davey and Sharon McKeown, Amanda Coogan and Sharon Kelly, Amy Higgins and Michelle McKeown, Andrew Haire, Catherine Davison and Rachael Colhoun, Angela Hackett and Anushiya Sundaralingam, Anushiya Sundaralingam and Mary Cosgrove, Ashley B Holmes and Naomi Litvack, Charlie Scott, Craig Donald and David Haughey, Clare French and Grace McMurray, Frédéric Huska, Joy Gerrard and Vasiliki Stasinaki, Gail Ritchie and Meadhbh McIlgorm, Gerard Carson and Gerry Devlin, Jennifer Trouton and Rachel Lawell, Kwok Tsui and Pauline Clancy, Majella Clancy, Sinead McKeever and Niamh Clarke, Mark McGreevy and Susan Connolly
Kindly supported by The Arts Council of Ireland and Arts Council of Northern Ireland
---
Exhibition Statement 
Future/Forward is a long-term programme and series of exhibitions initiated by QSS Studios & Gallery, Belfast. This presentation contributes to a broader exhibition strand by MART, which invites artist-run organisations, studio groups and independent curators from across the island of Ireland to share their work with new audiences and to develop networks with peers throughout the country. This exhibition is the third consecutive configuration of Future/Forward, and the first to feature all 35 participating artists in the same space. Parts 1 and 2 took place between 2 – 23 June and 30 June – 28 July 2022 at QSS in Belfast.
These collaborative groups and pairings were brought together over the course of over 80 studio visits conducted with QSS artists – initially with individuals, and subsequently with pairs/groups – between July 2021 and April 2022. Future/Forward was originally conceived in-house at board level, as a way for QSS members to proceed 'bravely and gravely' following the inaccessibility of infrastructure, materials and resources during what Kuba Szreder describes as the 'forced suspension' caused by Covid-19.
This period has not been without struggles for artists globally, and those based in QSS are no exception: artists who are unable to be in their studio regularly, who had to sub-let their spaces due to the lost income or opportunities, and those who were simply apprehensive about sharing their ideas, practices, and vulnerabilities with other artists at a time when everything outside the studio was already so unsettling. Future/Forward has aimed to galvanise and re-form the QSS studio community, enabling the generation of new, experimental work, enhancing supportive peer relationships, and offering an opportunity to focus on process and exchange as essential and beneficial elements in the development of an artist's career and practice.
From a curatorial perspective, my involvement is an extension of my work across network and production contexts, and through creating formal and informal developmental platforms for practitioners. Resourcing, nurturing and profiling others' practices has been a longstanding facet of my approach. Future/Forward also complements my PhD research, which focuses on the precarity of artists' studios in Belfast. The arguments made throughout are for increased recognition and value for artists' work and workspaces, and their unique offer within the infrastructure, as well as enhanced support and funding resources, and modes of practice – including collaboration – that offer artists collective forms of resistance and repair.
My departure points for each pair or group were a series of key words – extracted from notes that I'd taken during the individual studio visit process – and a rationale for the collaboration, which aimed to generate discussions between the artists. Whilst QSS artists are working at different career stages, with varying levels of experience, and working in different disciplines, I emphasised the necessity for equal and reciprocal contributions. The process was designed to be supportive and explorative; envisaged as an opportunity to experiment with ideas or approaches that sat outside their standard modes of practice.
The focus for this series of exhibitions is not on finished work. I encouraged the participating artists to focus on the process of coming together in their collaborative pairs and groups, finding value and significance in ephemeral things: their texts to one another, fragments of their exchanged materials, documentation of their work in progress, or snaps of things posted under closed studio doors. These things are the fabric of a collaborative activity, speaking much more to the integrity of artists' working methods. The work produced has naturally coalesced around some universal concerns for practitioners: materials, language, objects, time, identity, and rituals. But what is most interesting is where this work, these artists, and their ideas will go from here.
Jane Morrow – May 2022
---
ARTIST BIOGRAPHIES. ALPHABETICAL BY SURNAME.
Gerard Carson
Gerard Carson's practice is concerned with the contingency of matter in the context of accelerated modes of technological production, ecological breakdown, and the indeterminate vectors of their effects/affects. By working via a speculative methodology, Carson's works take the form of precarious assemblages comprised of bio-plastics and concrete, where computer modelling and 3D printers act as techno-symbiotic agents in the assemblage's manifestation. He has exhibited throughout Ireland, UK, and China. He has also been a recipient of the Frank Bowling Scholarship Award, which supported his MA Fine Art studies at the Chelsea College of Art. Carson is also a graduate of the Ulster University School of Art & Design. He has acted as a mentor to recent graduates from the Chelsea College of Art and has curated a number of exhibitions at ACAVA Maxilla Studios & Space. Carson is a former co-director with Platform Arts Gallery & Studios.
Majella Clancy
Born in Co. Leitrim Majella Clancy completed an MFA at Ulster University (2006) and later completed a practice led PhD (2012) that examined gendered space through paint and print practice. Recent exhibitions include: How the Image Echoes, PSSquared, Belfast (2019), Impact 10 International Printmaking Conference, Santander, Spain (2019). Forthcoming group exhibitions include Munsterland Print Festival, Kloster Bentlage, Rheine, Germany (2019), Artmill Gallery, Plymouth (2019). Recent publications include: Clancy, M. Felmingham, S. 'Meshwork, Correspondence and The Middle Voice', in Impact 10 Print Publication, Centre for Fine Print Research (UWE), Bristol (2019). Forthcoming publications include: Clancy, M. Felmingham, S. 'Drawing Out: Encounter, Resistance, Collaboration' in Drawing Research Theory Practice, Intellect, UK, (2019), Clancy, M. 'The Thinking I: Self, Materiality and Paint Practice', in Teaching Painting: A Publication, Cambridge Scholar, UK, 2019.
Pauline Clancy
Pauline Clancy was born in Co. Leitrim and studied BDes (Hons) Visual Communication at the National College of Art and Design (NCAD), Dublin, 2006, before completing her MFA in Multidisciplinary Design (Graphic Design) at Ulster University, Belfast in 2013. She is currently a PhD researcher at Ulster University. Her work explores the materiality of language through typographic form and is primarily realised through the medium of screenprinting. Process and materiality play an important role in her approach to making, while finished artefacts are important, the experimental and making process is of equal importance, where the process can also become an outcome. Current typographic research involves working with a number of processes and materials including interactive approaches to screenprinting. She has exhibited her work nationally and internationally. Recent group exhibitions include Highlanes Gallery, Drogheda (2020); Rua Red Winter Open, South Dublin Arts Centre (2020); Disorder/Disruption, Ulster University Gallery, Belfast (2019); and Empreinte International Print Exhibition, Luxembourg (2017). Upcoming exhibitions include Posted/Unposted, Malmø Art Book Biennale, Sweden and Impact 11, Hong Kong. She is a member of the International Society of Typographic Designers (MISTD) and was awarded a Society of Typographic Arts (STA)100 Award as part of the 100 best examples of Typographic Excellence in 2019 (USA). Her work is held in collections including Hamilton Wood Type and Printing Museum, Wisconsin, USA and Manchester Metropolitan University, Special Collections of Artists' Books.
Niamh Clarke
Niamh's practice centres around drawing, but also includes written prose, watercolours and super-8 video, which she would describe as expanded forms of drawing. Her practice reflects an interest in memory and temporality. Exploring the relationship between photography and drawing, a focus is placed on the embodied presence of gesture and materialisation through re-description of found and personal photographs. Niamh uses images intuitively to create an implied narrative, in an attempt to materialise thought, bodily references or emotion. Influenced by Virginia Woolf's phenomenological and embodied prose and conflation of nature and the human condition, landscape and natural form is dominant. Niamh is a recent graduate of Fine Art from Ulster University.  She is a co-founder and member of the collaborative drawing group The Drawing Journal.
Rachael Colhoun
Born in Northern Ireland, Rachael Colhoun graduated from Ulster University Belfast in 2018, with a degree in Fine Art Painting. Her work explores the merging together of juxtaposing landscapes, touching on personal childhood memories of frequent relocation between Northern Ireland and New Zealand. Travel has heavily influenced Rachael's visual language, helping to explore the ideas surrounding alien landscapes, fragmented spaces and displacement. Rachael's approach is abstract and non-representational, instead focussing on the emotional feeling created by place. The aim is to challenge how visual imagery is perceived, encourage audiences to ask "How does the image make me feel?" rather than simply "what is it meant to be?". Her Degree show work has been exhibited in several galleries including the Engine Room Gallery, The Gallery at Whitehead and Queen Street Studios. Additionally, her work was longlisted for the 2018 RDS exhibition in Ireland, as well as one of her paintings being selected for the annual RUA exhibition in the Ulster Museum Belfast. Rachael is currently being represented by Canvas Galleries in Stranmillis Belfast.
Susan Connolly
Susan Connolly is an artist based in Belfast. She makes paintings and large-scale installations which explore the notion of uncertainty in painting and its ability to remain relevant in our digital age. The work references the history of abstract art and reflects on and challenges the medium itself. She holds a practice based PhD (2018) and an MFA (2002) from Belfast School of Art and a first class hons Masters from NCAD(2013). Connolly has exhibited extensively on the island of Ireland with recent commissioned work exhibited at the FE McWilliam Gallery (2020), the Golden Thread Gallery (2018), CCA (2018) and the MAC, Belfast (2014). Her work is held in many private and public collections, with the Arts Council of Ireland recently acquiring a major large-scale work. Other noteworthy career achievements include receiving funding from the Arts Council of Ireland (2021), Culture Ireland funding to exhibit at Kunsthaus Dalhlem, Berlin(2020), and her selection to particate in the Golden Foundations artist residency programme, New York (2017).
Amanda Coogan
Amanda is an internationally recognised and critically acclaimed artist working across the medias of live art, performance, sculpture and installation. The Irish Times have said, 'Coogan, whose work usually entails ritual, endurance and cultural iconography, is the leading practitioner of performance in the country'. Her extraordinary work is challenging, provocative and always visually stimulating. Using gesture and context she makes allegorical and poetic works that are multi-faceted, and challenge expected contexts. She is one of the most dynamic contemporary artists practising in live art.
The body, as a site of resistance, is the centrality of Coogan's work. She encompass a multitude of media; Objects, Text, moving and still image, all circulating around her live performances. Her expertise lies in her ability to condense an idea to its very essence and communicate it through her body. Time is a key material in Coogan's practice, building controlled instability into the fabric of her work. The long durational aspect of her live presentations invites elements of chaos with the unknown and unpredicted erupting dynamically through her live artworks. Coogan was awarded the Allied Irish Bank's Art Prize and has extensively presented and performed her work, including at The Venice Biennale, Liverpool Biennial, PS1; New York, The Whitworth Gallery; Manchester, The Museum of Fine Arts; Boston, Van Gogh Museum; Amsterdam and the Manchester International Festival; The MAC, Belfast; The Golden Thread, Belfast; The Niemeyer, Aviles. She delivered two large-scale live art exhibitions in the National Gallery of Ireland and the Museum of Contemporary Art, Jacksonville in late 2018. Her 2015 live exhibition; I'll sing you a song from around the town, was described by Artforum as 'performance art at its best'.
Mary Cosgrove
Mary Cosgrove was born in Belfast and was first trained in painting and drawing by T.P. Flanagan RHA, RUA. She taught in government schools in Zimbabwe (then Rhodesia) and Zambia for seven years, illustrating school material and government history courses while continuing to paint. She returned briefly to Belfast and taught in further education and illustrated pamphlets and magazines. She did life painting with Errol Lloyd at Camden Arts Centre in London. From there she went on to study art and design education at London University with Stanislaw Frenkiel and Alfred Harris. This led to the study of art history and theory at Middlesex University and the University of Essex with Prof. Lisa Tickner and Prof. Dawn Adès and others.
With the help of a British Academy scholarship, she completed her doctorate at the University of Ulster specialising in 20th century Irish art. She has contributed to academic journals and catalogues in Ireland and USA. She taught Art History at Queen's University and life drawing at The Crescent Arts Centre for many years, organising the annual students' exhibition and curating major loan exhibitions at Cultúrlann MacAdam Ó Fiaich, Belfast. Her work is held in private collections in Africa, England and Ireland.
Alacoque Davey
Alacoque Davey was born in Newry, studied Fine Art at Liverpool John Moores University (BA Hons 1990-1995) and returned to Ireland to complete her MA in Applied Art at University of Ulster (1998-2000). Since then she has lived and worked in Belfast joining Queen Street Studios in 2003. She has always worked across several disciplines producing both 2D and 3D work. The paintings, works on paper and assemblages often represent 'rooms' or 'homes', which can relate to actual architectural facades, plans and interiors or internal imagined spaces.
Catherine Davison
Born in Castlereagh, Catherine Davison received her BA honours in Fine Art from the University of Ulster in 2001 and completed a postgraduate course at Leith School of Art, Edinburgh 2005. Since graduating Davison has been a member of Queen Street Studios in Belfast and has received a number of awards from the N.I. Arts Council through the individual artist award programme. Over the years Davison has taken part in a variety of group shows from Cork to New York and with each solo exhibition her practice has grown. In 2015, Davison received support from the British Council through their International Residency Program Award to be an artist in residence at Largo das Artes for one month in Rio de Janeiro. This experience has influenced and formed the basis of her current work.
Gerry Devlin
Gerry Devlin's work operates in a space between formal abstract investigation and a psychologically charged visual enquiry. Essentially self referential, the paintings nonetheless incorporate both a contemplative and oblique visual narrative in deploying images of fragments, objects and motifs from the commonplace, to the personal, to the museum artefact. The paintings explore and reflect notions of individual and collective memories and histories without recourse to anatomical confines, infusing inanimate forms with a sense of human loss, fragility, and resilience. He has exhibited his work nationally and internationally, including enderesky Gallery Belfast; Naughton Gallery, Queens University Belfast; Sligo Art Gallery; Ormeau Baths Gallery Belfast; Emerson Gallery Washington USA; Resurgam Gallery Baltimore USA; Claremorris Prizewinners, Ireland; Monaghan County Museum; Crescent Arts Centre, Belfast; Everson Museum of Art, Syracuse, New York; Munsen-Williams-Proctor Art Institute, New York. Gerry has taught on the Foundation Studies in Art & Design programme at Ulster University since 2004. His work is held in the collections of Arts Council of Northern Ireland; Queens University Belfast; Office of Public Works, Dublin; Munsen-Williams-Proctor Museum of Contemporary Art, Utica New York; Monaghan County Museum, Ireland; Craigavon Area Hospital, N Ireland; St Louise's Comprehensive College, Belfast; and in private collections in Ireland and the USA.
Craig Donald
Donald's work deals with our understanding and interpretation of the past. History and memory are dismantled and recombined to form layers of meaning, opening a forum to examine the systems and boundaries of visual communication.  This is investigated with particular reference to the means of collection, interpretation and dissemination of information; with an emphasis on human attempts at control and the areas where these can fail. He works with painting, drawing, collage, found objects and installation – each medium bringing its own historical and material connotations. Current areas of focus include tensions between contemporary and historical methods of information storage, retrieval and presentation.  Also, a blending of the political and the personal, with more familiar or popular images from history decontextualised and reimagined. The relative democratisation and accessibility of information exchange through the increasing expanse of the internet, combined with its incorporeality, leads to a situation where we must piece together our own story of the world using the best qualitative judgement we can muster.
Clare French
Clare's practice considers the (impossible) human desire for meaning. Her works operate as poetic objects that elicit a slow, engaged looking and affective response in the viewer.  The insistence on minimal, repetitive systems expand, and intensify audience attention, raising questions about making and meaning and communicating the impossibility of the finite or the absolute. Her treatment of surfaces index Clare's decisions and actions, reference art historical conceptions of making and expose broader hierarchies of labour, making and materials.  Clare's work develops according to semiotic systems, which are then disrupted through employing materials in repetitive, labour-intensive and time consuming ways; generating the unexpected and facilitating crucial 'happy accidents'. Clare works episodically and in series to further democratise and multiply meaning.
She graduated with a first-class BA in Fine Art from City & Guilds of London Art School in 2018. She previously received a first-class MA in Social Anthropology from Goldsmiths College. During her Fine Art BA, Clare was shortlisted for the David Ballardie Memorial Travel Award and the Artists Collecting Society Award and was selected to participate in The Worshipful Company of Painter-Stainers, Decorative Surfaces Paint Technique Practical Workshops.
Joy Gerrard
Joy Gerrard lives and works in Belfast, and graduated with an MA and MPhil from the Royal College of Art, London. Gerrard is known for multimedia work that investigates different systems of relations between crowds, architecture and the built environment. Her studio practice investigates protest crowds and occupation of urban spaces, archiving media images from the Brexit and Trump Resistance, Occupy movement, Arab Risings and many more. Exploring the historical and iconographic qualities of these images, her work (re)presents them in detailed pen and ink drawings, and more recently large ink works on canvas. Recent solo exhibitions include 'put it to the people', Golden Thread Gallery, Belfast, 'shot crowd 'at the Royal Hibernian Academy, Dublin (2017) and Protest Crowd, Peer UK, London (2015). Selected group exhibitions include: Moving Spaces, Glucksman Gallery, Cork (2020), Irish Art, Sothebys. London (2020),  Protest and Remembrance, Alan Cristea Gallery, London (2019), In a Dream You Saw A Way To Survive and You Were Full of Joy; Hayward Gallery Touring show (2016) and Contemporary Drawing, Xi'an Academy of Fine Arts, China (2015). She has installed multiple public installations since 2004 including major works in the London School of Economics (Elenchus/ Aporia, 2009) and Chelsea and Westminster Hospital (Assemble/Move/Map, 2012).
Angela Hackett
Angela completed a BA Hons in Fine Art from the National College of Art & Design in Dublin in 1994 and an MA in Contemporary Visual Art at University College Falmouth in 2005. She is an associate member of the Royal Ulster Academy. Angela has received numerous awards and bursaries from the Arts Council of Northern Ireland, Arts Council of Ireland and Culture Ireland. She has twice been a prize winner at the Royal Ulster Academy Annual Exhibition; winning the 2019 Perpetual Gold Medal and the Ulster Arts Club Prize 2004. Angela was shortlisted for the Jerwood Drawing Prize in 2005 and was an invited artist at the annual Royal Hibernian Academy exhibition in 2002. She has been exhibiting her work in group shows nationally and internationally for many years. Her work is held in public collections such as the Arts Council of Northern Ireland, Department of Finance, Northern Ireland, the Office of Public Works Irish Government Collection, as well as private collections in Ireland and abroad.
Andrew Haire
Andrew Haire is an artist who currently lives and works in Belfast. His work explores the traditional subject matter of landscape painting viewed within the context of our modern and ever increasingly digital society. He completed a BA Honours in Fine Art gaining a first-class degree from the University of Ulster in 2013. In the same year he was awarded the Royal Ulster Academy Outstanding Student Award and a year as artist in residence at the University of Ulster. Haire has appeared twice on BBC NI's The Art Show and recently was a finalist in Northern Ireland's Young Artist of the Year. Since graduating he has exhibited regularly including group shows at The Engine Room Gallery, Queen Street Studios, PS2 Gallery and The Waterfront Hall. He has had solo Exhibitions at Ards Arts Centre, Newtownards. He was recently awarded an Arts Council of Northern Ireland SIAP award and is developing a new body of work.
David Haughey
David Haughey is an artist living and working in Belfast. David successfully defended his PhD thesis in April 2021, where his research explored time and the image in the context of expanded fine art practices, with a particular focus on video and the exhibition. His research and practice has defined a space between the conventions of painting, photography, cinema, installation and digital media. As a teacher, lecturer and tutor with more than 15 years' experience, David has worked with students of all ages, teachers, and technical staff and is an Associate Fellow of the Higher Education Academy. He has shown work in Venice, at La Casa Di Corto Maltese (2011), as well as the Royal Ulster Academy Annual exhibition (2014), and at Void Gallery, Derry, in an exhibition curated by Turner Prize winner Mark Wallinger (2015). David presented a solo exhibition of painting titled "According To Our Historians A Meteorite Fell Hissing" at The Ulster University Art Gallery during January and February 2017.
Amy Higgins
Amy Higgins has a BA Hons and Masters of Fine Art awarded by Ulster University. Higgins received a distinction for her Masters degree wherein she developed ideas around Barbara Creed's Monstrous Feminine and Hannah Arendt's notions around the Human Condition. Her work has made a recent shift into the idea of a metaphysical place and the awareness of position in viewing the artwork. As a painter, dark palettes continue to be used but with a new interest into how colours can be employed.
Ashley Holmes
Ashley Holmes lives and works in Belfast. She studied Fine Art in the USA and obtained a BFA in Painting from the Massachusetts College of Art and Design in Boston, and an MFA in Painting from the University of Colorado in Boulder.  She also holds a Master of Arts from Chelsea College of Art and Design in London. She has exhibited widely in Northern Ireland and abroad. Past exhibitions include EV+A, "A Sense of Place" curated by Klaus Ottmann 2007, and 134 & 135 Royal Ulster Academy Annual Exhibitions in 2015 & 2016,"The Danforth Museum Art Annual"Massachusetts, USA. "Birth of a Nation," Ning Space, Beijing, China and "Identity,"Emerging Arts Research Centre Beijing, China 2016. Her most recent solo show in 2018, "Shadowpattern, curated by Francesca Biondi was shown in The Island Arts Centre Lisburn, Northern Ireland. Her works is held in both private and public collections including The Bank of Ireland and The Royal Victoria Hospital.
Frédéric Huska
Originally from France, Frédéric studied at the Royal College of Art, before completing a PhD with Practice at Ulster University in 2015. He is currently a lecturer on the BA (Hons) Photography with Video, and MA Photography. His current artwork explores the multi-layered connections between the self, history and the architecture of the city, with photography, writing and film. It aims to re-map urban spaces intuitively and libidinally, hence mediating notions of time and duration within the construction and spectatorship of photographic representations. Issues that are related to historiography, such as the process of abstraction and exteriority, are addressed and challenged through a longing – and ultimately failure – to reach out to unfathomable histories. In its conception, his work mirrors the paradoxical nature of melancholia in which the object-loss is primordial and yet unknown, and it dwells on the contradictory movements emerging through the inner violence embedded in the architectural fabric of the city. Frédéric is also a long-term resident at Fire Station Artists' Studios in Dublin.
Sharon Kelly
Kelly's practice has taken the intersections between art, life, health and sport, exploring ideas of bodily interiority, emotional states, and the mind / body synergy utilising various media and surface. Her work has included large scale drawing installations, stop motion animation and video. Kelly's current work deals with the potentially unsettling confrontation of the fragmented, broken body; issues of healing, perseverance and notions of liminality, time and transformation. She has undertaken numerous collaborations with poets, writers, dancers and choreographers. In 2017 she was co-initiator and developer of a multimedia dance production, with Maiden Voyage Dance Company, creating the visuals for Landscapes of Loss, exploring the territory of grief over time.
Sharing creative practice is a significant element of her work and she has been involved in numerous exploratory projects in the field of education across Ireland with children and teachers. Between 2011 – 2019, she was Virtual Artist in Residence, St Patrick's Primary School, Crossmaglen, Co Armagh, Kids' Own Publishing Project, Virtually There, using video conferencing software as creative platform for exploring and communicating. She has been the recipient of numerous awards including Arts Council of Northern Ireland Visual Arts Awards; Rowel Friers Perpetual Trophy; The Drawing Prize 132nd Royal Academy Exhibition, 2013; The Bass Ireland Award 2001; British Council Award 1999; EV+A Open Award, Adjudicator, Jan Hoet, Belgium 1994; First Prize, 'Siolru', RHA Gallagher Gallery, Dublin 1994; Alice Berger-Hammerschlag Trust Travel Award 1991; The Elizabeth Greenshield Foundation, Canada 1990. Kelly's work has been exhibited nationally and internationally since 1990 and is held in public and private collections in Ireland and further afield. In 2020, she was awarded the Arts Council of Northern Ireland Fellowship at The British School at Rome.
Rachel Lawell 
Rachel Lawell is an Irish visual artist specialising in Fine Art painting. Lawell graduated from Belfast School of Art with a BA Honours Degree in 2016 and went on to study a Master's degree at Queens University Belfast in Film and Visual Studies (2017) where she graduated with Commendation. Since graduating, Lawell has consistently exhibited throughout the UK and Ireland. Lawell's work is highly influenced by film and the portrayal of the female form in cinema, especially from the old Hollywood era. Her work is motivated by nature and spontaneous vivid colour use. Her work is held in a number of private collections in the UK and Ireland.
Naomi Litvack
Naomi Litvack's artistic practice is concerned primarily with landscape; exploring layers of history, the concept of the monumental and human mark making through time. The primary sources of research material and imagery in Naomi's work are personal experiences of landscapes visited and explored. Themes of isolation, stillness and modern society's tenuous connection to nature pervade her painting. Ideas of memory, passing by, flashes of encounter, light, time and weather are all present. Naomi aims through her practice to present landscape as something timeless and ethereal, yet also tangible. She completed a BA in Painting at Manchester School of Art in 2014 and an MFA in Fine Art at Belfast School of Art in 2018. She was 2018-19 Artist in Residence at St Mary's School, Calne, and curator of the Flax Gallery at Mossley Mill in 2019-20. Naomi has exhibited widely both nationally and internationally, and has been the recipient of prizes and accolades including the University of Ulster Broadening Horizons Travel Grant and the Leonard James Little Award for Painting at Manchester School of Art. She has been shortlisted for Bloomberg New Contemporaries and Saatchi New Sensations. Her work is held in various private collections.
Mark McGreevy
Mark McGreevy is a graduate of Ulster University, Belfast. He has had exhibitions at The MAC, Belfast; VISUAL, Carlow; The Kevin Kavanagh Gallery, Dublin; The F.E. McWilliam Gallery, Banbridge; The Golden Thread Gallery, Belfast; RHA, Dublin; Fendersky Gallery, Belfast; The Lab Gallery, Dublin; The Third Space Gallery, Belfast; The Crawford Gallery, Cork; Katzen Art Centre, Washington, DC; Draiocht, Dublin; Ormeau Baths Gallery, Belfast; The Glucksman, Cork, among others. McGreevy is the recipient of many awards including the Suki Tea Prize, a number of Arts Council of Ireland Bursary Awards, and Arts Council NI SIAP award. He has been shortlisted for prestigious art prizes such as The AIB Award and BOC Emerging Artist Award and has participated on artist residency programmes at Centre Culturel Irlandais, Paris; the Irish Museum of Modern Art, Dublin; The Ballinglen Arts Foundation, Mayo and previously held a membership studio at Temple Bar Gallery and Studios, Dublin. His work is held in both public and private collections.
Sinead McKeever
Sinead McKeever is based in Belfast. In 2008, she received a distinction in MA Fine Art from Ulster University in 2008. McKeever's installations address hybridity, as pigment, both paint spatial occupation and application. Her developing practice engages with different modes of perception, the questioning of hierarchical systems of measuring, knowledge and history are interpreted through drawing, painting and sculpture in the expanded field.
Michelle McKeown
Michelle McKeown is currently undertaking doctoral research in painting and feminist theory at Ulster University. Her recent practice operates at the intersection of painting and digital printing technologies. Born in Northern Ireland, McKeown studied at the National College of Art and Design, Dublin (1998 – 2001) and the Royal College of Art, London, (2005 -2007). Awards include the Basil H Alkazzi Scholarship 2005-2007 and Artist-in-Residence Award from 2007-2008 at Loughborough University School of Art & Design. Solo Exhibitions include The Seeress, Marian Cramer Projects, Amsterdam, 2013, The Realm of the Mothers Marian Cramer Projects, Amsterdam, 2011, Michelle McKeown @ Storage, The Agency Gallery, London, 2009, and Strange Attractor, Loughborough University Gallery, 2008. Selected group exhibitions include Progressions, Ulster University Gallery, Belfast, 2019; Femocracy, Marian Cramer Projects, 2016, 2Q13 Lloyds Club, London, 2013; Journey, Millennium Court Arts Centre, 2013; Waar ken ik u van? Leiden University, The Netherlands 2013.
Sharon McKeown
Born in 1994 in Co. Antrim, Northern Ireland. Sharon McKeown graduated from Ulster University, Belfast (2018) with a BA Hons Fine Art in Painting where she was presented with the Cool Banana Award 2018 by Streetmonkey Belfast. In addition to her degree, she studied at Saimaa University of Applied Sciences, Finland (2017) receiving a Diploma in International Academic Studies. It was here that she had her first solo show 'Unknown Ventures' exhibiting at the Linnala Campus, Imatra. Since graduating she has become a Co-Director at Platform Arts Belfast and exhibited at Woolwich Contemporary Print Fair, London (2018), QSS Gallery, Belfast (2018), and the RUA Annual Exhibition, Belfast (2018-19).
Meadhbh McIlgorm
Meadhbh McIlgorm is an artist with a material practice, working across mixed-media. Originally from Dublin, Meadhbh has been living and working in Belfast since 2015. She studied Craft Design and History of Art at the National College of Art & Design in Dublin, specialising in glass. Her work is influenced by phenomena that move beyond the tangible – in particular, the ephemeral nature of light, shadow, and reflection. The unique qualities of glass, including its fragility, lend themselves to creating a narrative around these phenomena through sculptural objects, installation and photography. She received DCCoI Future Makers Student Award (2013) and has shown work in several national group exhibitions including the RDS Craft Awards, Sculpture in Context (2014), 'Solas' (Dublin, Cork, Limerick and Waterford, 2015/16) and The Ireland Glass Biennale (2019-20). Meadhbh also has a curatorial practice, most recently focusing on a series of Belfast-wide intervention projects (2020 – 2022) under the titles Liminal Spaces and Limin-Alley. She also served as a Co-Director of Platform Arts.
Grace McMurray 
Grace McMurray reconstitutes ideas of drawing and traditional craft methods through the relationship between the digital and the handmade.  Employing geometric patterns and symmetry to construct a soothing familiarity, the ostentation of the work strives for visibility. The objects exude order and purpose but it's a performative wellness to distract from the illusion of control. Through this deeply personal work reflexive upon the spaces they occupy and exist in, McMurray finds beauty in the underside, the exposed edges and the overlooked.  As such, creating textile installations symbolising the private sphere of the domestic. Such labour-intensive work unravels notions of social conditioning, gendered labour and its value. Grace is a member of Array Collective, winners of the 2021 Turner Prize. With Array, Grace has exhibited at Jerwood Space, London (2019), The Herbert Art Gallery & Museum, Coventry (2021), and has a forthcoming exhibition at Galway Arts Centre in August 2022. As an individual artist, her work has been exhibited at University of Ulster, Belfast; CCA Derry (2021); Royal Academy Summer Exhibition (2019); Jerwood Drawing Prize, London (2015); Synthetic Aesthetics, Leitrim Sculpture Centre, Ireland (2012); and Hong Kong Visual Arts Centre, Hong Kong (2010).
Gail Ritchie 
Gail joined QSS in 2003. She is currently undertaking a PhD with practice at Queen's University, Belfast and she continues to explore themes of memory and memorial in relation to conflict. A solo exhibition of Gail's practice-led Doctoral research will take place at The Naughton Gallery, Belfast, in June 2022. She has recently presented her research at conferences in Newcastle, London and Edinburgh. Gail has exhibited extensively throughout Ireland, the UK and internationally, including Katzen Center for Arts (Washington DC), APT Gallery (London), WhiteBox Gallery (New York), InterArt Gallery (Beijing) and Hangzhou Public Library (China). She has undertaken residencies at the British Institute of Archaeology (Ankara, 2019), Ulster Museum (Belfast, 2013), Rooftop Studios, Prinzlauerberg (2010) and Centre Culturel Irlandais (Paris, 2009). Alongside her artistic practice, Gail also practices as a curator, working on exhibitions of Northern Irish art in Mexico (2004), Valencia (2005) New York (2006) and Tokyo (2007). In 2016, she co-curated Irish Wave projects in Beijing and Shanghai, followed by curated a group exhibition on the theme of conflict (Platform Arts, 2017) and took part in the B#War Festival in Treviso, Italy in March 2019. She has received awards from Arts Council Ireland Ireland, Arts Council Northern Ireland, Cultural Relations Committee and the British Council.
Charlie Scott
Charlie graduated from the Belfast School of Art with First Class Honours in 2017. His work has recently been purchased for the Arts Council of Northern Ireland permanent collection and the Northern Ireland Civil Service Collection. Recent exhibitions include What Fell From The Mountain, Ards Arts Centre Newtownards (Solo), QSS Gallery, and the Royal Ulster Academy. In 2017, following Scott's degree show, he was awarded the Royal Ulster Academy Award for Outstanding Students, the Art at The Clayton Award and QSS Gallery Award. He was also appointed Artist In Residence for Fine Art at the Belfast School of Art (2017/18). Scott's paintings are rooted in time and nature, often gravitating towards spiritual or metaphysical responses to landscape. Growing up surrounded by the silent bogs, lakes, and halted railway lines below Mount Errigal in Co. Donegal; he combines fragments of memory, natural elements and human impulse as a means to reconstruct time. Scott values the tactile nature of oil paint as one that parallels the experience of nature, utilising painting as an excavation process to uproot and uncover imagery.
Vasiliki Stasinaki
Vasiliki is a Belfast-based artist, activist and dance-performer interested in social and political issues, within the context of history, national identity and immigration. Through her work, she attempts to question and explore her place in the world from a social and political point of view by creating performative interventions that take place in a defined space. Vasiliki works in sculpture, textile and print to create installations and site-specific pieces that centre the audience. She recently performed 'ΣΥΝΗΘΩΣ ΔΕΝ ΣΚΕΦΤΟΜΑΙ ΤΟ ΜΕΡΟΣ ΑΠ'ΟΠΟΥ ΚΑΤΑΓΟΜΑΙ (Most of the Time I Don't Think About Where I Come From)' as part of The Druithaib's Ball, Array Collective's 2021 Turner Prize winning performance-video-installation.
Anushiya Sundaralingham
Originally from Sri Lanka, Anusihiya has lived and worked in Belfast for twenty-seven years. Since graduating from University of Ulster in 1998 with a BA Hons in Fine and Applied Arts, Anushiya has been a full-time artist, working with a range of media including print, textiles, papercuts, painting and installation. Her work is influenced by the challenges of identity and the nature of belonging. Previously, this has taken form through a range of subject matter, themes and media to convey the complexities of people, place and conflict. Anushiya also practices as an arts facilitator for various public, private, and health organisations. Her work is represented in numerous private and public collections.
Jennifer Trouton 
Jennifer deliberately uses the tools and materials of the past, such as figurative painting and still life, to subtly express ideas around gender, class and identity within Irish history. Her work combines an interest in the mythological and historical with the personal stories and meta-narratives of women. Since graduating from the University of Ulster in the mid-nineties Trouton's work has been extensively exhibited both nationally and internationally. Throughout her career, Trouton's work has garnered numerous awards, including the Golden Fleece award, the Clare Morris Open Exhibition, the RHA Keating/McLaughlin award and the RUA Watercolour Prize. She has been awarded residencies in New York, Los Angeles, China, Canada and Ireland and her work is held in numerous private and public collections
Kwok Lam Tsui
Kwok graduated from Ulster University with first class honours in June 2020, upon which he received a 12-month graduate studio bursary from QSS. Since graduating, he has participated in 'Emergence IV' (QSS, June 2021), 'BA/MFA Fine Art Graduate Show' (The MAC, September 2020) and 'The Portrait of Northern Ireland' (Golden Thread Gallery, October 2021). He has received funding from University of Atypical, and in 2020 was awarded a residency with PS2. He is currently Exhibitions Coordinator at Cultúrlann McAdam Ó Fiaich. Kwok's paintings incorporate graphic and abstract elements which explore the spaces between analogue and digital, surface and content, recognition and abstraction. His work is informed by ambiguous identities, including his own, and the ambiguities of space, form, memory, and interpretation. He works at scale, setting limitations for each work or series such as a limited colour palette, or the specific direction of brush strokes.