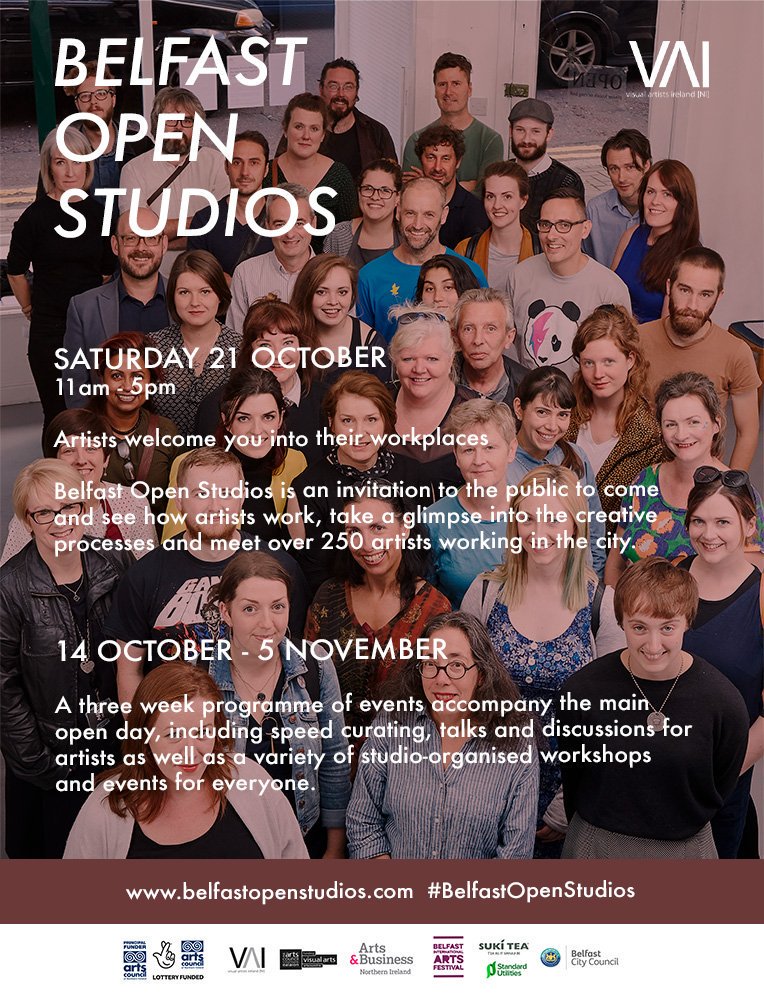 QSS for Belfast Open Studios 2017
QSS Bedford St is one of 15 artist studio groups taking part in Belfast Open Studios 2017. This event (which is also part of the Belfast International Arts Festival) provides a fantastic opportunity for members of the public to gain behind-the-scenes access to the studios of some of Belfast's brightest emerging and established artists and to explore a vast and diverse selection of artwork.
At QSS Bedford St our artist studios will be open from 11am – 5pm on Saturday 21st October 2017. We will also be opened for specific events on Saturday 28th October, 2.30pm – 4.30pm and Saturday 4th November, 1pm – 4pm (see below). Admittance to QSS Bedford St and participation in our events programme is free of charge.
STUDIO ARTISTS
Sean Campbell, Colm Clarke, Susan Connolly, Amanda Coogan, Alacoque Davey, Catherine Davison, Gerry Devlin, Craig Donald, Angela Hackett, Ashley Holmes, Dorothy Hunter, Frederic Huska, Clement McAleer, Terry McAllister, Mark McGreevy, Sinead McKeever, Catherine McLaughlin, Grace McMurray, Robert Moriarty, Zoe Murdoch, Gail Ritchie, Jennifer Trouton and David Turner.
STUDIO SPOTLIGHT ON GAIL RITCHIE, SATURDAY 21ST OCTOBER @ 12 NOON, 3RDFLOOR
Gail Ritchie will give an overview of her current practice, focusing on the development of new work for an upcoming exhibition at Platform Arts, Belfast in November. During the talk Gail will share how ideas can be developed and discarded; how writing and research can influence or even interfere with project development and discuss when, or if, a piece of work can be considered finished.
STUDIO SPOTLIGHT ON AMANDA COOGAN, SATURDAY 21ST OCTOBER @ 2.30PM, 2ND FLOOR
During this spotlight session Amanda Coogan will discuss her recent projects; 'Talk Real Fine, Just Like a Lady' at Dublin's Peacock Theatre in collaboration with the Theatre of the Deaf and 'I'll Sing you a Song from around the Town' in the Niemeyer Centre, Spain. These large-scale projects emerged through collaboration and manifested as interdisciplinary performance practice.
ACRYLIC PHOTO DEMONSTRATION WITH ASHLEY HOLMES, SATURDAY 21ST OCTOBER @ 4PM, 2ND FLOOR
Creating an acrylic photo transfer is a way of embedding the ink of a copied or printed material into acrylic film without sacrificing the original. The resultant acrylic "skin" can then be painted and collaged onto canvas. In this session Ashley Holmes will demonstrate how to make a transfer while avoiding the many pitfalls – she will also show examples of how she uses this technique in her work.
STUDIO SPOTLIGHT ON SUSAN CONNOLLY, SATURDAY 28TH OCTOBER @ 3PM, 1ST FLOOR
Susan Connolly will open her studio for an investigation into the 'site' of production. She will introduce her research methods and give an insight into how she has developed her practice in recent years.
STUDIO SPOTLIGHT ON COLM CLARKE, SATURDAY 28TH OCTOBER @ 3.30PM, 3RD FLOOR
For this talk Colm Clarke will give an overview of the methods and the materials he uses when developing new socially engaged works. He will show the studio/workshop area he uses for building bee hives and planning interventions. Visitors will also have a chance to try out broadcasting on his pirate radio station!
STICK.LIP – LIVE PERFORMANCE BY ROISIN OWENS, SATURDAY 4TH NOVEMBER FROM 1PM TO 4PM, QSS GALLERY, GROUND FLOOR
CURATED BY AMANDA COOGAN
'Pull yourself together and put on some lipstick.
TAKE THE TUBE. POP OPEN & TWIST. RUB THE STUMP ALL OVER THE LIPS. BLOTCH & KISS.
A performance exploring my relationship with, the pressure of, the reliance on and the resilience of the tube of colour I spread on my lips'.
FINDING US
QSS Bedford St is located between Pizza Express and Weatherspoons on Bedford St (opposite Nandos).