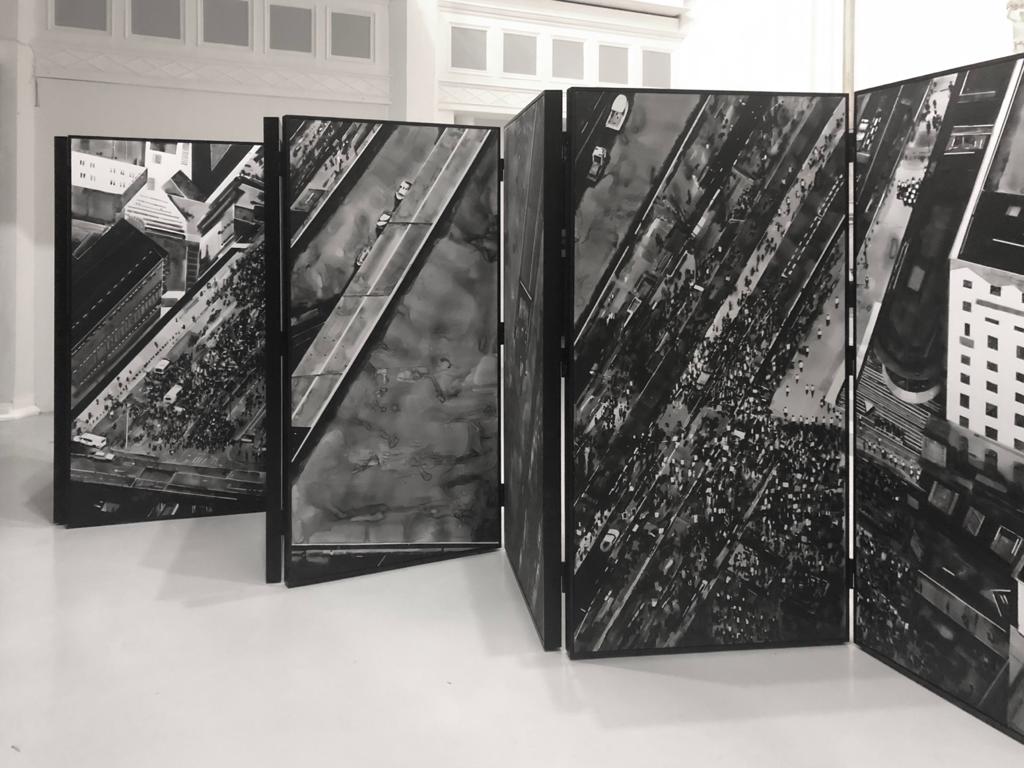 Precarious Freedom | Solo exhibition by Joy Gerrard at the Highlanes Gallery
As a spectacle of resistance, public protest has a long history and is a powerful form of expression in a time of instant, 'citizen enabled' global media. Drawing on over a decade of image-making and research on themes of protest and urban space, QSS artist Joy Gerrard archives and painstakingly remakes media-borne crowd images. Her subjects include climate change, Brexit, BLM protests and women's equalities.
In Precarious Freedom, now on show at the Highlanes Gallery (Drogheda's Municipal Art Gallery), Gerrard is showing a series of drawings made during 2020 and 2021 and new, large scale installation works.
For Dark Europe, she has stripped the colour from all 27 national flags in the European Union. The flags are hand painted on silk and placed on opposite walls of the gallery. This work was conceived as a response to Brexit; however, Gerrard now considers it as an elegy or mourning work, post-Covid. It's unified, monochrome sculptural form might prompt us to reflect on how the pandemic has reinforced nationhood, borders and blocs.
In response to very recent protests focusing on women's rights and freedoms, Gerrard has made Barrier. In these painted screen works, the images are bisected and folded, creating 'barricades' within the gallery space. From other perspectives, the viewer can see the whole image.
Precarious Freedom will tour to the Galway International Arts Festival later in 2021, followed by the Butler Gallery, Kilkenny in 2022.
For further details visit: https://highlanes.ie/whats-on/exhibitions/joy-gerrard-precarious-freedom-crowds-flags-barriers/