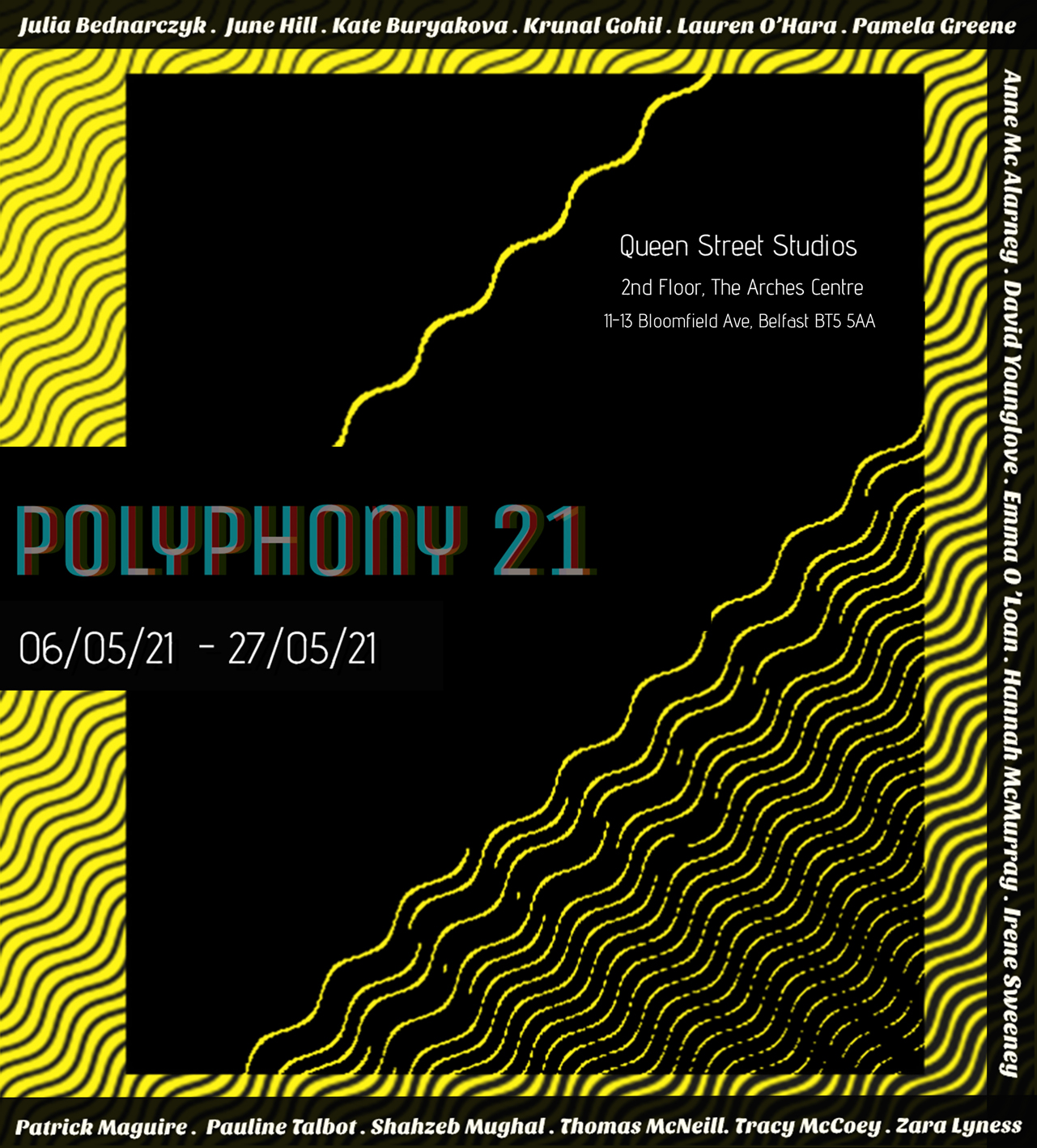 Polyphony 21 | QSS Gallery
QSS is delighted to host Polyphony 21, the MFA 1st year show from the Belfast School of Art. The exhibition will be available to view virtually at first, with physical access planned from 25th May 2021 subject to coronavirus restrictions being lifted. At such a time, an Eventbrite link will be added here to book a gallery visit.
Polyphony, having two or more harmonies or tones of equal resonance, describes the interdisciplinary nature, and collective-curatorial thought behind this exhibition.
For the first time in the history of the MFA course the entire exhibition event has been virtually planned by a 1st year group who have never been together in the same physical space at the same time. The pursuit of harmony describes our process during a time of struggle, determination and hope, uniting 17 artists from diverse cultural and linguistic backgrounds.
The exhibiting artists draw inspiration from an eclectic plethora of topics including climate change, our interior and exterior landscapes, cultural fables, phenomenological experience, spiritual planes of thought, liminality, and ontology.  Artists include: Julia Bednarczyk, Kate Buryakova, Pamela Greene, Krunal Gohil, June Hill, Zara Lyness, Patrick Maguire, Anne McAlarney, Tracy McCoey, Hannah McMurray, Thomas McNeill, Shahzeb Mughal, Emma O'Loan, Lauren O'Hara, Irene Sweeney, Pauline Talbot and David Younglove.
The MFA at Belfast School of Art is a multi-disciplinary, studio based programme. Established in 1979, it has a proven track record of supporting the radical, alongside more traditional or orthodox practices. It has a rich legacy of awards including: the Turner Prize, Bloomberg New Contemporary, the Paul Hamlyn, Derek Jarman and Nissan Art Award successes, as well as many other notable high achieving alumni.
The course is extremely well networked into the local, national and international art scene, offering students many opportunities to professionally connect and feed into that network. This support network makes Belfast a fantastic and viable place to further an emerging practice.
For more information about this event please visit:
Facebook : MFA Culture
Instagram: MFA Culture
Website: https://polyphony21.wixsite.com/my-site