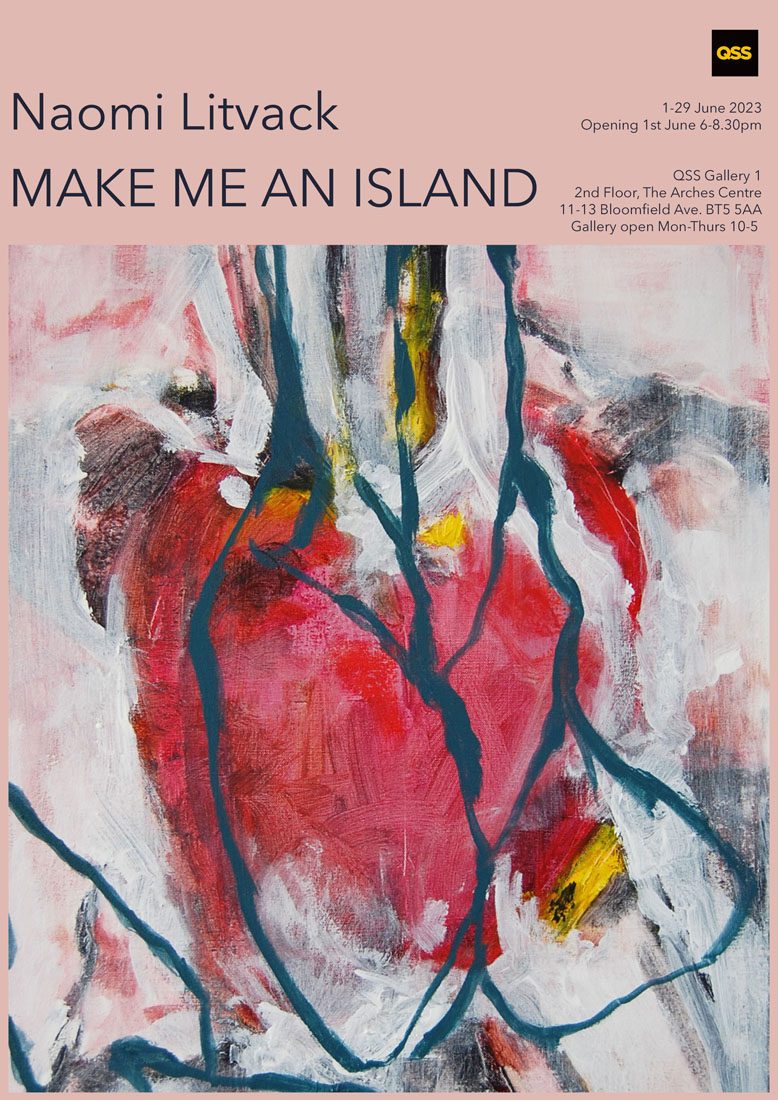 Make Me an Island – Naomi Litvack – Solo Exhibition
QSS is delighted to host Make Me an Island in Gallery 1, a solo exhibition of works by QSS artist Naomi Litvack. 
Opening event: Thursday 1st June from 6pm. No booking required, please see the 'visitor information' section of our website for further details on visiting the gallery https://www.queenstreetstudios.net/visitor-information/  
Exhibition Dates: 1st to 29th June 2023
General opening hours: Monday – Thursday, 10am-5pm.
In Make Me an Island, Naomi Litvack explores and considers the painterly traditions of landscape and still life. The paintings question what meaning these traditions hold in a contemporary painting practice, seeking to disrupt and overturn the historical. The fundamental act of applying colour to surface, by way of traditional and non-traditional means and methods, lies at the work's core. Colour, mark, surface and form combine to create images that are recognisably organic but simultaneously unreal.
The paintings are situated, too, within a context of Irish landscape painting, stemming as they do from Naomi's attendance on the 2022 Inishlacken Project residency in Connemara, located on that uninhabited island. References range from historical West of Ireland painters such as Paul Henry and Jack B. Yeats, through Gerard Dillon and James MacIntyre, via the writing and cartography of Tim Robinson, to Ithell Colquhoun, to folk tales, songs and stories heard on the island.
The exhibition's title, Make Me an Island, is a musical reference, but it also suggests geographical context, embodying long standing ideas of island as microcosm – singular, sometimes strange and a place set apart. Islands have their own character, traditions, mythology and vernacular; things mirrored in this body of work, which exists as its own island, beside the tradition but apart, strange, otherworldly and in and of itself.
Artist Bio:
Naomi Litvack is a visual artist and Lecturer in Art who received her BA (Hons) in Fine Art Painting from Manchester School of Art (2014) and MFA in Fine Art from Belfast School of Art (2018). Naomi's practice centres around nature, landscape and organic themes.
She has been the recipient of awards from the Arts Council of Northern Ireland, Ulster University, Manchester School of Art and Manchester Academy of Fine Arts amongst others. Naomi was Artist in Residence at St Mary's School, Calne in 2018-19. She has worked and exhibited widely nationally and internationally, and attended artist residencies including in Cork, Ireland, Karelia, Russia, and Munich, Germany.
Naomi has been a member of QSS since 2019.