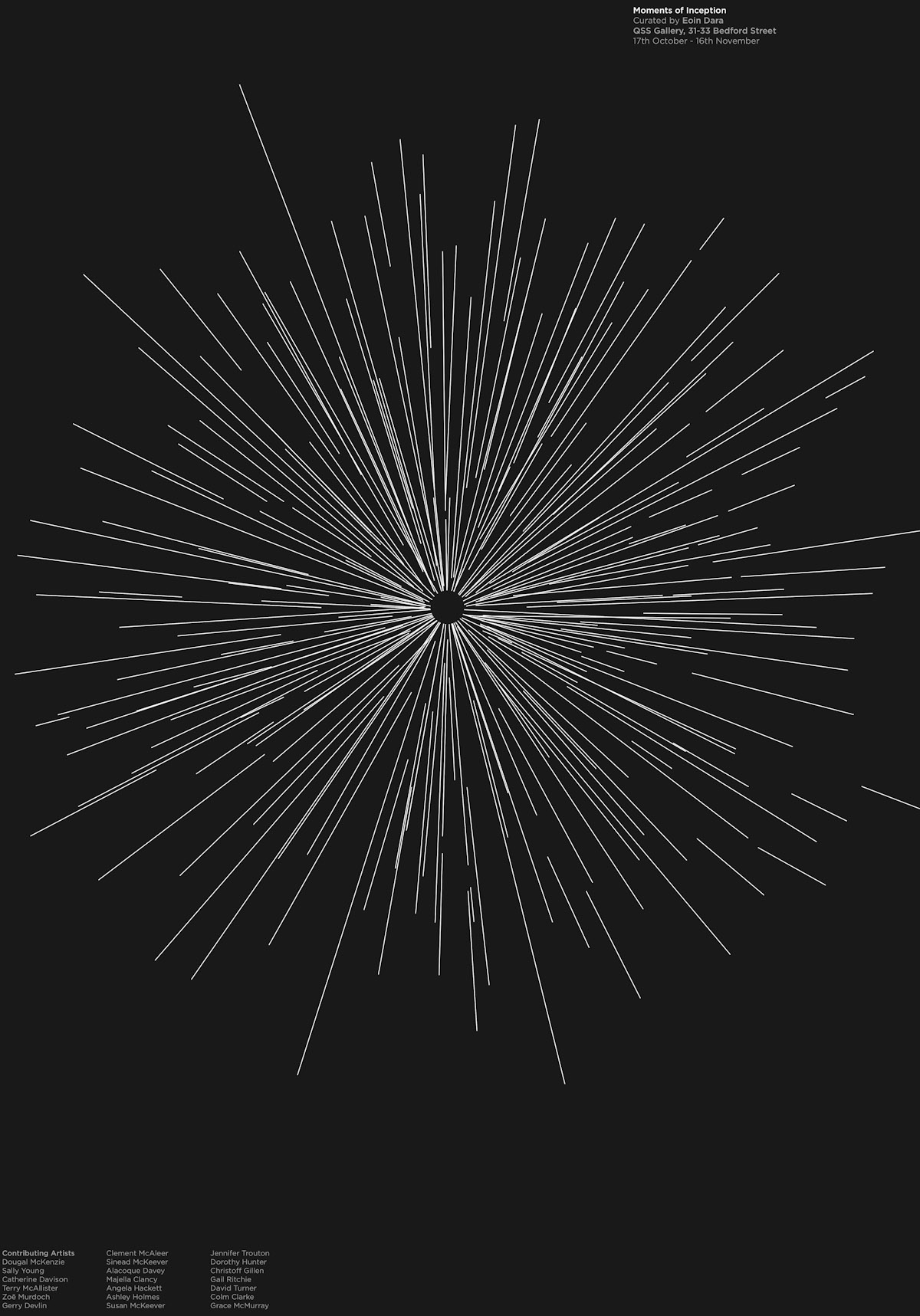 Moments of Inception
Curated by Eoin Dara Moments of Inception will showcase the creative process of the current studio members of QSS through the curation of Eoin Dara in order to "focus on, and celebrate, the early artistic processes that take place in the studios, often seen by the artists' eyes only, or by a fortunate few". This exhibition offers an intimate glimpse into the artistic practices of the 20 QSS studio members, featuring artworks that have yet to reach their full state of creative completion.
About the Curator:
Eoin Dara is a Belfast-based curator. Dara is one of the co-founders of the alternative exhibition space Satis House and the Household Arts Festival. He also served as co-director at Catalyst Arts from 2010 – 2012. Alongside these independent projects, he also currently works as the Assistant Curator at the MAC.
Contributing Artists:
Dougal McKenzie / Sally Young / Catherine Davison / Terry McAllister / Zoë Murdoch / Gerry Devlin / Clement McAleer / Sinead McKeever / Alacoque Davey / Majella Clancy / Angela Hackett / Ashley Holmes / Susan McKeever / Jennifer Trouton / Dorothy Hunter / Christoff Gillen / Gail Ritchie / David Turner / Colm Clarke / Grace McMurray
Curatorial Statement:
The objects, artifacts, and occurrences currently occupying the gallery space at QSS Bedford Street are representative of the twenty artists who occupy the studios above the gallery. The most straightforward way in which to describe this exhibition, therefore, would be to say that it is a studio members' showcase.
So familiar is the concept of a members' show that it is easy to forget what a peculiar kind of exhibition it is. Arguably, within this framework, the most basic curatorial logic is to be found in QSS Board decisions, spread over a period of many years, as to whom studios should be offered. Read in this way, some artists were selected for the exhibition over twenty years ago, whilst others were only confirmed within the past few months during the relocation and expansion of QSS from Queen Street to Bedford Street.
On being invited to curate this exhibition, I felt acutely aware of this peculiarity and the challenge involved in building upon the foundation laid by these earlier curatorial decisions to make something interesting, relevant, and timely in the gallery space. I was also conscious of my privileged position as a guest in the studios, given free rein to roam about the building, ask questions of artists, and pore over finished artworks, works in progress, fledgling pieces and undeveloped studio experiments.
The new QSS premises hold a wealth of fascinating works at various stages of completion, many ready and waiting to take flight and alight on gallery walls elsewhere. They offer myriad possibilities for exploration and interrogation. However, during my recent studio visits I have been struck more by the activity preceding a work's completion and the challenge of discovering the means by which they have come into being. For this exhibition, therefore, I have chosen to focus on, and celebrate, the early artistic processes that take place in the studios, often seen by the artists' eyes only, or by a fortunate few.
All too often with exhibitions it is assumed that one is arriving at an endpoint or conclusion. One anticipates finished presentations of work, of objects that have 'arrived' at meaning and tangibility, both physically and intellectually. Audiences, more and more, are expecting a certain immediacy of experience when entering a gallery space, that artworks and ideas will come forth and interest, educate, and entertain instantly. In an attempt to subvert these expectations, this exhibition calls for a more investigative approach, and asks for a little more effort on the part of the viewer.
What we have here is a room full of beginnings, twenty beginnings to be precise, each representing the denizens of the new studios on Bedford Street. There are no finished pieces of art here. Instead, on display is a collection of unexplored ideas, fragments, rudimentary sketches and washes, source material, found objects, artistic influences, and embryonic works. Some may at a future point reach a state of completion after further gestation in QSS; others will forever remain in the studios as aids and tools for each artist in advancing their work. For now, they offer a tantalising glimpse into the creativity, eclecticism, and dynamism contained within this building on Bedford Street.
This exhibition is an invitation to audiences to explore a multitude of positions and approaches within contemporary art making, and to formulate questions without anticipating answers.
Eoin Dara. October 2013