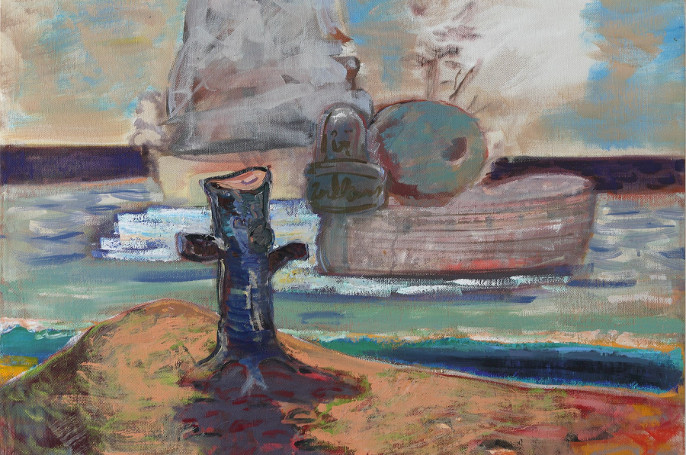 Mark McGreevy @ Ulster University Gallery
Mark McGreevy "I don't read I just guess "
20 October – 19 November
Opening reception: Thursday 20 October, 6-8pm
Ulster University – Belfast Campus
The Ulster University Art Gallery is pleased to announce its upcoming exhibition, Mark McGreevy 'I don't read I just guess'. Since the late nineties McGreevy has established a strong reputation as one of the most interesting and idiosyncratic painters in Ireland, working today.
"This exhibition of recent paintings has been heavily influenced by the analogies of landscape. The reciprocal and nonreciprocal landscape, which is bridged by the poetic sentiment and reality. The idea of landscape as a natural order, how landscape has been coded theologically, or used philosophically, politically and atavistically." – Mark McGreevy
McGreevy's works are automatic responses to a collected archive of personal and found imagery drawn from personal experiences, the media and the everyday, they offer a quizzical and intimate overview of the layers of images and spaces, whether tangible or abstract, which McGreevy encounters. Each motif within the paintings/drawings battles against another for dominance reflecting the memory's hierarchical system of image selection, thus questioning how we quantify the value of our experience and the resulting images we draw upon from our memory.
Biography
Mark McGreevy graduated from Ulster University Belfast School of Art (BA Hons Fine and Applied Art 1994-1999 and Masters in Fine Art 2001-2003). To date he has exhibited in numerous exhibitions both in Ireland and Internationally notably 'Between two Worlds', F.E. McWilliams, 2013. 'The Fold- A Painting Show', VISUAL, Carlow, 2011. Solo exhibitions, The Third Space Gallery, Belfast 2010/06. 'Resolutions', Katzen Arts Centre, Washington DC in 2007, 'There Not There' in the Crawford Art Gallery, Cork, 2008 and 'A Gap in the Bright', the Millennium Court Arts Centre, Portadown in 2008.