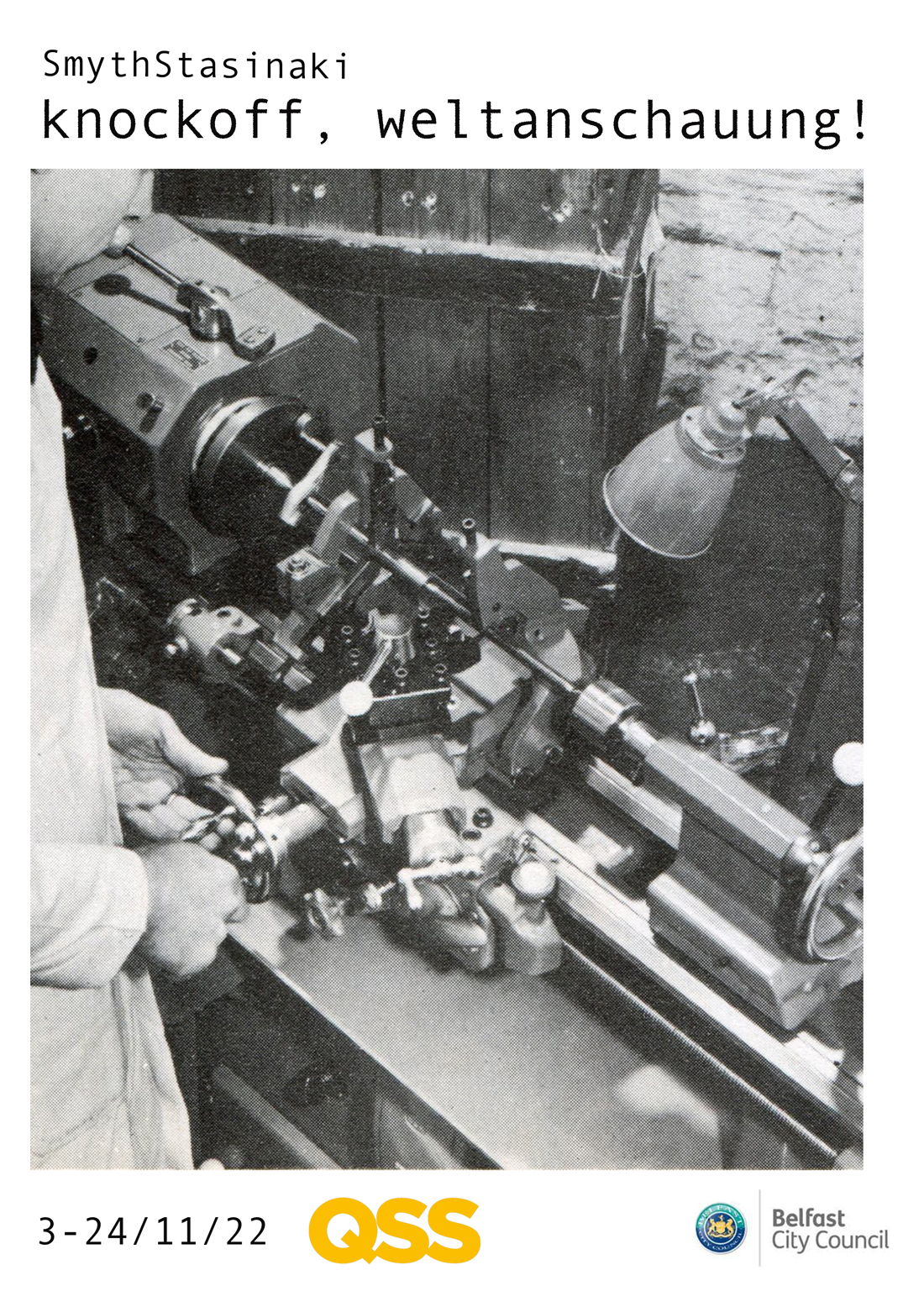 knockoff,weltanschauung! by SmythStasinaki
QSS are delighted to host knockoff,weltanschauung!  An exhibition by QSS based artist Vasiliki Stasinaki and Belfast based artist Ronan Smyth.
Exhibition Launch: Thursday 3rd November 2022, 6-9pm
No booking required, please see the 'visitor information' section of our website for further details on visiting the gallery: https://www.queenstreetstudios.net/visitor-information/
Exhibition Dates: 3rd – 24th November 2022
Gallery Opening Times: Monday – Thursday 10am to 5pm.
Work work work work work
You better work
Work work work work work
I want to see you work-out for me
You don't gotta go to work
Work, work, work, work, work, work
But you gotta put in work
Work, work, work, work, work, work
You don't gotta go to work
Work, work, work, work, work, work
Let my body do the work
Work, work, work, work, work, work
We can work from home, oh-oh, oh-oh
We can work from home, oh-oh, oh-oh
Is it worth it? Let me work it
You better work bitch
Because a working class hero is something to be
Now get this work
Now get this work
Now get this work
Now get this work
I've been work-work-work-work-workin' on my shit
++++++++++++++++++++++++++++++++++++++++++++++++++++++++++++++++++++++++
(Preface)
(I was recently on a video call with my aunt, a seventy year old Latvian USSR to USA immigrant, writer and former English professor, living in the unfashionable side of Long Island with her husband where she is on the slow recovery from a stroke she suffered several years back. The video call went about as well as you'd expect it, with my aunt spending the entirety of it off camera, complaining about things she saw on the internet, and asking me, as a younger person still living in the world I suppose, for answers and clarifications. And so, I found myself nodding, aha-ing and generally directing my answers and attentions alternatively to the Miro poster hanging on her wall (as it was positioned right at the center of the frame) or my own small visage as it appeared on the right hand corner of the screen. Not surprisingly, my aunt has a very particular and understandably outdated view on how it is that things are, or how they were, or how they indeed should be. Consequently, it is very hard for me, when replying her questions and enquiries, to explain exactly how it is that "things" happen, or don't happen, not only in the grand scheme of things, like the enormity of a mess which is the 2022 American political-scape, but also in relation to my life, and particularly to matters like money, working conditions and relations, institutional responsibilities and attitudes of schools, galleries and museums towards lowly artists and researchers such as myself.
My aunt still lives in a time in which being "good" at something, guarantees you money, a job, success, accolades – achievements that "will make an old aunt happy to hear about". We have been through this before of course, there was that time she advised me to simply consult some wondrous publication, (in print!), holding within its pages boundless international job opportunities. Apparently, all you had to do was write to said opportunities and oopsy daisy you will be whisked away to another land, work visa in hand, where you would be received as a long awaited ingenue. (Indeed, it took me quite a while to even understand what she kept referring to, the thought of such an international-job-offer-yellow-pages was as far gone to me as the last time I used an actual live encyclopedia.) This time around, my aunt decided to broach a subject she has been obviously itching to ask about: my work. Why won't anyone tell her what it is I am actually doing for my job?? She proclaimed. Well my dear auntie, that's quite easy to answer, I said. No one told you what my job is, because I simply don't have one at the moment. And if I am being honest, if I didn't have to, I wouldn't want to get one. Let me be an artistic lay about, a hopeless dreamer and two-penny philosopher, herding cats and sprouting seeds with money that grows on trees.
Needless to say that that had very quickly ended the conversation. )
++++++++++++++++++++++++++++++++++++++++++++++++++++++++++++++++++++++++
I have a random internet memory of seeing a screenshot depicting the title or headline lamenting something along the lines of: "Why Does The Young Generation Hate Capitalism?" I obviously didn't click on the bait, but in my mind the link leads to an avocado-toast-lesbian-dance-studies-no-morals rampage spree, as these things often do. Well, let me add some more fuel to the fire because: here here! I do not know if I still count as the (capital letters) Young Generation, but I Hate Capitalism! And believe it or not, this was a constant cause for argument within my family. As my parents and grandparents all survived and indeed escaped the horrors of Soviet rule, to them 'Hating Capitalism' was an ignorant and childish sentiment, as the latter was the far lesser of the two evils. I simply did not know what I was talking about. At the risk of raising all the demons in conservative hell, let me say that like many world views, my family could not see beyond the binary. As it's not either/or type of scenario, it's neither. Please, not another -ism. Really that's not what I was suggesting. I was thinking of something else entirely, something which would have still had my family dismissing me as ignorant and childish, no doubt chalking up my world views to my "artistic nature", but at least this was truer to my intention. We shall not call this a Utopia, we shall call this an "after" since it will come after all paperwork is burnt in fiery pits of molten lava, and with it, all whom it allowed to be in power. Now, the questions are of course plentiful, and they include but are not limited to: How does this function? How is this possible? And how do we get there? And the answer is, well, we are working on it.
Text by Anat Martkovich
SmythStasinaki is a collaborative duo, that has been establishing a common interest in the relationship between experimental site-specific installation and craft-based practices. Their collaboration acts upon the improvised and provisional in an attempt to engage with alternative economies and systems of distribution that surround the classed, gendered and racial connotations of the handmade.
Ronan Smyth is an artist based in Belfast, who is currently completing a PhD with Belfast School of Art. His practice aims to facilitate the contemporary discussion of shame and its specific relationship with class. With an interest the socio-emotional aspects of consumerism, Smyth draws upon his own working-class background to develop narratives that examine feelings of inferiority and uncertainty that often effect queer, working-class artists. Working across mediums including sculpture, drawing and fibre-based installations, he creates pieces that expose the complexities of status and the external struggle to identify oneself in the politicised codes of taste and gender that govern modern Irish culture.
Vasiliki is a dance and visual artist based in QSS artist studios in Belfast. Through her practice she attempts to question and explore her place in the world from a social and political point of view, by creating performative interventions that take place in a defined space.  She was trained as a contemporary dancer and worked as a freelancer with companies and choreographers across Europe. She holds an MFA in Fine Art from Belfast School of Art and an MRes in Art and Design from Sint Lucas Antwerp. She has exhibited in galleries in London, Glasgow, Belfast and Dublin. Her work has been supported by the Arts Council Northern Ireland and Belfast City Council. Her work Motherland is Calling was part of Array Collective's Turner Prize winning installation and is now part of Ulster Museum's permanent collection.
Anat Martkovich (AKA Mrs. So Bitch, AKA Anana Maria) is a USSR born (1986), Israelie raised, Belgian based human with one cat. A researcher of material culture, illustrator, curator and multi-disciplinary artist, holding a BA in Fashion Design from Shenkar College (2011), an MA in cultural studies from the Hebrew University in Jerusalem (2019), and an AdMA from Sint Lucas Antwerp (2022). Working in text, moving image, installation, soft sculpture, collage, drawing and readymade, they explore a contemporary mode of everyday living through the lens of critical thinking, material existence, fantastic realism, science fiction and the employment of worlding. Their publications include several articles, zines, an artist book, a graphic novel which was developed in collaboration with Shuku Buku titled "Luna" published in 2021, with the support of the Pais Grant for the arts, and will be featured in "Haipo" a comic anthology published by Gnat Comics.