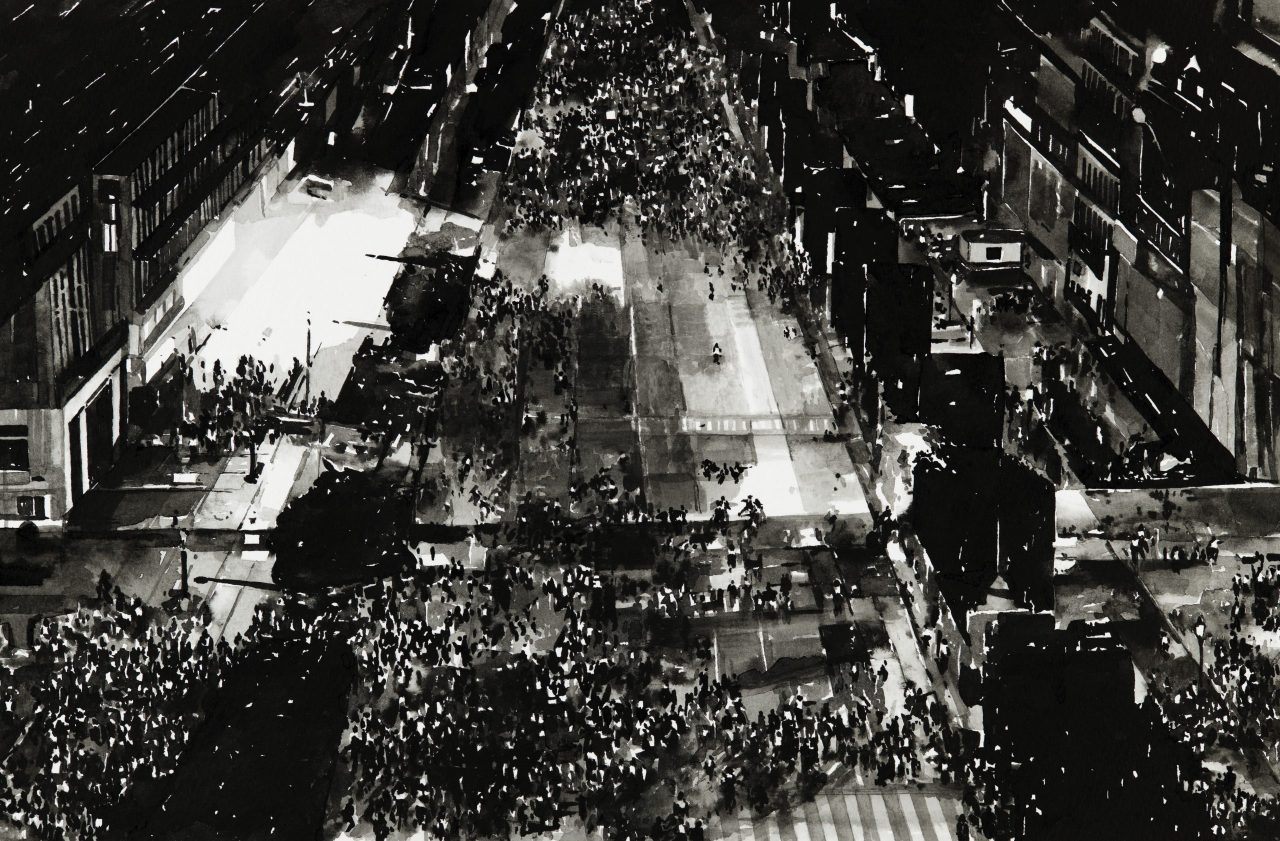 Joy Gerrard | Put It To The People | Golden Thread Gallery, Belfast
A major new solo exhibition by QSS artist Joy Gerrard, curated by Peter Richards
Drawing on over a decade of image-making and research on themes of protest and urban space, Irish artist Joy Gerrard archives and painstakingly remakes media-borne crowd images, including those from the Arab Risings, Occupy, and anti- Trump protests. Alongside abstract film pieces, these images are re-imaged in large monochrome paintings and small complex drawings made with Japanese ink.
Gerrard's crowds are viewed from above, suggesting the remove of media surveillance, while the fluidity and drama of their moment is expressed through precise, expressive mark-making. Repeatedly framed within built environments that give them significance and constrain them, moments of protest are figured against more enduring historical structures. The re-scaling of news images into dramatic, painterly forms disrupts their everyday significations, provoking reflection on the place of art, witnessing and representation.
Gerrard's most recent work documents the huge protests against Brexit in London between 2018 and 2019. Here, her monochrome palette comes to invoke the binary oppositions of contemporary British politics, its elemental simplicity belying a more complex meditation on the imaging of protest. The world Gerrard presents is one on which she withholds comment. Paradoxically, her re-imaging practice suggests a new reflection on the power of images, however ephemeral they are. At a time when mutual recognition and shared meaning have become precarious, here at least, the resistant are a presence to be contemplated.
About the artist
Joy Gerrard lives and works in Belfast. She graduated with a BA from NCAD, Dublin and an MA and MPhil from the Royal College of Art, London. Gerrard is known for work that investigates different systems of relations between crowds, architecture and the built environment.
Recent solo exhibitions include 'supermarket' in Stockholm with Ormston House (2019) and 'shot crowd 'at the Royal Hibernian Academy, Dublin (2017). Selected group exhibitions include: Protest and Remembrance, Cristea Roberts Gallery, London, 2019 and Crossing Lines. Highlanes, Drogheda and FE McWilliam Gallery, Banbridge 2019. She has installed multiple public installations since 2004 including major works in the London School of Economics, Chelsea and Westminster Hospital, for Tideway (London) and Facebook (London and Dublin)
Gerrard completed a residency at the Centre Culturel Irlandais in Paris in 2020 and is an Associate Member of the RHA, Dublin. Her recent work on the Black Lives Matter movement was included in The Golden Thread Gallery's 'Not Alone' touring exhibition of summer/ autumn 2020.
'Put It To The People' is supported by the Arts Council Northern of Ireland and Belfast City Council