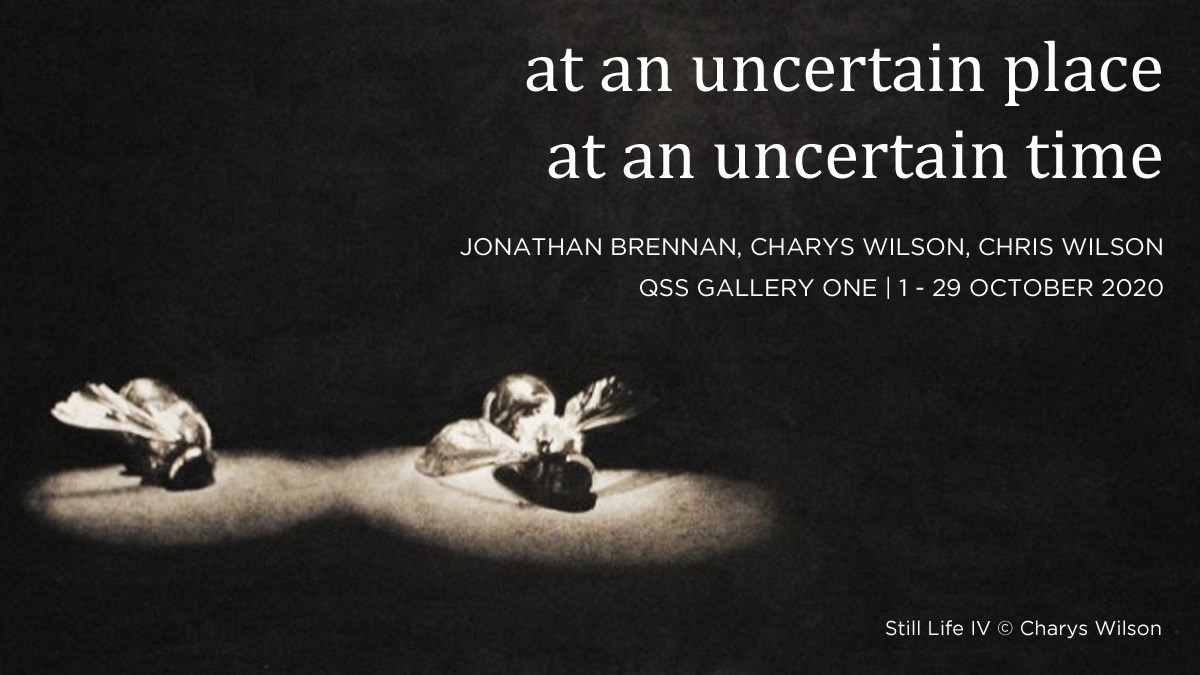 Jonathan Brennan, Charys Wilson, Chris Wilson | 'at an uncertain place, at an uncertain time' | QSS Gallery
PREVIEW: 1 OCTOBER, 18:00-20:00 
Queen Street Studios (QSS) is delighted to present a three-person exhibition with Jonathan Brennan, Charys Wilson and Chris Wilson. All three artists are concerned with the passing of time in different ways and use drawing, photographic and print techniques to explore this theme. Their work is primarily monochrome in palette; invoking a binary, elegant simplicity.
Jonathan Brennan's imagery was inspired by a series of found negatives of people, landscapes and animals from the early part of the last century developed in a pharmacy in Larne; and drawings of fossils discovered in the same area in the collection of the Ulster Museum. Both sources have acquired a strangeness with the passing of the years. Yet the timespan separating these people's lives and our own is infinitesimal in the context of a 200 million-year-old fossil; rendering our day to day concerns petty.  From this vantage point the intimacy of the images places 'the small and the infinite hand in hand', regardless of time and place.
Charys Wilson's work highlights the uncertainty of climate change at a time when our very relationship with nature appears to be unravelling. Her works entitled 'Still Life' consist of several large-scale drawings of dead insects, dramatically lit to create a sense of empathy, drama and appreciation. Areas of detail stand in contrast with areas of quiet space, where fragility and absence coexist. The drawings are shown alongside a large-scale installation which encourages viewers to reflect on the current climate crisis; the full picture only being visible upon closer inspection.
Chris Wilson has long used mapping strategies to express ideas about contemporary landscape, patterns of boundaries and ownership. Here, his work depicts a dynamic landscape, where the fixed, solid impression of topography and material are rendered active and changing over time. From a distance, the surfaces "pulse" and suggest an almost three-dimensional aspect of topography and yet, up close, each hand drawn line is visible as a thin, fragile and slightly erratic direction. This approach pays homage to the Italian physicist Carlo Rovelli who expressed how the material world is constantly moving at a quantum level.
For sales enquires please email [email protected]
ABOUT THE ARTISTS: 
Jonathan Brennan studied painting at the École des Arts d'Anderlecht, Belgium having previously completed a BA (Hons) in Art History & Spanish at Trinity College Dublin (1998) and an MSc in Multimedia Systems (2001).  Since moving to Belfast in 2012, he has exhibited at the Ulster Museum, Golden Thread Gallery, Framewerk, ArtisAnn, Belfast Exposed and the Crescent Arts Centre. Notable collaborations include a series of video poems for the new 'Seamus Heaney Home Place' centre in Bellaghy, Northern Ireland. Brennan is an active member of the Belfast Print Workshop and Vault Artist Studios, Belfast.
Charys Wilson graduated from Aberystwyth University in 2015 with a BA (Hons) in Fine Art and is currently studying for a Masters in Fine Art at the Ulster University, Belfast. She has completed residencies in Berlin (Takt) and Parque Natural Sierra María, Andalucía (Joya: arte + ecología), taking part in associated artist talks, critiques and the presentation of work. Wilson is the recipient of the the 2020 Alice Berger Hammerschlag Award. Upcoming exhibitions include a solo show at the Flax Mill Gallery, Newtownabbey in early 2021.
Chris Wilson obtained a BA (Hons) in Fine Art from Brighton Polytechnic and a Masters in Fine Art from the Ulster University (1984).  His work features in numerous collections held by the Arts Councils of England, Ireland and Northern Ireland; Queens University Belfast; Peter Moore's Foundation, Liverpool and the Office of Public Works, Dublin to name but a few. Recent public art commissions include Structural Symmetries St. James Hospital Dublin (2018) and Gateway Centenary Quay, Southampton (2016). Wilson is a member of the Royal Ulster Academy and a founding member of Queen Street Studios. 
VISITOR INFORMATION
QSS, The Arches Centre, 11-13 Bloomfield Avenue, Belfast BT5 5AA
+44 (0)7495 013947 | [email protected]
Opening hours: Tuesday – Thursday, 10:00-17:00
Please note: The QSS Gallery is currently closed owing to government restrictions. 'at an uncertain place, at an uncertain time' reopens on Tuesday 17 November 2020.
The safety of our visitors, artists and staff is our paramount concern, and to this end we have put a range of measures in place to ensure that you can enjoy your visit safely.
Visiting during normal opening hours (Tuesday through to Thursday, 10:00-17:00):
Please press the 'QSS' buzzer on arrival for access.
Wear a mask/face covering and adhere to social distancing guidelines at all times.
Sign in/out at the reception desk and use the hand sanitiser provided on both arrival and departure.
Avoid using the lift, unless you have mobility issues. In this case, a maximum of two people from the same group may use the lift.
Keep left on the stairs. Use the paper towel provided as a hand barrier for high touch points (door handles, banister).
Follow the one-way system through the gallery as directed (arrows/signage).
Our toilets are open but access is limited to one person at a time. Follow the guidelines posted outside the toilets for usage.
Additional measures when attending an exhibition preview:
Book your time slot (30 minutes duration) via Eventbrite.
As we will be operating at a reduced capacity (maximum of 20 visitors at any one time), it may be necessary to queue for a short period upon arrival. Please follow the directions of staff, and observe social distancing guidelines.
Please note that refreshments will not be served at opening events.