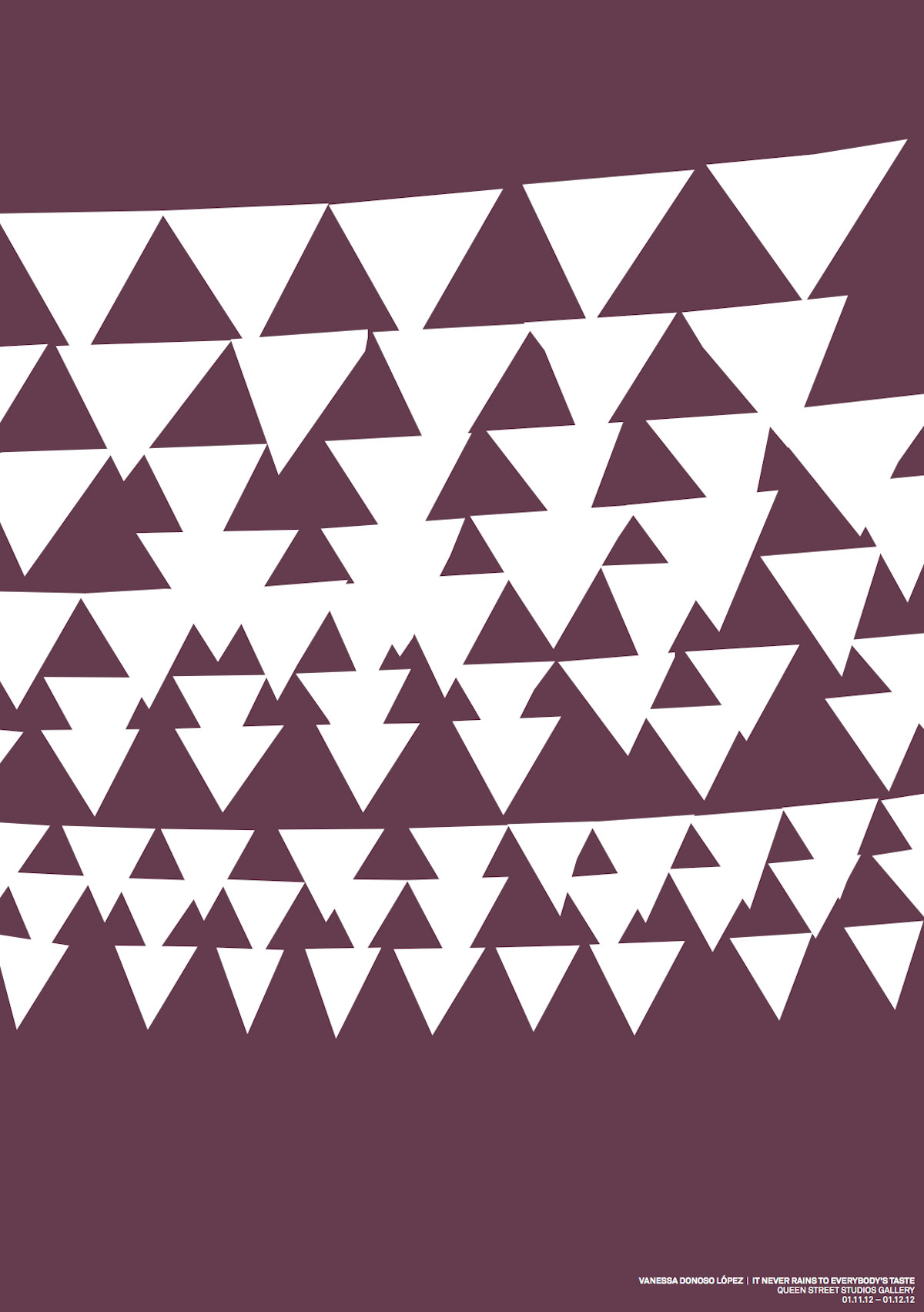 It never rains to everybodys taste – Vanessa Donoso Lopez
'It never rains to everybody's taste' was conceived some where between Dublin and Barcelona and re-read, edited in and for Belfast.
The title of this exhibition it's a literal translation from the Spanish saying 'nunca llueve a gusto de todos', referring to the title of my last solo show in Barcelona 'the rain in Spain falls mainly on the plane' where the works here shown where selected from.
'The rain in Spain falls mainly on the plane' its a popular saying that people from English speaking countries learn through their childhood and often, Irish people use it for quickly 'show off' their knowledge on Iberian meteorology.
This peculiar proverb turns into a connecting bond of my Worlds; on one hand, the language, the Anglo-Saxon culture and the childlike content of this saying and, my mother tongue, culture and playfulness character of my own work on the other hand.
In 1951, the English paediatrician and psychoanalyst Denis W. Winnicott introduced the concept of transitional object based on a phenomenon commonly observed: early adoption and fiercely possession of children to an object.
According to his theory, this object occupies a space between what he calls "inner psychic reality" and "external reality" of the child. Over time, their importance declines and ends up losing meaning for the child. Still, Winnicott argues, what it represents remains and stays unconsciously present in every one of us.
Another  "transitional phenomenon" occupies the "potential space" between inner subjectivity and external objectivity. This playful space of possibilities is, in fact, the "cultural field." Within this field the creative behaviour appears and in the case of my work seems to insist on activate and intermix games, memories, experiments and systems of my own past and present.
In many cultures, humans -and often animals- have learned to relate to their family environment, material, social and cultural development through play, and play wants to be the common thread of this exhibition. The games presented here are some of those I learned from TV, -mostly from McGyver-, from school, from here and there… but the game more present among them all is the game of the translation of words and cultural references which I submit daily.
Hoping to be a way of understanding the exhibition from the glimmer of our own childhood … Let's start connecting the dots.
Vanessa Donoso Lopez. November 2012