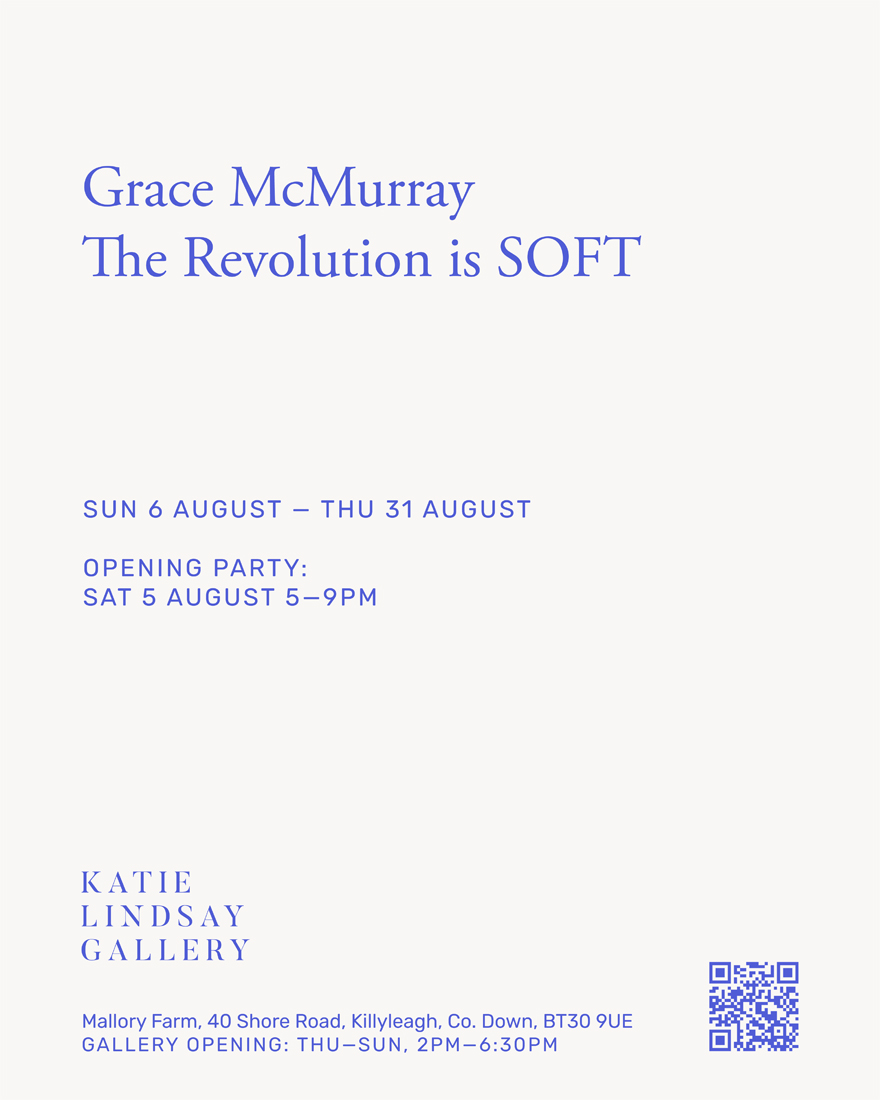 Grace McMurray – The Revolution is SOFT – Katie Lindsay Gallery
QSS artist Grace McMurray's solo show The Revolution is SOFT is showing in the Katie Lindsay Gallery, Killyleagh, Downpatrick from 06/08/23 – 31/08/23.
Exhibition Launch – 5th August 5-9pm
McMurray's highly personal practise involves traditionally female activities like sewing, knitting, weaving and patchwork. As the artist makes, stitches, knits and patches she doesn't conceal her mistakes but emphasises them with very visible repairs. These are stories of individual and collective healing.
"Mending is about the journey travelled, not reinstating the impossible perfection of the new."
A key piece in this exhibition is Facade; a damaged blue ceramic plate and a gift to the artist. McMurray draws on the Japanese practise of kintsugi and the plate is repaired with gold leaf. Kintsugi is the practise of repairing broken pottery with precious materials such as gold. As a philosophy, kintsugi is 'an embracing' of the flawed or the imperfect.
In a similar vein, many of the knitted works Field, Halfway There, Noise, Seamless & Verse, are created from the reverse side. The artist reveals the underside, the looser threads. It is through this process of uncovering and revealing that McMurray points to the worth and beauty in the seemingly worthless. At the same time she questions society's expectations and the pressure to be a certain way. Themes of perfectionism are echoed again in the two pieces Nerves and Tarnished. Positioned opposite each other in the space, they allude to mirrors (they are the same size as mirrors) these two works appear to be made of a hard metal but are, in fact, painstakingly drawn with graphite pencil on waved paper.
Through these labour intensive ways of working and crafting, McMurray explores notions that the domestic space, where most female crafting historically took place, is inherently benign or passive.
Grace McMurray studied BA (Hons) Fine Art Sculpture, Wimbledon College of Art (2005-08). Selected Solo Exhibition: Woven Polyhedra, University of Ulster, Belfast (2018). Selected Group Exhibitions include: Irish Modernisms, CCA Derry 2021; Royal Academy Summer Exhibition (2019); Jerwood Drawing Prize, Jerwood Space, London (2015); Synthetic Aesthetics, Leitrim Sculpture Centre, Manorhamilton, Ireland (2012); Watershed, Hong Kong Visual Arts Centre, Hong Kong (2010).
Awards include: Turner Prize 2021 with Array Collective.