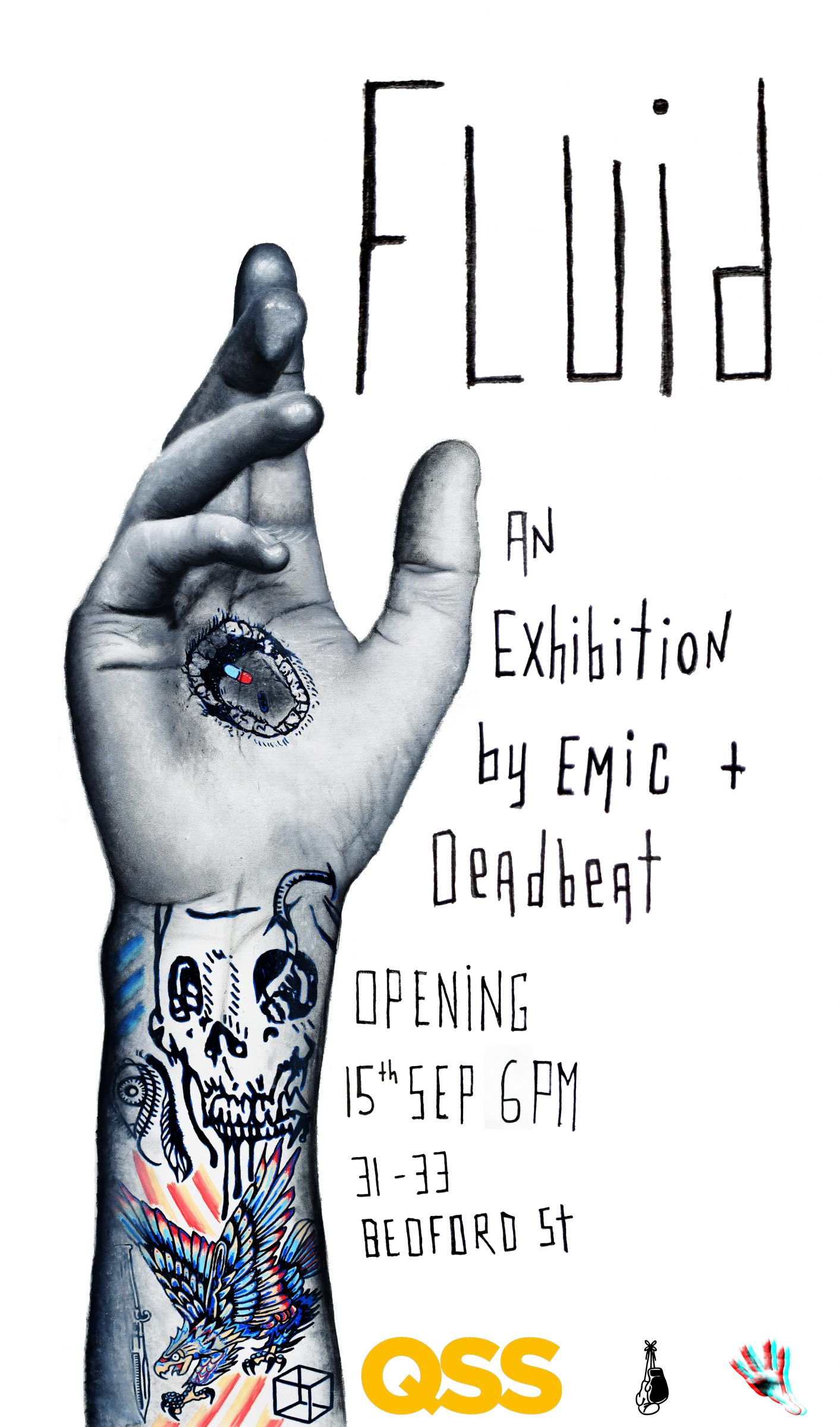 Fluid – Joint exhibition by Emic and Deadbeat
Thursday 15th September 6pm-9pm
Fluid is a joint exhibition by LOFT Co founders/directors David Lee Badger (Deadbeat) and Eoin McGinn (Emic). The show features collaborative as well as individual work from each Artist whose backgrounds are in Urban Art and illustration. Don't miss the opening on 15th September with complimentary drinks and music from Drone Mansions.
Emic's contribution to the exhibition is a selection of pieces from a larger body of work by the Artist called 3 – D. The project entails two exhibitions, the first here at QSS, which is themed blue, and the second at Framewerk in October themed red. As well as the two exhibitions, a Mural will be painted in the city centre acting as an interlinking piece between the two shows and create an immersive experience for viewers.
As well as the exhibition, LOFT will host their excellent Drink and Draw for September in the QSS space on Wednesday 28th. Make sure to mark it in the diary.
Photos by David Turner
Emic bio
Emic is an urban artist based in Belfast and co founder of LOFT since 2012.
The Artist paints on walls and canvas using a combination of aerosols and oils. His Artwork features photorealism combined with abstraction, presenting themes of chaos, tranquility, technology and abandonment.
Emic has been commissioned to paint murals across the country with clients such as Queens University, Dublin City Council, and Absolut. In 2015 he was awarded the Visual Artists Ireland DAS residency.
Deadbeat bio
David-Lee "Deadbeat" Badger is an artist and facilitator who has been living and working in Belfast for almost 10 years. As a co director of the LOFT, he is passionate about hosting events and gatherings for emerging artists in and around the city.
The work in collaboration with Emic in this show is the culmination of a visual language built up over several years, traversing the disciplines of contemporary art, street art, design and illustration.
The way he works with his preferred mediums allow for serendipity and free flowing expression that results in clean, bold artwork. His past work has been described as playful and subversive.
All of the feelings, memories and iconography that goes in to work is subjective, the aim, simply to provoke a response. Perhaps the viewer might feel empowered and compelled to participate.
Question. Think deeply. Say " I could do that" and do it.