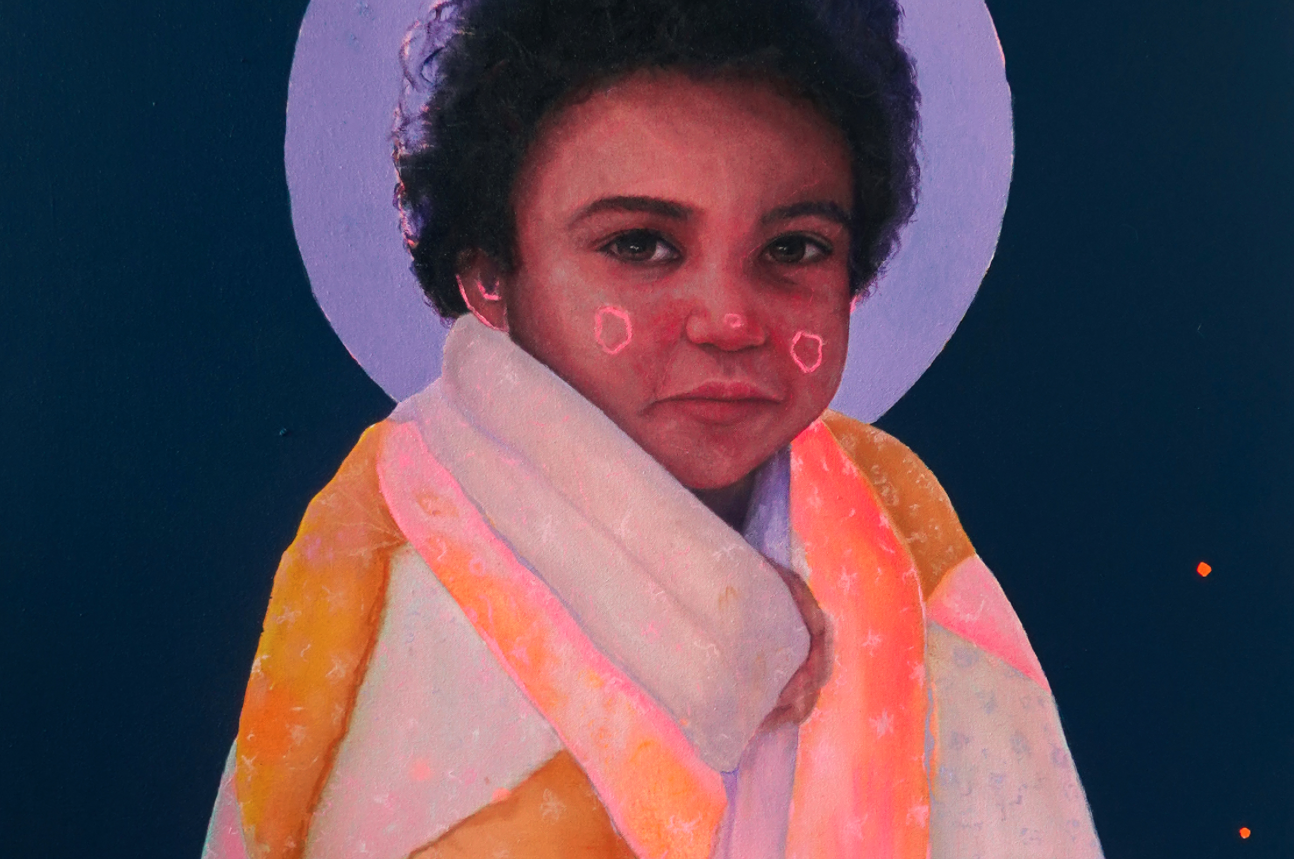 Dreamers | Alana Barton
QSS artist Alana Barton's solo exhibition Dreamers opens on 13th April 2023 at the Hang Tough Contemporary in Dublin.
Some time ago, Barton was given a set of family photographs which provided the initial source of inspiration for this body of work. These objects offered a direct line to her family lineage and through the process of visual analysis, she began to pry and discern meaning from this collection of photographs. Through this research, Barton's core interest emerges. In Dreamers she examines how complex emotions are captured in delicate gestures and expressions held by her sitters. She seeks to capture and communicate the pensive emotions of children, who are often not recognised as having rich emotional landscapes. She builds worlds around each child and honours the sometimes confusing and complex terrain of childhood.
Barton's palette is surreal with neon and pastel hues merging with mature colours such as deep navy and subtle neutral tones. Her portraits are whimsical and playful whilst also grounded in a serious approach to portrait painting. The children have imagined identities, allowing anyone to project themself into the work.
Since graduating from Ulster University in 2016, Barton's paintings have been acquired by public collections, including The University of Ulster, the Arts Council of Northern Ireland, and the Northern Ireland Civil Service. In 2019 Barton won Northern Ireland Young Artist of the Year and was awarded the SIAP General Arts award. In 2020 she received the Arts Council Northern Ireland Artists Emergency program and Artist Resilience fund.
In 2018, 2019, 2020, and 2022, she was selected for the Royal Ulster Academy annual exhibition and in 2022 was awarded the Contemporary Irish Art Society emerging artist award at the RHA annual exhibition, in Dublin.
Dreamers runs until 30 April 2023.