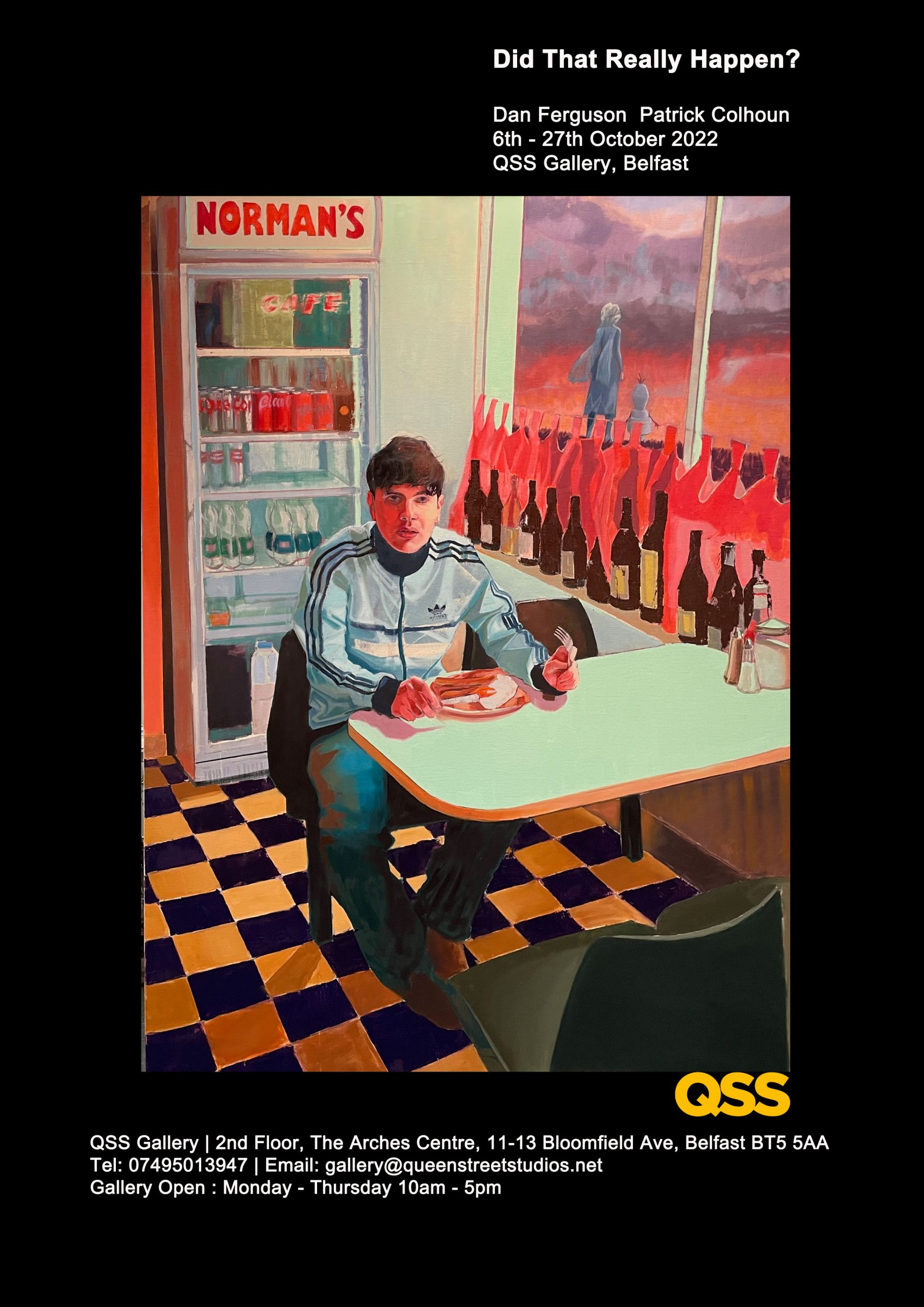 Did That Really Happen? Dan Ferguson & Patrick Colhoun
QSS are delighted to host Did That Really Happen?  A two person exhibition by QSS based artist Dan Ferguson and Belfast based artist Patrick Colhoun.
Exhibition Launch: Thursday 6th October 2022, 6-9pm
No booking required, please see the 'visitor information' section of our website for further details on visiting the gallery: https://www.queenstreetstudios.net/visitor-information/
Exhibition Dates: 6th – 27th October 2022
Gallery Opening Times: Monday – Thursday 10am to 5pm.
Both artists rely on memory so much to direct their work, but why? With age and deeper personal introspection, it has become a primary feature in Colhoun's sculptures and Ferguson's paintings. Yet the element which unifies the two artists' practice is the acceptance that the broader concept of 'memory' that underpins their work is malleable, unreliable, inconsistent, and possibly even false.
As demonstrated by the infamous Mandela effect, people within the society and beyond can take on ideas, repeat them to ourselves and others, and eventually they only become consistent as a type of communication. They cannot necessarily be depended upon as a reliable recollection of the past. In an age of growing misinformation that is politicised and widely regarded as collectively and socially harmful, Colhoun and Ferguson instead prefer to explore how their own fading and nebulous memories are a constructive release akin to catharsis. How we have come to remember at this point in time.
The exhibition proposed is a division of floor space, (plinths, tables, installations) housing Colhoun's intimate sculptural works, and the walls of the main gallery occupied by Ferguson's paintings ranging from 14×18", up to 72×72". Many of the works by both artists will be displayed demonstrating a visual relationship with each other. These will rely on the artists sharing their mutual influences of the themes they seek to explore in this new work for the show, yet the installation and curation will rely on physical as well as conceptual relationships.
The artists will speak to viewers and each other, through memory of events, people, loss, love and experience, using the visually and physically tactile materiality of their works. These bold and defined shapes and constructions are the vulnerable and ephemeral defence against the fragmenting of our own experiences.
Dan Ferguson
Dan paints figurative and representational works using multiple memories as starting points. They may be from own experience, or others, and they are fused together by the paintings.Website: danferguson.co.uk
Instagram: @danfergusonart
Patrick Colhoun
Originally trained as a ceramicist, Patrick Colhoun's practice is now multi-disciplinary with sculptures and installations combining ceramic with unconventional materials such as hosiery, neon, latex, and piercings. The use of materials such as Meccano hark back to childhood and lead pellets from shotgun cartridges keep the dark side of Colhoun's work alive. Both also strengthen the influence of memory that runs throughout the artist's work.
The unconventional approach reinforce an early decision by the artist to move away from ceramics with a traditional craft approach to a version of what the artist terms 'Anti Ceramics'.
Recent work has focused on the notion that the making process has become a thing that helps the artist function with everyday life and that the notion of having a project ongoing is integral to the artist's wellbeing. The extension of this is the realization that people use many different things to help them cope with everyday life.
The duality in the titles of many pieces of work allow the viewer to make their own mind about the pieces, they can be personal, or oppressive.
Website: www.patrickcolhoun.com
Instagram: @patrickcolhoun
Twitter@ @patrickcolhoun