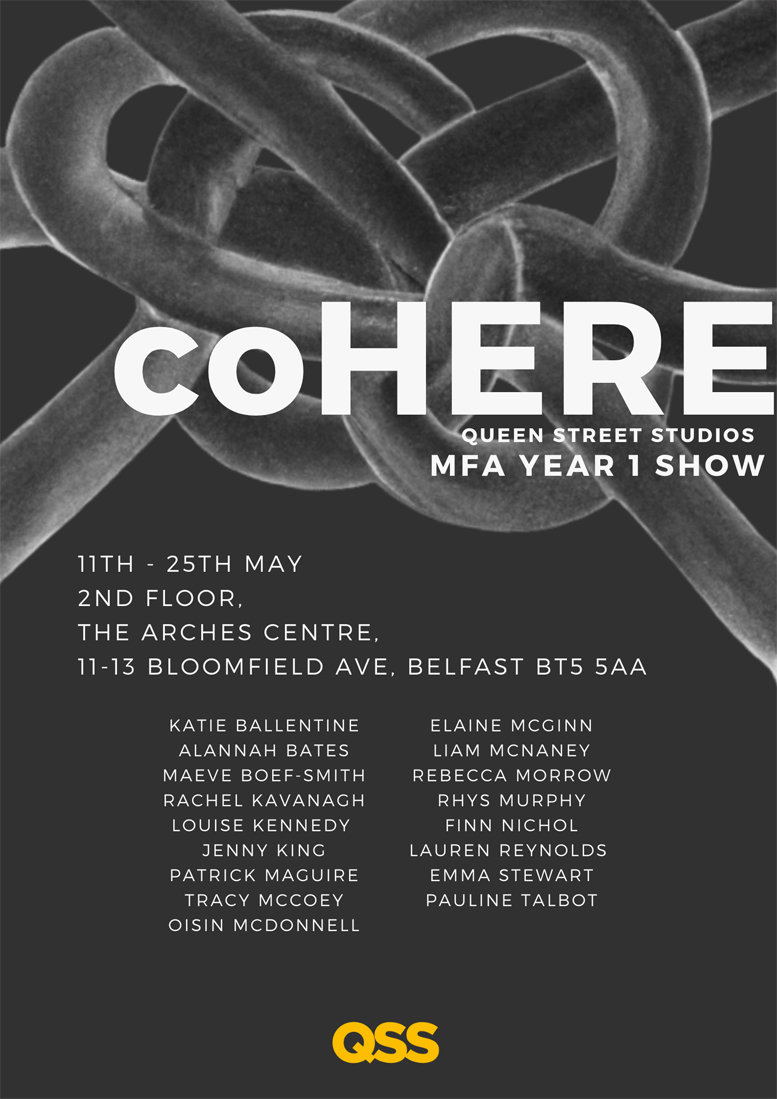 coHERE -Belfast School of Art MFA Year 1 Show
QSS is delighted to host coHERE, a group show by Year 1 students from Belfast School of Art MFA in Gallery 1.
Opening event: Thursday 11th May from 6pm. No booking required, please see the 'visitor information' section of our website for further details on visiting the gallery https://www.queenstreetstudios.net/visitor-information/  
Exhibition Dates: 11th to 25th May 2023
General opening hours: Monday – Thursday, 10am-5pm.
The MFA in Belfast is a two-year programme – with each year culminating in a professional exhibition either on-campus or with an external organisation. This is the MFA 1st year cohort's (a peer group of local, national and international students) first exhibition together and acts as valuable professional and practical experience before they embark on their final year.
Exhibiting Artists:
Alannah Bates, Elaine McGinn, Emma Stewart, Finn Nichol, Jenny King, Katie Ballentine, Lauren Rushbury-Reynolds, Liam McNaney, Louise Kennedy, Maeve Boef-Smith, Oisin McDonnell, Patrick Maguire, Pauline Talbot, Rachel Kavanagh, Rebecca Morrow, Rhys Murphy, Tracy McCoey.
MFA Fine Art, Belfast. 
Established in 1979, this rigorous studio-based programme is delivered with the expertise of a staff of internationally recognised artists. Within the studio environment the diversity of the teaching staff reflects the range of approaches and contexts it embraces. It recognises contemporary art practice as open and pluralistic, encouraging dialogue between diverse disciplines. This approach facilitates working in a flexible manner to offer maximum opportunities for individual practice and exploration of traditional exhibition formats alongside broader experimental models of practice, production and dissemination.  Central to our ethos is a networked relationship within the local, national and international arts ecology and its alumni are recognised internationally as established artists, curators and educators. 
More info: https://mfabelfast.wordpress.com