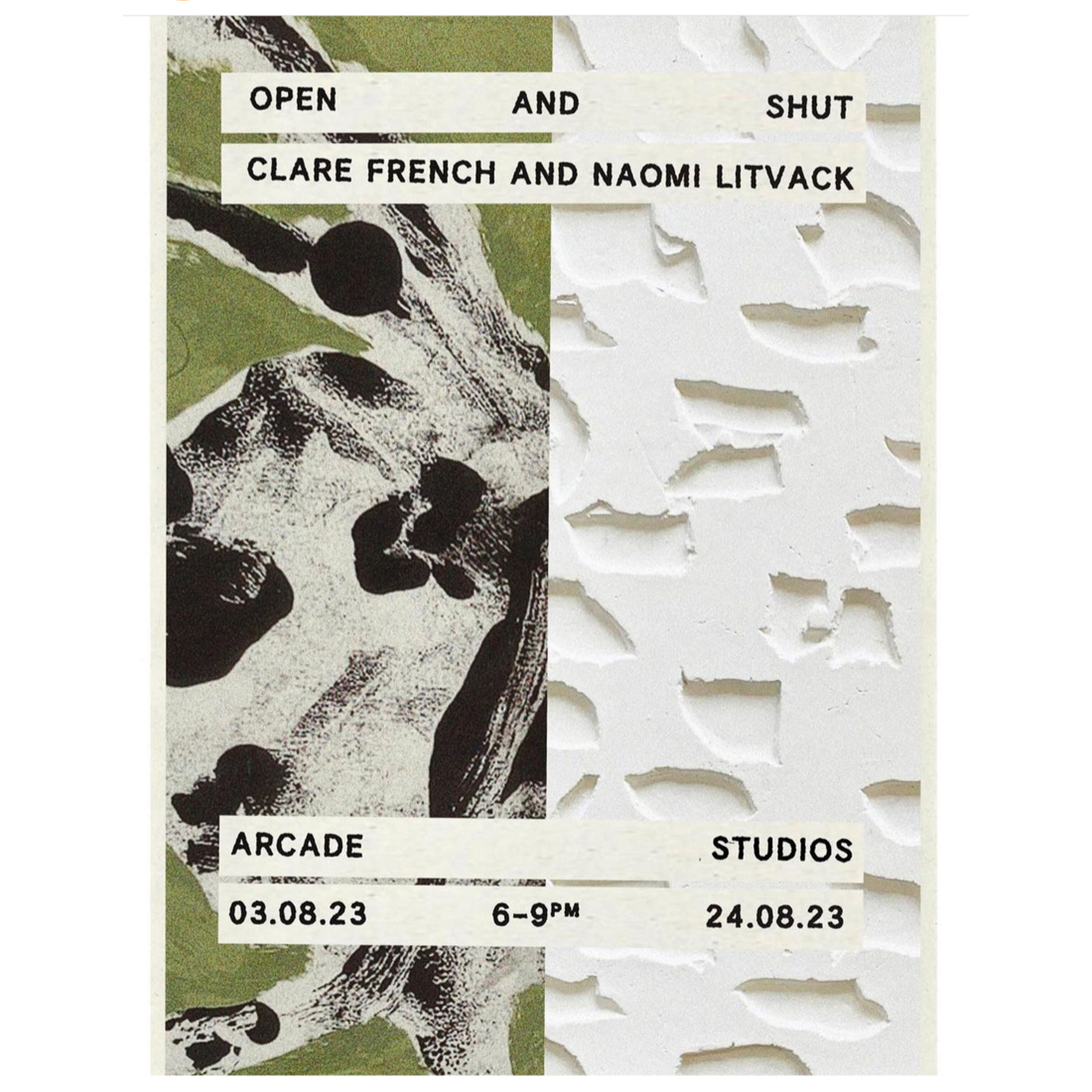 Clare French & Naomi Litvack – Open And Shut – Arcade Studios, Belfast
QSS artists Clare French and Naomi Litvacks two-person show Open And Shut is showing in Arcade Studio, Belfast from Thursday 3rd to 24th August 2023.
Opening Event – Thursday 3rd August 6-9pm
Opening Times – Wed – Sat 12-5pm DM @arcadestudiosbelfast for access
Open and Shut is a collaborative exhibition by two artists, whose work, though aesthetically different, shares many painterly concerns and methodologies. Clare and Naomi have each created a new body of work for Open and Shut exploring these connections, and developed in conversation with each other.
Both artists consider painting itself their main subject. They share a sense of wanting to 'get to the bottom of painting'; a search for something fundamental, whether it exists or not. To this end, materiality, the handmade and material histories are crucial to both artists. Eschewing the digital, Clare and Naomi find value in process, duration and tactility, and are interested in what these can offer today.
The artists' shared reliance on explicit reference to Western art historical genres acts as a conduit for considering painting itself in more depth. Naomi's work references landscape and still life traditions, whilst Clare's to pre-Renaissance painting and Modernism. Both painters actively question what it is to paint apparently traditional subjects, seeking to question and disrupt them.
Curation is a key element of Open and Shut. Clare and Naomi are curious about their visual juxtapositions, the tension between the thematic connections and visual dissonance in our works. The curation of Open and Shut operates in a similar way to reductive painting itself; the removal of common themes such as shared aesthetics or content, raising other questions about painting in relation to materiality, form, surface and so on.
In Open and Shut a dynamic relationship between the works is revealed through its making, showing and viewing. In this way, curation activates and continues the artistic conversation in a new way, for artists and audience.