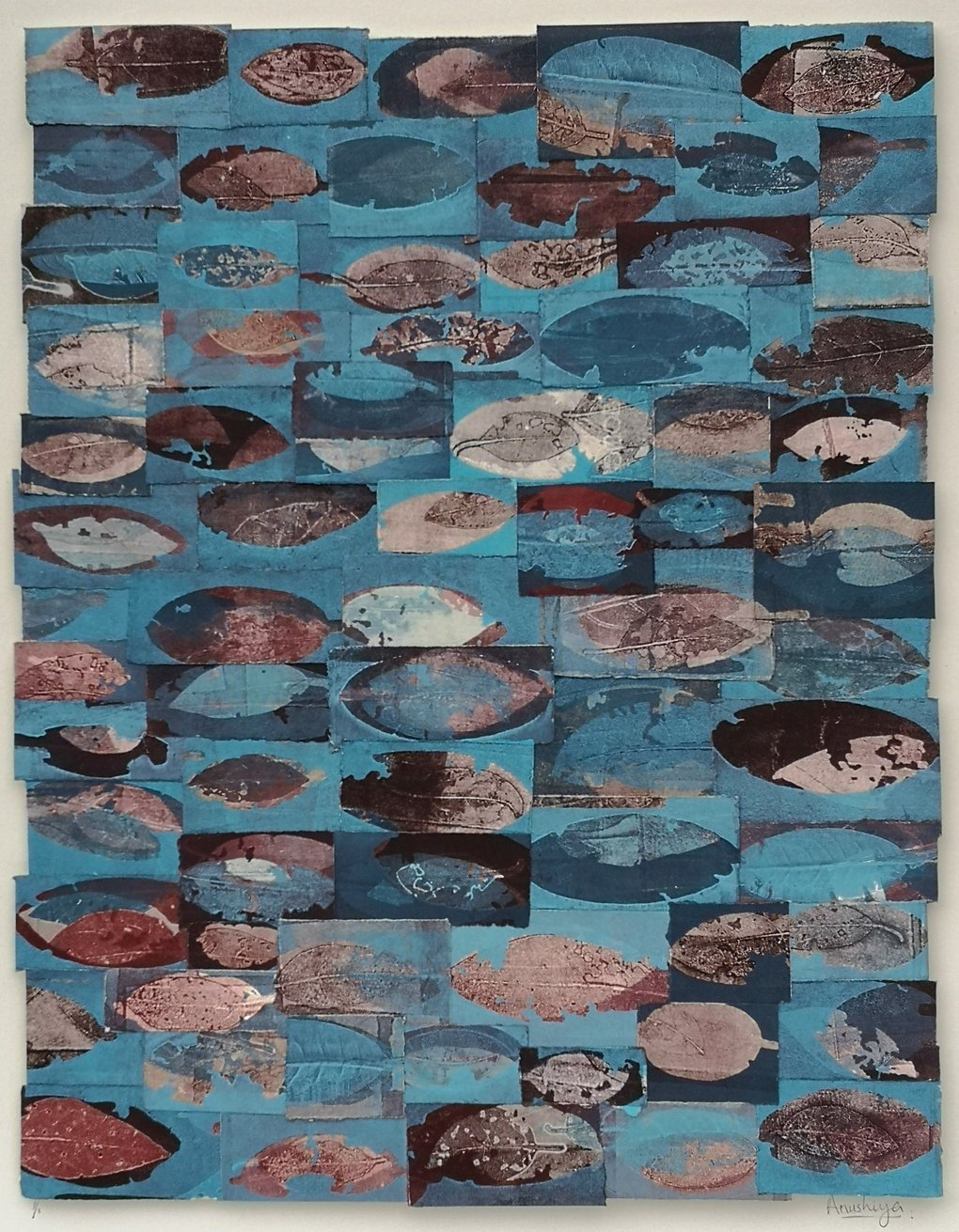 Anushiya Sundaralingam – "Iyarkai', Gallery 545 online exhibition
'Iyarkai' is a new series of oil works on paper by QSS artist Anushiya Sundaralingam. These exquisite pieces have been inspired by nature and the mirroring of natural and life cycles. They are also informed by the artist's considerations on the connections we forge with natural environments as well as with people and places. The variety of these new works created with different foliage, colours, patterns and techniques intends to reflect the diversity and complexity found both in nature and life.
My work has always been strongly influenced by nature.  In recent years I have referred back to my childhood memories of Sri Lanka's rich and varied nature.  In particular I have been drawn to the banyan tree – the mighty, beautiful, tree known for its visible root system. There is obvious symbolism in the word 'roots' – be that the connection to environment and nature, as well as to people and places – it has long been a recurring theme for me.
During the lockdown, the significance of roots and where we find ourselves has taken on a powerful dimension.   I have been collecting leaves, some have been nibbled away by insects, others are in some form of decay.  These leaves, along with foliage I have kept from significant times in my life as they hold certain memories and importance, have been reworked and re-imagined to tell a story of our life cycle.  This new, unique series of works on paper has been created by the building up of layers through colour, stitch and texture to express the multi–dimensional aspects of nature and life.
Anushiya Sundaralingam
'Iyarkai' is curated by Francesca Biondi and Anushiya Sundaralingam.
All works can be viewed at gallery545.com, Gallery 545's e-commerce website. They can be delivered locally and internationally (with free deliveries to UK and Ireland).
For more information contact Francesca Biondi, Art Director, Gallery 545 at [email protected] or on +44 7960 130414 (Office at Office at Blick Studios, 30-42 Waring Street, Belfast BT1 2ED).
About Anushiya Sundaralingam – Originally from Sri Lanka, Anushiya Sundaralingam moved to Northern Ireland in the late 1980s.  She is an associate member of the Royal Ulster Academy and her works are held in numerous public and private collections including those of the Arts Council of Northern Ireland and Queen's University, Belfast. Sundaralingam employs a range of media to reflect the intricate and layered nature of belonging, identity and place, the themes at the core of her work. She is particularly interested in exploring how natural and cultural environments shape her sense of self, and her relationships with and within the spaces she finds herself in.