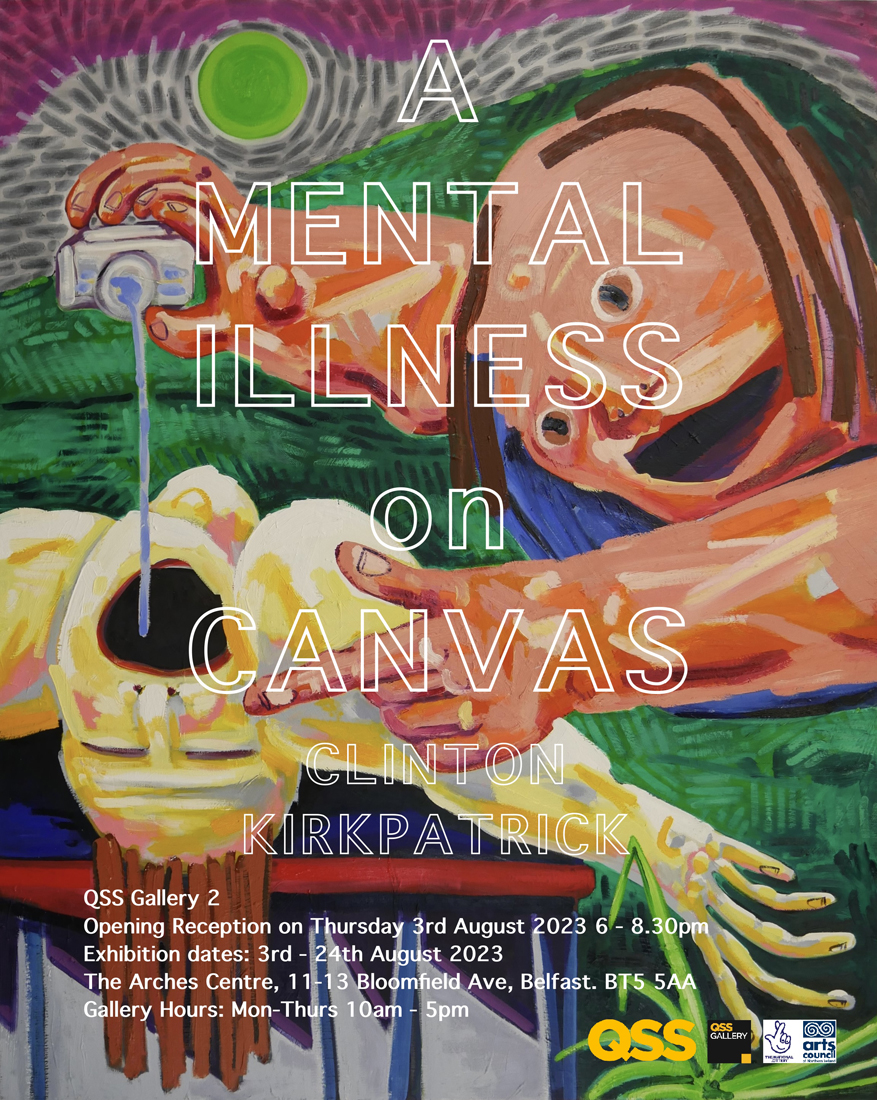 A Mental Illness on Canvas – Clinton Kirkpatrick – Solo Exhibition
QSS is delighted to host A Mental Illness on Canvas, a solo show of works by Clinton Kirkpatrick
Opening event: Thursday 3rd August from 6pm. No booking required, please see the 'visitor information' section of our website for further details on visiting the gallery https://www.queenstreetstudios.net/visitor-information/  
Exhibition Dates: 3rd – 24th August 2023
General opening hours: Monday – Thursday, 10am-5pm.
A Mental Illness on Canvas is an exhibition of works made between 2018-2023. The concept of perception, how we view others and our surrounding world has become increasingly interesting to me. I perceive the world in a certain way therefore others perceive me in a certain way. Perhaps we live in a place that still has conservative viewpoints when it decides, determines, or dictates whether an artist is worthy? Perhaps we live in a world where it is too easy to cast judgement without making an effort towards understanding or to sit in uncomfortable tension?
In May 2023 a Belfast Live news article was published regarding an upcoming exhibition of mine in The Black Box, 'Observing. Digesting. Spitting.' In the article comments someone wrote "a mental illness on canvas". To me this phrase felt simultaneously hilarious and absurd. Somebody took a fleeting glance at my work, and me, and decided it suggested mental illness, and subsequently, offered that out into the world.
Although I don't think the comment was meant to be humorous I personally found a lot of humour in that line of text. It made me think about Internet trolls and people moving through their lives feeling the need to disrupt. The idea that we place our own opinions on others without even knowing the person is interesting; that we all create our own narratives because of everything that has come before us.
We live in a contemporary culture that is desperately trying to figure out how to live with and use the Internet. It is often a place where people can be vile and nasty without consequence, fostering a mob mentality that sets out to destroy, and it feels, right now, that our current world perceptions are significantly distorted in an attempt to gather control on all sides. My work examines all these various tensions and provides a space for escape from them all. 'A Mental Illness on Canvas' discusses our collective mentalities rather than any one specific viewpoint.
Artist Statement
Clinton Kirkpatrick is a multidisciplinary artist, incorporating painting, drawing, collage, and printmaking within his practice. He explores concepts surrounding the human condition, storytelling and the absurd.
He uses personal experience and various systemic relationships within society and culture to explore how we function as humans; he has a particular interest in how stories form, narratives evolve, and how time changes and adapts storytelling (the modification and manipulation of truth) to suit the contemporary human.
He is interested in how manipulation occurs within societal structures that create mass governance or control, in autonomy, and how mythology and history can be used as tools for understanding contemporary cultures.
He creates distorted, ambiguous characters, often presented with dark humour, uncompromising absurdity, and unapologetic realism. Through his work he often tries to make sense of the ever changing, paradoxical, ambiguity of life. His artistic interest essentially being a commentary on the myriad interpretations of the human condition, "what I create feels like a regurgitation of all that I see; I take elements that interest or excite me, whether positive or negative, and I place it all side-by-side to see what happens. There is tension and struggle that occurs with the characters and depicted situations, and I am always looking to discover what that moment of tension might be within the work. I seek to retell old stories and, ultimately, to create new ones.