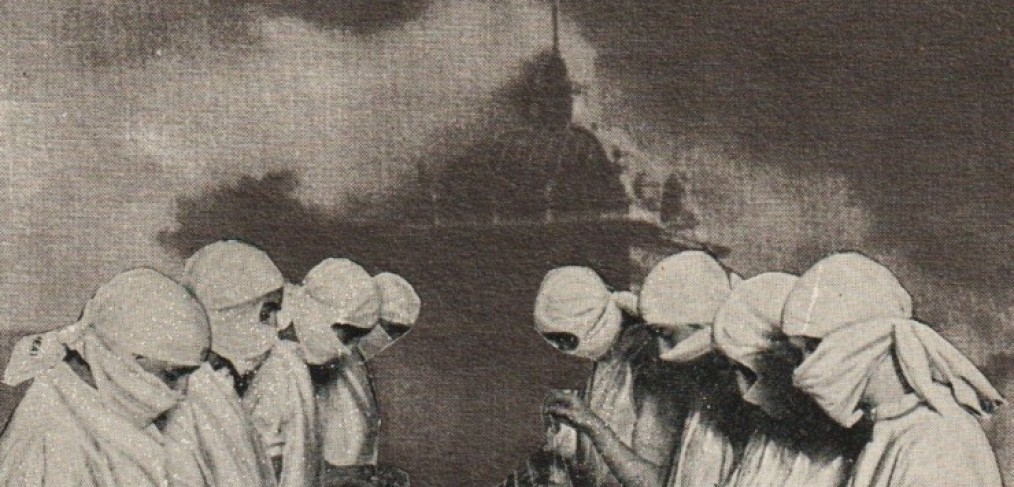 'Revelation' by QSS artist Zoë Murdoch reviewed in the Honest Ulsterman
'Revelation' (recently exhibited in the Royal Ulster Academy's Annual Exhibition at the Ulster Museum, Belfast) retells and illustrates the biblical Book of Revelation by way of textual collage, photomontage, glossing and captioning with extracts from other texts.
"Zoe Murdoch is based in Queen Street Studios, Belfast. Her work usually materialises out of found objects, images and written text from which she constructs collages, frequently taking the three-dimensional form of boxes, cabinets and similar domestic containers and "model[s] of intimacy."[ii]  (See the "Curious Cabinets" on her website). The container-foundation of Revelation is an old family photo-album, bought at auction by Murdoch's mother.[iii] Murdoch's boxes, cabinets and books are of a complex genre. They have a sculptural presence while also operating as texts. As containers, these works appear almost as micro-worlds. This and their small-scale contribute to a quiet depth that draws the curious viewer close to their miniature complexities.
The book, an object that must be handled to be viewed, adds another dimension to Revelation. "I love and hoard books and it always seems natural to me to use them one way or another."[iv] Although Murdoch's work so often incorporates verbal text, the mechanisms of reading are brought to the fore here as Revelation's book-hood also increases the artist's control over the viewer's programme of engagement with the work's fixed pages."
To read the full review written by Susanna Galbraith visit:http://humag.co/features/photo-album-of-the-end-of-the-world